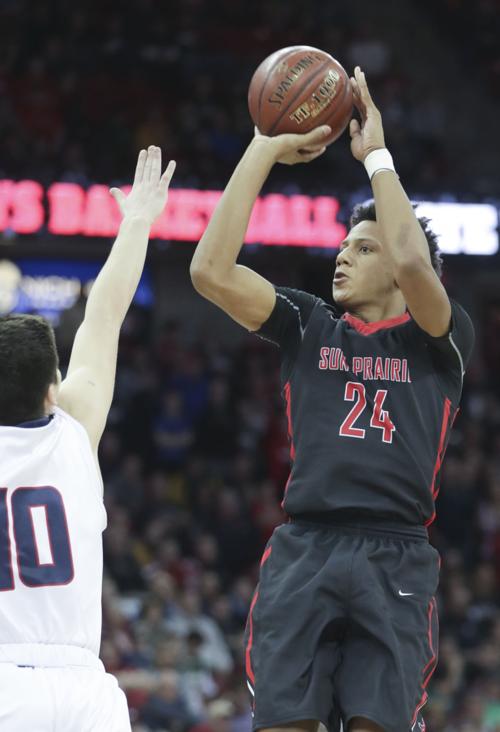 The playing surface is wood, not grass, but the Kohl Center is a field of dreams for every high school boys basketball player in Wisconsin.
What's the famous line — fill it up and they will come? Well, it's true.
Nothing generates interest and boosts attendance at the WIAA state tournament more than star power. Fans love an opportunity to watch a great player — or, as was the case this year, a bunch of great players.
"I've seen some good ones, but these kids, whoa, they're big-time," said Jerry Petitgoue, who has coached at Cuba City for 47 years and owns a state-record 921 wins. "There are a lot of good players. I think it's amazing what's going on."
What happened the last three days at the Kohl Center was this: Potentially the greatest collection of individual talent ever assembled in one WIAA state tournament put on an often-mesmerizing show.
But that wasn't even the best part. The state tournament always has offered a collection of talented players, especially in the last 20 years, but the difference this year was the extreme youth and elite national status of the tournament's most gifted players.
Indeed, the top talents — 6-foot-8 sophomore Jalen Johnson of Sun Prairie, 6-9 freshman Michael Foster Jr. of Milwaukee Washington and 6-8 freshman Patrick Baldwin Jr. of Sussex Hamilton — are young enough to be concerned about getting their driver's licenses. Johnson, Foster and Baldwin are or will be ranked among the top 10 national prospects on the recruiting lists for their high school classes, and they backed that up at the Kohl Center with their combination of length, skill and versatility.
These aren't old-school, back-to-the-basket big men. They're wing players who run the floor, handle the ball and score on anything from 3-point shots to thunderous dunks. Johnson, in particular, is an intuitive and willing passer. Foster, only 14, already has committed to Arizona State.
The state tournament has showcased stars in the past who generated a significant national recruiting buzz — Kohler's Joe Wolf, Cassville's Sam Okey, Appleton West's Brian Butch, Sheboygan Lutheran's Sam Dekker, Milwaukee Hamilton's Kevon Looney, Whitefish Bay Dominican's Diamond Stone and Rice Lake's Henry Ellenson. Never before, however, have so many buzz-worthy prospects played in one state tournament, and at such a young age and at such a high level.
"They present such a different physical structure than we're used to," said coach Jon Nedelcoff, who coached 15 seasons at Mayville and the last eight at Oregon. "They're long, they're athletic and they've played so many games that they're not fazed. They're calloused in a good way. Kids come up now and the lights don't bother them as much.
You have free articles remaining.
"As much as AAU (basketball) is looked down upon, it does take some of the shock out of things. ... They've gone through everybody watching them, so they're, 'OK, it's another stage, lets play.'"
This state tournament's talent pool didn't run dry after those three, either. Two senior point guards, Oshkosh North's 6-5 Tyrese Haliburton and Kaukauna's 6-0 Jordan McCabe, led their teams to the Division 1 and Division 2 titles. Long and versatile with uncanny passing instincts, Haliburton will play at Iowa State after winning the Gatorade Player of the Year award for Wisconsin. McCabe, whose ballhandling and passing skills rank among the best ever in Wisconsin, will play at West Virginia after being named the state's Mr. Basketball.
McCabe plays a high-risk, high-reward game — he had 11 assists and eight turnovers against Westosha Central on Friday — that would not be a good fit at, say, the University of Wisconsin. But he ranks sixth in the state with 2,442 career points and is fun to watch.
Throw in Washington's 6-5 junior, Deontay Long, whose future is clouded by a recent felony conviction, and La Crosse Central's sophomore trio of Terrance Thompson and twins Johnny and Jordan Davis, and you can see why the Kohl Center was a recruiter's paradise this week. Johnny Davis, a 6-5 slasher, reportedly has received an offer from UW.
As for the seniors, athletic 6-4 wings Quincy Anderson of Oshkosh North and Marlon Ruffin of Sun Prairie played well, as did 6-7 Brookfield East center Patrick Cartier, who must have Division I recruiters wondering what they missed after Cartier totaled 20 points, seven rebounds and six blocked shots in a win over Sun Prairie. Cartier has committed to Division II Hillsdale.
It's no wonder the semifinal sessions on Friday afternoon (Division 2) and evening (Division 1) were among the best-attended in tournament history. The night session, in fact, drew a record 16,040 fans.
"I think AAU basketball has helped especially the elite player," Petitgoue said. "I don't think it helps the kid who is just the ordinary player. But what is also happening — and nobody talks about it much — is now, coaches get to work with their kids in the summer."
As a result, Wisconsin is cranking out talent like never before. Three 2,000-point career scorers who will play Division I basketball next year — Whitnall's Tyler Herro (Kentucky), Cedarburg's John Diener (DePaul) and Racine Prairie's J.C. Butler (Cal-Irvine) — didn't even get to state.
"It's amazing (over) the last 10 years, how many really good players have come out of this state," Nedelcoff said. "But this year's group — and there are guys who aren't even here at the state tournament — can just flat-out play and play at a high level at a very strong Division I university. That hasn't always been the case."
The state tournament was loaded in 2002, when Butch and future NBA players Greg Stiemsma (Randolph), Steve Novak (Brown Deer) and Carl Landry (Milwaukee Vincent) reached the Kohl Center. Another strong year was 2004, when future NBA players Stiemsma, Wesley Matthews (Madison Memorial), Kyle Weaver (Beloit Memorial) and Marcus Landry (Vincent) made it. Dekker and Stone headed a deep 2012 tournament roster.
None of them, however, can match this year's tournament for elite-level high school talent.