ONALASKA — Landon Peterson has yet to set foot on the University of Idaho campus, but he decided on Thursday that it will be his future home.
Peterson, an Onalaska High School senior, accepted a full scholarship to join the Vandals' track and field program after graduation in 2021.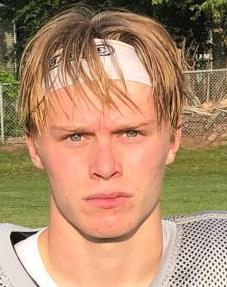 What made the difference, other than what he saw from coaches Tim and Cathleen Cawley and learned about a Division I program that placed fifth in the Big Sky Conference' outdoor meet in 2019?
A Zoom tour of campus from the Cawleys, of course.
"It literally was that," Peterson said. "They started at one end of campus, walked through and took turns holding the camera and talking and giving info.
"They also traded off with some of the athletes in a different part of campus, and it went on for an hour. They went to the downtown, too, all on one Zoom call."
While the thought of being able to see an entire campus and its surroundings in an hour may not appeal to some, it did to Peterson, one of Wisconsin's top hurdlers.
The thought of living in Moscow, Idaho, and amid its population of roughly 25,000 people, sounded nice. The mountains, Peterson said, will provide plenty of hiking opportunities, and its location leaves him relatively short drives from some places he'd like to see in Washington and other surrounding states.
"It's a small town, kind of what I'm used to in Onalaska," Peterson said. "I'm going to a part of the country I've never been to, but I feel like it's going to be a home away from home."
Another selling point was the Vandals' schedule, which has taken them to Washington, California, Oregon and Texas in recent seasons. Idaho was supposed to compete at the University of Oregon in the 2020 season that was lost.
Peterson drew attention from the Cawleys with an impressive sophomore season with the Hilltoppers. He wanted to build on that as a junior, but the COVID-19 pandemic took away the opportunity.
Peterson, also one of the area's top wide receivers after catching 33 passes for 739 yards and 12 touchdowns last fall, qualified for the WIAA Division 1 state meet in the 110- and 300-meter hurdles as a sophomore.
He went into the finals of the 110s seeded seventh and finished fourth with a time of 14.81 seconds. Peterson's preliminary time in the 300s gave him the top seed for the finals, and he responded with a winning time of 39.1.
Peterson's best 300 hurdle time of 38.71 is Onalaska's record and has only been beaten by two others in Coulee Region history. The performances grew interest from college programs and kept it despite not competing last spring.
Sure, Peterson wasn't alone in the noncompeting boat, but a strong junior season can really change an athlete's recruiting profile.
"I was preparing for a big year," Peterson said. "I trained really heavy for it all winter, but I couldn't let it get to me. All the work still paid off, and I'm glad the (Idaho) coaches saw it."
Be the first to know
Get local news delivered to your inbox!