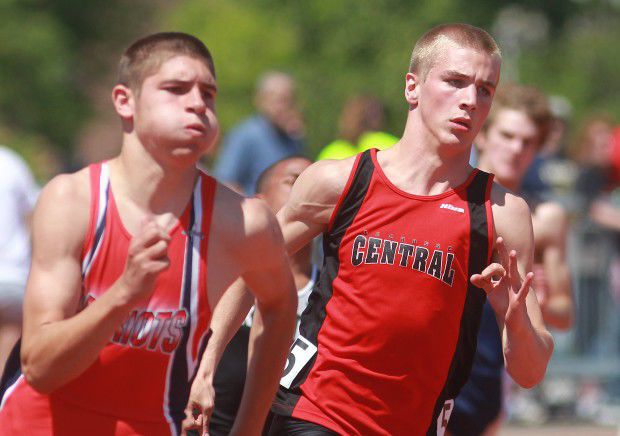 Sawyer Smith never thought coaching track and field would appeal to him, but he's been proven wrong.
The Central High School graduate isn't sure if he will continue to coach, but he is open to it after giving it a try as a volunteer at Valparaiso University (Ind.).
Smith didn't get a taste of coaching until recently because his career with the Red Raiders paved the way to becoming a decathlete at the University of Wisconsin.
Only after moving on to Valparaiso for graduate school did Smith give coaching a try.
"I remember telling my parents that there was no way I could coach track because it's such a boring sport," Smith said. "I remember thinking that it's so basic. You just run.
"But I quickly found out at Wisconsin that there's much more to it. When I got to Valparaiso, I figured I should give it a try or I had a skill base for no reason."
Smith accumulated his skill base as a multi-sport athlete at Central, and it was as widened as anyone else's in track and field. He tackled many different events while a Red Raider, and the success he had at each led by to the decathlon at Wisconsin.
Smith's time of 48.54 seconds in the 400-meter dash is the best in Coulee Region history, and he was part of the Central memorable 1,600 relay team that established the area's all-time best with a 3:18.64 in 2012.
Smith also shares the Red Raiders' record with Jeff Kaufman (1974) in the long jump at 23 feet, 1 inch, and that ranks third on the area's record list behind Logan's Aric Elmore (23-5) in 2014 and Onalaska's Landon Peterson (23-2¾) in 2019.
A collegiate career in the decathlon made sense for Smith, who tried horizontal jumps, the high jump, sprints — individual and relays — and hurdles at Central, which finished third among Division 1 teams at state when he was a sophomore and second to Brookfield East when he was a junior.
"If you ever talk to (former Central and current Saint Mary's University coach) Niels Anderson, he would say that's exactly what I should have done," said Smith, who expects to finish his master's degree in clinical and mental health counseling this August. "I enjoyed dabbling in everything they let me try at Central.
"I remember running the 300 hurdles at one event because I enjoy a good deal of variety, whether it's in track or my life in general. I like keeping things different, and I think moving on to decathlon was natural for me."
The hurdles, Smith said, were tough to pick up and regularly a source of lost points in the big picture of the competition. The pole vault provided challenges when he began, but Smith said he put in his time to figure it out.
Smith placed 10th in the decathlon at the Big Ten Conference outdoor championships as a freshman, ninth as a sophomore, third as a junior and second as a senior. He was a national qualifier and earned All-American honorable mention his senior year, but an injury forced him out of the competition.
But while he has built a vast collection of athletic memories, it's tough to imagine anything topping the time the Red Raiders ran their record-breaking race and won gold at the state meet.
The Red Raiders placed second to Hartland Arrowhead in the finals before officials ruled an infraction on a runner from a different team and ordered the race to to run again.
After laying it all on the line in the final race of the season, Smith and his teammates had muster up the energy to not only run it again but try to run it better.
"Our second place was taken away," Smith said. "It was crazy to say the least."
Even crazier was the fact that the Red Raiders then cut more than 4 seconds from their preliminary time to hold off runner-up Milwaukee Marquette University and win the championship. They won the race by 2.5 seconds.
"I was pretty upset that we had to re-run," said Smith, to raced with Aron Klos, Jake Roh and James Saxton that day. "I ran angry, and I remember that race to be a little different than others than I ran because I wasn't tired after it. I was just excited."
Be the first to know
Get local news delivered to your inbox!