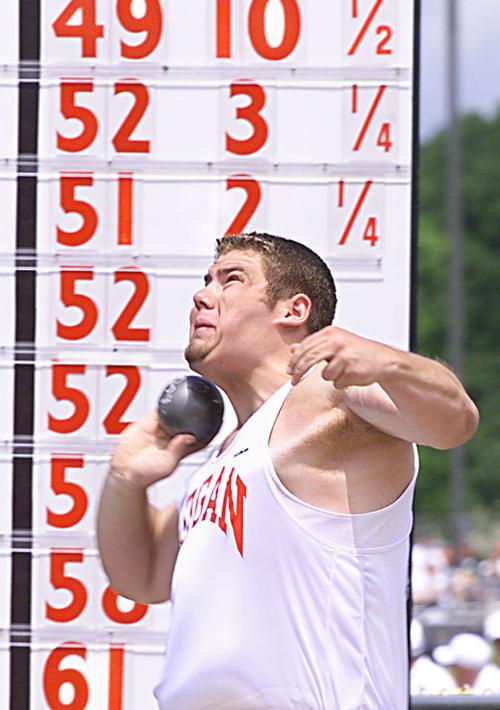 Jim Nelson plopped down into his seat for a computers class the Monday after his senior prom, still feeling the residual effects of a night spent swimming in a pool and bouncing on a trampoline.
He turned to John Crowley, a good friend and fellow shot-putter on the Logan High School boys track and field team, and made a prediction for that afternoon's city meet at UW-La Crosse.
"I said, 'John, I feel like crap today. You might beat me tonight,'" said Nelson, a 2000 graduate of Logan. "And I had beaten him by 10 feet every single meet."
Nelson couldn't have been more wrong.
His first four throws were average — he struggled to hit 60 feet, a mark he regularly eclipsed — but everything clicked on his fifth, and Nelson sent the 7.26 kilogram metal ball 66 feet, 2 inches — a personal best and a program record.
"The place just went haywire," Nelson said. "... (Logan coach Pat Mulrooney) came flying down the track, just screaming, 'Hold on! Hold on! Get out the steel tape. That might be a new state record.'
"I looked over at him, and I said, 'Coach, shut up. I got another one.'"
Nelson's sixth throw went even farther, but a scratch nullified it. Still, 20 years later, his 66-2 throw remains the shot put school record at Logan and is the top throw in the event among all Coulee Region teams. Onalaska's Austin Glynn, who now competes at the University of Wisconsin, came the closest to matching the mark in 2017, but his 62-3½ is still a yard short.
"It was a special moment, that's for sure," Nelson said. "I look back at it and just laugh to myself every time I remember looking at Coach Mulrooney and telling him to shut up, I got another one."
Nelson's entire senior season was special.
Motivated by narrowly missing the state meet his junior season — "The kid that beat me (in sectionals) showed up late and made it wearing jean shorts. That was a tough pill to swallow," Nelson said — he hit the weight room hard in the offseason. The results quickly paid off.
The first meet of his senior season, Nelson threw 59-11, well beyond his previous best of 52-3 and nearly reaching his preseason goal of hitting 60 feet. Mulrooney pulled him aside at school the next week.
"He goes, 'You're leading the state by feet. You've got to win state. We've got to change that goal. Instead of making it to state, you're going to win it,'" Nelson said. "That became the new goal. From that day forward, it was, 'I'm not going to settle for throwing 60 feet and making it to state, I'm going to throw 60 feet and I'm going to win state.'"
That's just what Nelson did. He won every meet as he marched to a WIAA Division 1 title, throwing 62-6 to bring it home.
Nelson went on to compete at UW-L, where he won NCAA Division III indoor and outdoor titles in the shot put as a freshman. In 2012, he was named to the WIAC all-time men's track and field team.
"I decided to stay home (to attend UW-L). I could have probably gone just about anywhere Division I," Nelson said. "... I love La Crosse. I hunt, I fish, that's where I grew up, and there's also a deep history of throwers at UW-L."
Track and field, Nelson said, has been an important part of his life and taught him how to handle life's ups and downs. He battled wrist injuries in college, and the sport helped give him purpose after his dad died.
"Just occupied my mind," Nelson said. "You had to keep coming back and coming back. You get beat down, and you come back."
After Nelson's career at UW-L, he coached for four years at Logan, where he met his wife, who was an assistant for the girls team. Nelson, who now runs a retail distribution center, has stayed involved in the local track and field scene, including offering a few tips to Glynn a few years ago.
As the weekend that would have been this year's state track meet nears, Nelson said he can't imagine what athletes are going through, especially seniors.
"I consider myself lucky," he said.
Be the first to know
Get local news delivered to your inbox!