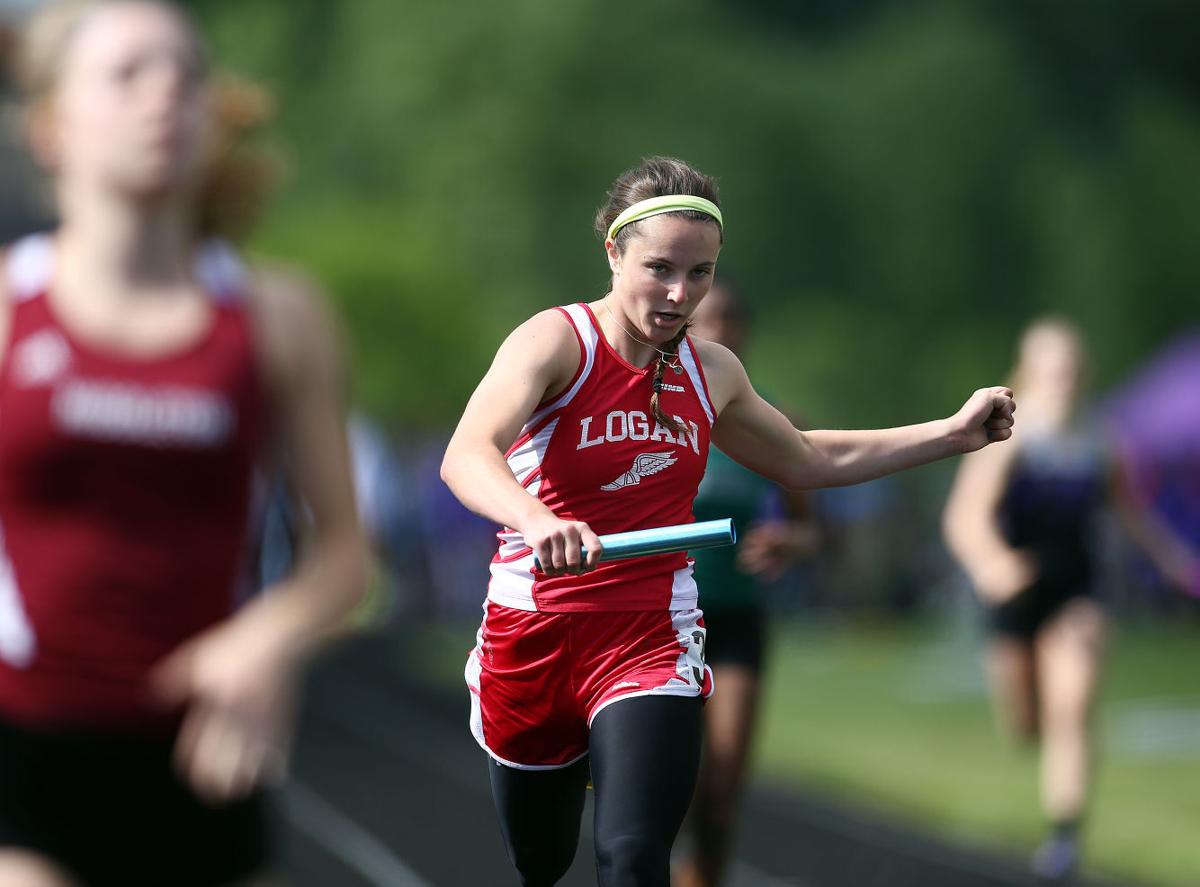 Tore Washa started her track and field career at Logan High School as an intimidated freshman. She left four years later as a confident leader.
And she was a part of three program records, including two relays, along the way.
Washa, a 2015 Logan graduate, is a member of the Rangers' top 400-meter relay (48.69, set in 2014) and 800-meter (1:41:03, set in 2012) relay teams, and she also holds the school's best time in the 200-meter dash (24.74, set in 2015). All three times are better than any other program's record in the Tribune's coverage area.
"I was always hungry for more," Washa said. "I always wanted to get something else. I always wanted to get my name on the record board or get higher up on the podium or drop more seconds off my time."
Washa is also a three-time WIAA state champion as a member of Logan's 800-meter relay team, which brought home titles in 2012, 2013 and 2014.
"That girl, she had a heck of a four years in high school," said Amber Sanderson, a 2012 Logan graduate.
Sanderson played an important role in that.
When Washa was a freshman, Sanderson was a senior. Sanderson was an established leader, an impressive hurdler and the anchor for the Rangers' 800 relay, which included senior Imani Paul, freshman Chloe Malin and Washa.
"(Sanderson and Paul) took me and my other freshman teammate, Chloe, kind of under their wings and were just like, 'Hey, you two have got some real potential," Washa said. "They basically led by example. Like, 'Stick with us and watch what we do, and you'll end up being like us.'
"Little did we know we'd end up winning a state title with them, much less (Malin) and I would go on and win three total between the two of us."
That 2012 title is one that will forever stick in Washa's memory — "The 1:41:03, that's just a time that I'll never forget," she said — but the fact that she was a part of three records in three different seasons isn't lost on her.
"We were very motivated to be better each year, aside from what event it was," Washa said. "We just kind of would pick an event and be like, 'All right, this is what we're going to tackle this year. This is what we're going to do.'"
Washa applied that same motivation to her individual events, especially the 200. On a goal sheet in her freshman English class, she wrote that she wanted to have her own school record. In what could have been her last race, she accomplished that.
In 2015, Logan competed at Holmen in a Division 1 sectional, which was pushed back a day because of a storm. Washa knew competing schools from the Madison area were bringing over strong 200 runners, but she also recognized they would provide the necessary competition to set a personal best.
Washa finished second to qualify for state and clocked in at 24.86, which she immediately recognized as a new PR. School record, though, didn't cross her mind.
"My two coaches came up to me, and they could not look any happier. They came running up to me, open arms," Washa said. "And I'm like, 'What? What? What?' They're like, 'You finally did it! You got the school record!'"
Still, Washa saved her best time for last. One week later, she reset the school record in the 200 preliminaries at the state meet: 24.74.
"It was an experience like no other," Washa said. "Just to see it all come full circle and get that record when I wasn't even expecting to do it at that sectional meet and to redo it again at the state meet, I was just like, 'This is awesome.'"
Not only did her 24.74 beat her own school record, it beat that of former Holmen standout Joanna Schultz by 0.04 seconds for the top time in the Coulee Region.
"I just remember my coach and parents always referring to this super stud from Holmen, Joanna Schultz. 'She ran this time. She went on to do this,'" said Washa, who went on to compete at UW-La Crosse, from which she recently graduated with a degree in organizational and professional communications studies. "Amazing athlete."
Washa has bragging rights over that super stud in one event, and that's not bad for an athlete who was timid at the start.
Be the first to know
Get local news delivered to your inbox!