It was not quite the storybook ending that Mequon Homestead High School senior Drew Bosley envisioned when he fashioned his plan for the final track and field season of his stellar prep running career.
Bosley was eager to accomplish the distance runner's triple — winning the 800-, 1,600- and 3,200-meter runs — at the WIAA Division 1 state championships.
He accomplished the first part of the treasured trifecta, defending his 3,200 title in a state record time on a steamy Friday evening at Veterans Memorial Field Sports Complex.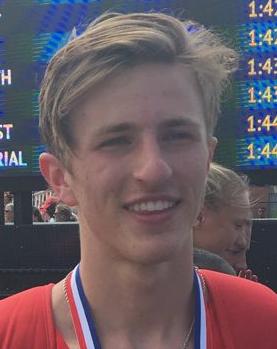 Bosley then defended his 1,600 meters championship on Saturday afternoon with a winning time of 4 minutes, 12.14 seconds, just .14 seconds ahead of runner-up and top-seeded senior Rowen Ellenberg of Kimberly.
"He didn't feel great after the mile," said Andy Bosley, Drew's father and coach after his son collapsed after crossing the finish line. "But I thought the mile was the greatest race he's ever had. That was probably the best I've ever seen him run."
However, that finish enabled Drew Bosley to become only the third runner in state history to win multiple Division 1 cross country, 1,600 meters and 3,200 meters state championships.
"That was the race this weekend that I wanted to be the most zeroed on just because of the great competitors," Bosley said. "That's one I knew I had the capability of winning, and I knew there was probably a likelihood I would not.
"I just wanted to run the toughest race I could. I hope that last 100 meters the whole stadium saw, one, the type of person that I am and, two, the type of runner I am. I just gave everything I had in the 1,600."
The 800 crown, though, proved to be elusive.
Register for more free articles.
Stay logged in to skip the surveys.
Ellenberg was able to accomplish a feat that no other runner had been able to do since Bosley's sophomore year — saddle him with a defeat in a WIAA event.
Admitting he didn't have much left in his legs down the home stretch following a tremendous battle in the 1,600, the seventh-seeded Bosley finished third in his heat and fourth overall in the 800 in 1:56.52.
"It was exhaustion," Drew Bosley said. "My legs were kind of spent. The day before in the heat I went for that record and it kind of took a toll on me."
However, Drew Bosley said he had no regrets.
"There was nothing you could do about it," he said. "I wanted to try and get the record. It worked out in that way. I was happy with that."
"He had brought up the idea of doing three events early in the year, and I was not in favor of that just because of how strong our two-mile sectional was," said Andy Bosley, a former 3,200 state champion at Homestead.
"But I told him before the (800) race, that he was totally right. This was the right call. We're right in the mix for a top-three finish for our team. It would have been a shame if he wasn't in this race to get some points."
Combined with senior teammate Jared Schneider's third-place finishes in the long jump and triple jump, Bosley's efforts enabled Homestead to finish with 37 points and place third in the final team standings.
"This was a happy ending to a long career with my dad as my coach," said Drew Bosley, who will run cross country and track and field at Northern Arizona beginning this fall. "I'm real grateful and blessed to be able to do a sport I love. To perform well on top of that is awesome."