Fond du Lac High School senior Andrew Stone gave it his best shot.
But the state-meet record for the boys' discus will remain in the hands of former Verona and UCLA thrower Luke Sullivan for another day.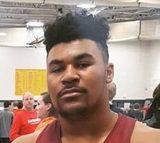 However, Stone, did accomplish his primary goal on Friday, winning his first Division 1 discus state championship with a throw of 189 feet, 7 inches on his second attempt in the finals at the WIAA state track and field meet.
"My main goal was to come in here and win obviously," said Stone, who was runner-up in the discus a year ago with a mark of 178-9. "I had thrown 194 at sectionals. But today, it didn't happen."
Stone won his sectional discus throw with a mark of 194 feet, 1 inch, 10 inches better than the state record set by Verona's Luke Sullivan in 1993. He threw a personal-best 196-7 at the West Bend regional meet.
But Stone said he didn't feel any pressure to set a new state standard, which can only be set at the state meet.
"Last year maybe, but not this year," he said. "I just went out there to do what I could do and win it. I felt super confident. I had thrown upwards of 190 all the way from regionals through now. So I was pretty confident I could get off a decent throw."
Fond du Lac throws coach TJ Severson said he thought this would be the year that Sullivan's mark would be erased.
"A lot of it depends on the weather, how's the wind, it's really tough to do it on this day," Severson said. "You have to do it on this day. You have to be really good.
"I thought he had a shot at it, absolutely. We started talking about it at the end of the season that it could possibly fall. We also knew he had a goal of being a state champion in the discus. He wanted it. If it lined up right and he could break a record, fine. But he's a state champion."
You have free articles remaining.
Register for more free articles.
Stay logged in to skip the surveys.
Verona sophomore Jackson Acker, who was seeded second in the discus and hit 191-8 in the regional meet, finished second to Stone with a throw of 171-5 on his last attempt in finals.
"Just competing with him was amazing," Acker said of Stone. "He is such a good athlete. It is just nice being in the vicinity and seeing him throw."
But the only record that counts is what is set at the state meet so Sullivan's record of 193-3 set in his junior year is safe for another year.
"On my second to the last throw in the finals I threw 189 and I thought it was super good but the wind just didn't take it," Stone said.
Stone will have one more opportunity to etch his name in the state record books when he attempts to not only defend his Division 1 state championship in the shot put but also erase the top state-meet mark of 67-6 set by Green Bay's Steve Marcelle in 2005.
Stone won his first state title a year ago with a mark of 63-10.
"The shot put is my main event," said Stone, who surpassed Marcelle's record throw with a 68-7 throw at the West Bend regional and a 67-11 at the state indoor meet.
Stone leads state qualifiers in the shot put with a sectional mark of 63-2½.
He is poised to take the record down.
"I want to go out there and pop something close to 70 (feet) if not 70," said Stone, a first-team all-state offensive lineman, who will attend the University of Wisconsin this fall on a track and field scholarship. "But first, I want to win."