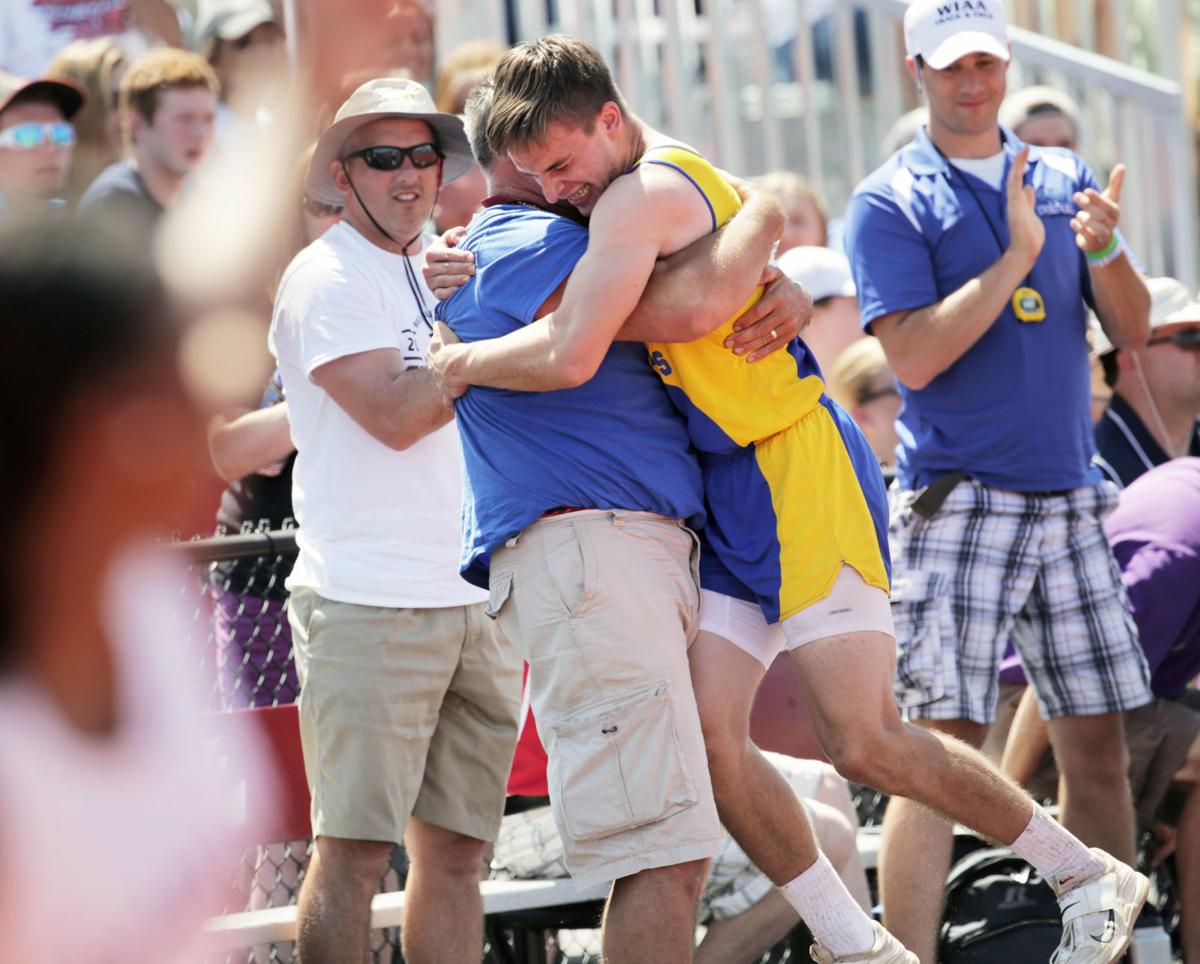 Ben Dunkleberger doesn't remember exactly how old he was when he started doing it.
It came primarily from watching older brothers and sisters compete in track and field that began the attraction and mimicking of what was happening in front of him.
As his siblings ran and jumped, so did Ben. He ran and jumped in the backyard or on patches of grass he could find and on playgrounds when inspired.
It wasn't his only athletic interest. Not by a longshot.
Fast forward to his years as a student at Lake Mills High School, and Ben is helping the boys basketball team qualify for the WIAA state tournament for the first time in school history.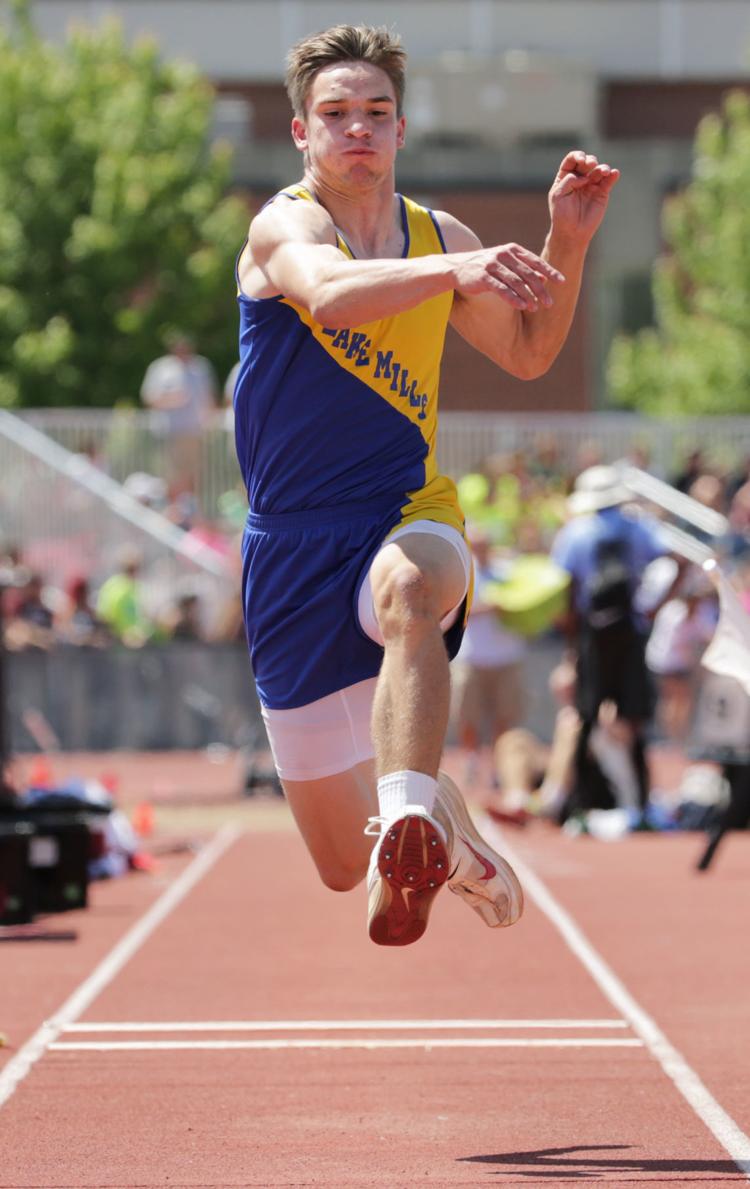 He is passing for more than 6,000 yards and 71 touchdowns and rushing for more than 2,200 and 41 scores during two seasons as the L-Cats' starting quarterback.
But neither could reach the level that track and field had in his extra-curricular life.
"I can't remember if it was second or third or fourth grade, but I fell in love with it," he said during preparation for his fourth WIAA state track and field meet this weekend at UW-La Crosse's Veterans Memorial Field Sports Complex. "It was something that stayed with me, especially when I got the chance to expand my knowledge in it.
"There were so many events to challenge you and a uniqueness of techniques to master."
His loyalty to the sport shouldn't be much of a surprise because he's a Dunkleberger.
They may, at times, run a fast break or for end zones, but they primarily run for finish lines or run really fast before jumping into a sand pit.
Ben, who is committed to run at the University of Pennsylvania, will try to run faster than his Division 2 competitors in the 100-meter dash and 300 hurdles, and jump farther than them in the long jump and triple jump this weekend.
He will try to win the triple jump for a third time and long jump for a second time as he competes in the ninth, 10th, 11th and 12th career events and builds on family success that began with his parents, Harold Jr. and Stacie, in the 1980s.
Both were state qualifiers in multiple events when the meet was run at Mansfield Stadium in Madison.
Stacie ran in 14 events and won Class B championships with Lake Mills' 400 and 1,600 relay teams in addition to playing volleyball and basketball. Harold was a sprint and relay qualifier and played football and wrestled for the L-Cats.
Both were happy to see their kids follow in their athletic footsteps.
"They all started when they were really young, and that made us happy," Stacie said. "We had the Badger State Games and other track meets in the summer, and we'd put them in as many of those as we could.
"We could tell that they would be pretty good at it."
Ben wasn't the first and he isn't the last.
Older brother Nick was a qualifier in the triple jump as a senior and older sister Briana was a 10-time qualifier who collected five medals — both individually and as part of relays — during four seasons as a qualifier.
Older brother Harold III was a sectional qualifier in the pole vault three years ago. Younger sister Olivia, a sophomore, was a sectional qualifier in the long jump this spring.
Don't forget uncle James, either. He won the Division 2 pole vault in 1991 before going on to become a national champion decathlete for the University of Wisconsin.
A nice aspect of having such a tight-knit family — Stacie said the size of the family kept it together at home a lot with travel being difficult — is the support at events like this one.
Ben expects all of his siblings — Briana is the exception because she lives in Florida — along with his parents and other assorted family members to be in attendance for his last hurrah in La Crosse. Nick has traveled from Colorado, and Briana will get regular updates from Stacie.
"Most of them live right around here," Ben said from Lake Mills. "It's cool for so many of them to be able to come."
Ben's weekend schedule is an interesting one because it features a new event: the 300 hurdles.
That was an addition with an eye for the future as a decathlete at Penn, and it ended up with a spot in the state prelims. While he is limited to four events in a meet, many others have appealed to Ben over the years.
"I haven't done most of them competitively, but I have played around with a lot of them in practice," said Ben, who broke the meet record with a triple jump of 47 feet last year. "One I wish we could do in high school is the javelin."
Ben will get to do that and work in other new athletic challenges at Penn as he begins to follow the path of a history major. If they all go as seamlessly as the triple jump did, he will serve the team well.
Even though he is a four-time qualifier in the long jump and progressed from eighth as a freshman to seventh as a sophomore to winning as a junior, the triple jump has been Ben's event, and his dad could see that it would be long ago.
"He was 10 years old, and he knew he liked it as soon as he saw it," said Harold Jr., who split time between being dad and jump coach to his son. "That event is a very tough thing to figure out because there are so many smaller aspects to it.
"We took baby steps with it, but he picked things up quickly. He was already a quick kid who had a lot of hops, and it has turned into a great event for him."
And while he is anxious for a new beginning in Philadelphia, Ben hopes to take advantage of his final performance at UW-La Crosse.
"This is a special place for me and for all of us," Ben said. "The atmosphere is unlike anything else, and I am blessed to be a four-year qualifier. When you come here, you see the best of the best, so there is plenty of motivation to do well."
Be the first to know
Get local news delivered to your inbox!