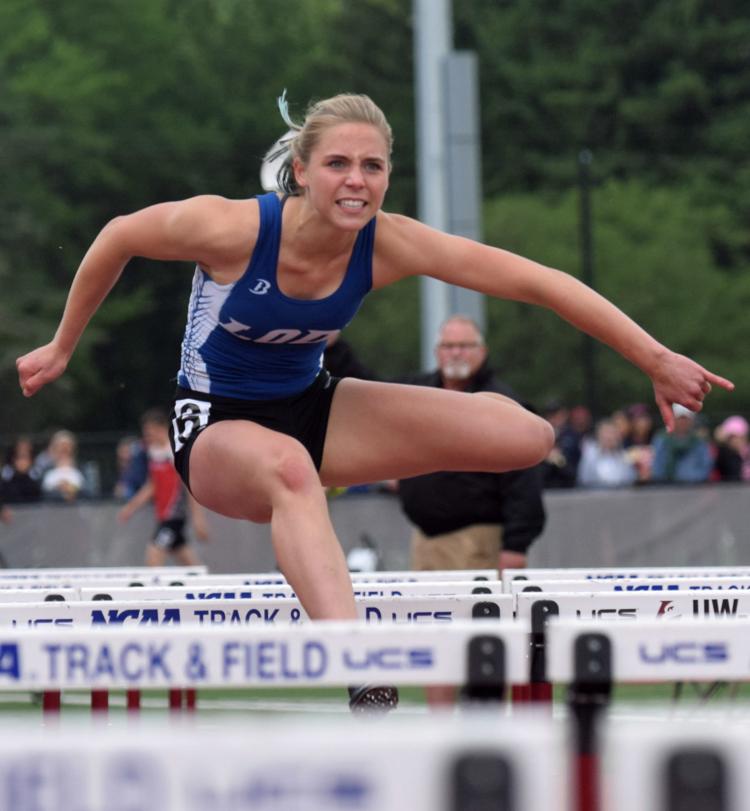 The secret to Mackenzie Heyroth's success this track and field season is tied to her dedication to those hidden minutes — and hours — spent lifting weights and working out during the dead of winter.
The Lodi High School senior regularly braved the frigid weather for extended runs through the streets of Lodi this past winter, trying to increase her strength and endurance. She worked on her sprinting when temperatures occasionally warmed into the 40s.
"Wisconsin weather is the way it is, and the season is so short," Heyroth said. "It's really important to prepare yourself before the season and get in really good shape. So, all winter, I was training outside, running outside. I think that was a huge step."
Preparation plus talent have paid dividends for the versatile Heyroth, who's committed to the University of Wisconsin for track, where she's expected to be a hurdler.
"She is a quick learner and very meticulous in everything she does," said Randy Skellenger, in his 17th year as Lodi's head track and field coach. "She's very smart and executes and follows through on instructions. She's very good with the fine details, not only with her training, but with nutrition and injury prevention."
Mackenzie Heyroth has qualified in three events for this weekends's WIAA Division 2 state track and field meet at UW-La Crosse's Veterans Memorial Field Sports Complex.
She will be joined at state by another family member. Her younger brother, freshman Lucas Heyroth, has qualified in both boys hurdles events, the long jump and as part of the Blue Devils' 800 relay.
Mackenzie Heyroth is scheduled to compete at state in the girls 100-meter high hurdles and the 300 hurdles and is part of Lodi's 1,600 relay. She is top-seeded in the 300 hurdles (45.18 seconds) and second-seeded in the 100 hurdles (14.94).
Adams-Friendship senior Brooke Livingston is the defending champion in both hurdles events, and the top seed in the 100 hurdles.
Mackenzie Heyroth finished second in the 100 hurdles, fourth in the 300 hurdles, 11th in the long jump and fifth as part of the Blue Devils' 1,600 relay at last year's WIAA Division 2 state meet, but isn't competing in the long jump in the postseason this year.
"Mentally, it helps me a lot to not be in the long jump just because my mind is all over the place (when entered in the long jump)," she said. "It helps me to be able to focus in on my running events and take a little break between the hurdles. It's mental for me, not physical."
Heyroth has reached lofty spots on Lodi's all-time record list. She also was the Division 2 300 hurdles leader (44.54) and ranked second in the 100 hurdles (14.74) in the most recent state girls track and field honor roll compiled by Janesville's Dave Figi.
After setting a personal best in the 300 hurdles earlier this season, which she has since topped, she said, "That was good for me to see," before adding with a laugh, "Suffering through the winter paid off."
Time goals are her focus.
Register for more free articles.
Stay logged in to skip the surveys.
"I don't like saying I want to be 'state champion,' because I can't control that, really," she said. "I like just focusing on my own race, my own training and I like focusing on some specific times I personally want to get. And, hopefully, if I reach the goals I want to get, then things will fall into place."
Family ties
Heyroth, who started in track during her middle-school years, comes from an athletic family.
That includes older brother Jacob Heyroth, a redshirt freshman in 2018 on the Wisconsin football team and the Associated Press player of the year while leading Lodi to the Division 4 state football title in 2017.
Younger brother Lucas burst onto the scene this season.
"It definitely is in the genes," Skellenger said. "At the same time, there is the dedication. You have parents (Tom and Tracy) who are willing to support you and give you the resources that you need to be successful. That is half the battle. … It's a combination of the talent and the gift."
Lucas Heyroth, despite saying he was nervous, swept the two boys hurdles events, and Mackenzie Heyroth swept the two girls hurdles events at the East Troy sectional on May 23. Each came home with three victories.
Lucas Heyroth also won the boys long jump with a leap of 21 feet, 11¼ inches. Heyroth was part of Lodi's state-qualifying, fourth-place 800 relay, which also included sophomore Cayden Coddington and juniors Jack Hansen and Luke Beckwith.
Lucas Heyroth is seeded second in Division 2 at state in the long jump, fourth in the 110 high hurdles (14.83) and fifth in the 300 hurdles (39.8).
He said he didn't anticipate doing this well as a freshman.
"I've been practicing hurdles and long jump since sixth grade, going to USA Track and Field meets," he said. "I guess it carried over pretty well."
Mackenzie Heyroth teamed with seniors Hannah Busser, Isabelle Clary and Rhianna Walzer in winning the girls 1,600 in 4:03.41, just ahead of runner-up Madison Edgewood (4:03.42) at the sectional.
"It's a lot of fun (watching Lucas); we've been running together since he probably was in fourth grade, going to summer meets and doing track stuff," Mackenzie Heyroth said. "So, it's really fun to be able to compete next to him and be at practice with him and share some of my knowledge with him a little bit."
Mackenzie Heyroth won the girls 100 high hurdles in 14.94 and the 300 hurdles in 45.18 and helped lead Lodi to the girls team sectional title with 67 points. Viroqua was second with 55.