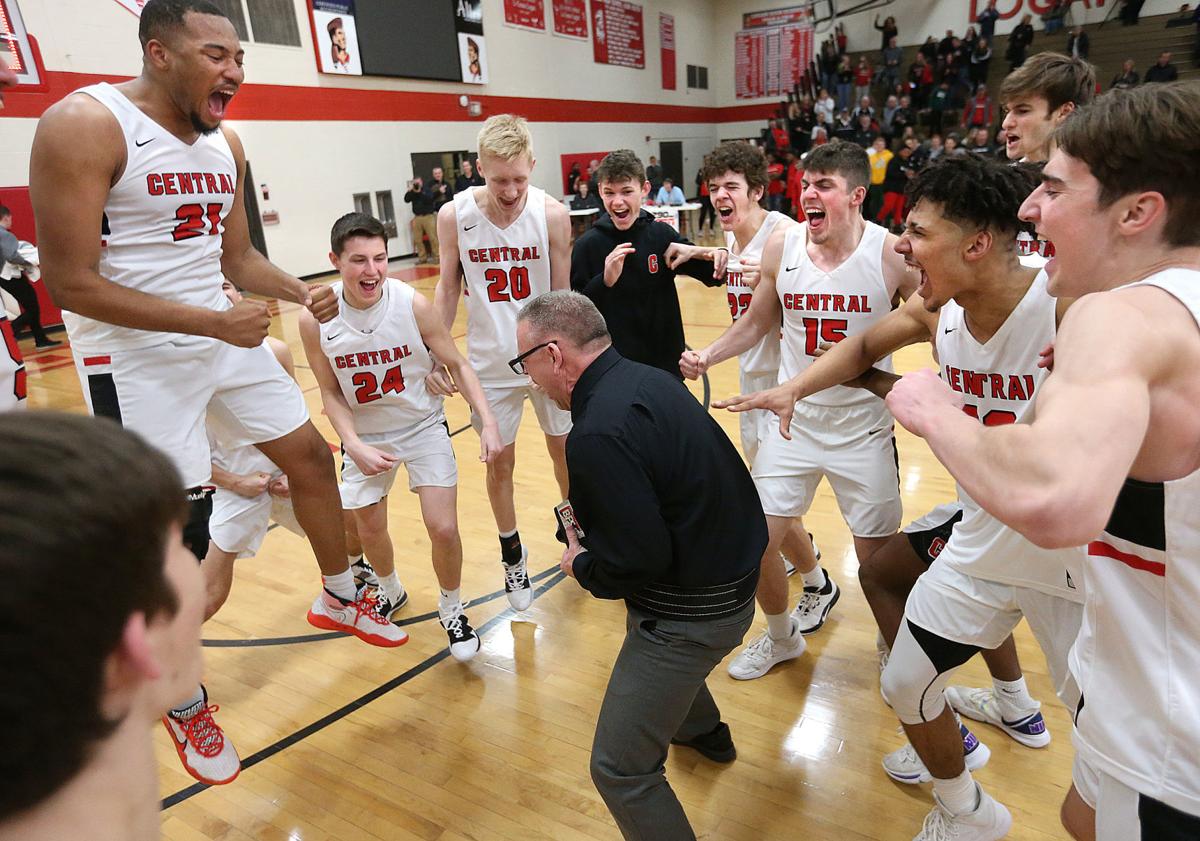 A few days ago, Central High School boys basketball senior Johnny Davis pulled Devon Fielding aside and told the sophomore to keep shooting.
"No matter how I started or how I ended, just keep shooting and be myself," Fielding said of Davis' message.
Fielding and Davis knew that would be important Thursday night in a WIAA Division 2 sectional semifinal against Onalaska, especially after the Red Raiders struggled to get production from their bench in two regular-season losses to the Hilltoppers.
Fielding was happy to keep shooting Thursday. Then again, who wouldn't be when going 3-of-3 from beyond the arc?
The guard knocked down a 3-pointer from the right wing in the first half and buried back-to-back triples that gave Central a comfortable 19-point lead midway through the second half. Fielding finished with 13 points on 4-of-5 shooting and hit two free throws late to seal the fourth-ranked Red Raiders' 55-40 win over top-ranked Onalaska in front of a limited crowd at Logan High School.
Central (20-5) has ended Onalaska's season in the sectional semifinals in four straight years. The Red Raiders' season, too, came to a close later in the night when the WIAA announced that the remainder of the girls state tournament and the boys sectionals and state tournament were canceled because of concerns about COVID-19.
"(Fielding) has had it in him since he was a freshman playing with us last year," Davis said. "Somebody had to bring it out of him and I finally decided to, and look what he did.
"If he keeps producing like that, we'll probably win a gold ball, no doubt."
Davis finished with 16 points, 10 rebounds and six assists, and Terrance Thompson continued his strong play with 13 points and seven blocks, a performance that earned him a piggyback ride from Central coach Todd Fergot after the game.
"I just said, 'T, you work so hard that you can't make your way into the locker room, I'll carry your tail right in.' That's what I told him," Fergot said. "That was just me following through on a promise I made."
"He brought that (squat) belt because he didn't want to break his back," Thompson added with a smile.
Thompson helped anchor the Red Raiders' defense, which gave the Hilltoppers (23-2) fits.
Central switched between a 1-2-2 and a 2-3 zone, which cut off Onalaska's driving lanes. Even when the Hilltoppers got open looks from outside, they struggled to connect. Onalaska finished 14 of 41 (34 percent) from the field and 6 of 20 (30 percent) from 3.
"We weren't planning on playing that much zone," Fielding said. "It was working out, so we just stayed in it and they just couldn't figure it out."
"I figured they would play a 1-2-2 primarily and mix in a 2-3, I really did," said Onalaska coach Craig Kowal, whose team lost its first game since a Dec. 21 loss to Minnehaha. "I thought we had moved it pretty good against it. We just didn't make shots, and they are big inside. So they alter it, and then we only get one crack at it, too."
The Hilltoppers hit from 3 early as Sam Kick and Dakota Mannel each connected and helped Onalaska grab an early lead. But Thompson scored on back-to-back possessions and Davis hit a triple to put the Red Raiders up 7-6 with 15 minutes, 28 seconds left in the first half.
Then Central's bench came alive.
Fielding knocked down a 3, and fellow sophomore Noah Compan converted a pair of buckets in the lane to push the Red Raiders' lead to 23-12 with 9:18 left in the half.
The Hilltoppers, meanwhile, went scoreless for nearly 7 minutes, and another bucket from Compan with 4:27 left in the half put Central up 29-12. Compan finished with six points.
"We know that Noah can do that, we know Devon can score for us," Fergot said. "Just a lot of real positives from those guys."
The Red Raiders led 31-17 at half, and the Hilltoppers again went cold to start the second half. Tyrell Stuttley and Mannel — who finished with 16 and 12 points, respectively — led a late charge and helped Onalaska cut the deficit to single digits.
But Davis seemed to have every answer down the stretch. A baseline drive finished with a two-handed dunk. A tough finish in the lane. An assist to Thompson for a layup. Before he made a pair of late free throws, he stood at the line and motioned at the crowd for some noise.
"It feels great," Thompson said. "We should have tied for conference, but it feels good beating them when it matters."
Be the first to know
Get local news delivered to your inbox!