Craig Kowal had a simple game plan for his Onalaska High School boys basketball team against River Falls in their WIAA Division 2 regional final: Play their patented stonewall defense, then get out and run. 
Of course, that is easier said than done, but the Hilltoppers executed the plan to near perfection, using suffocating defense and transition offense to handle River Falls 53-38 on Saturday night at Charles Deeth Fieldhouse. 
The win sets up round three between the Hilltoppers and Central High School in the sectional semifinals on Thursday. 
The Hilltoppers have shown throughout the season that they are an elite defensive team, but on Saturday, they took it to another level. With 6-foot-11 Gavin McGrath lurking on the inside, 6-foot-5 Tyrell Stuttley and 6-foot-4 Carson Arenz wreaking havoc in the passing lanes, River Falls just simply had a hard time getting it going offensively.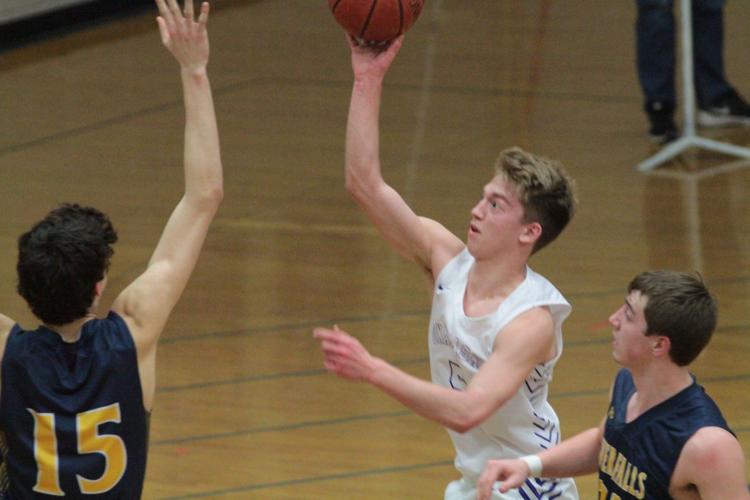 "We had about two minor breakdowns in the first half, other than that we were rock solid defensively," Kowal said. "That really helped getting us going."
River Falls went through a six minute scoreless stretch in the first half that eventually proved to be the difference maker, as the Hilltoppers — fueled by turnovers and fastbreak opportunities — went on a 15-0 run to take a 22-6 lead. Arenz and Stuttley combined for 14 of the 15 during the run with Arenz nailing a pair of triples and a layup on a steal and Stuttley delivering a thunderous left-handed dunk after a steal that induced a mini earthquake inside Charles Deeth Fieldhouse.
"That was our game plan to a T," Kowal said. "We knew we had to get some easy ones, especially in the first. ... They are very big and if their defense is set, they can be very hard to score against."
The first half numbers were staggering.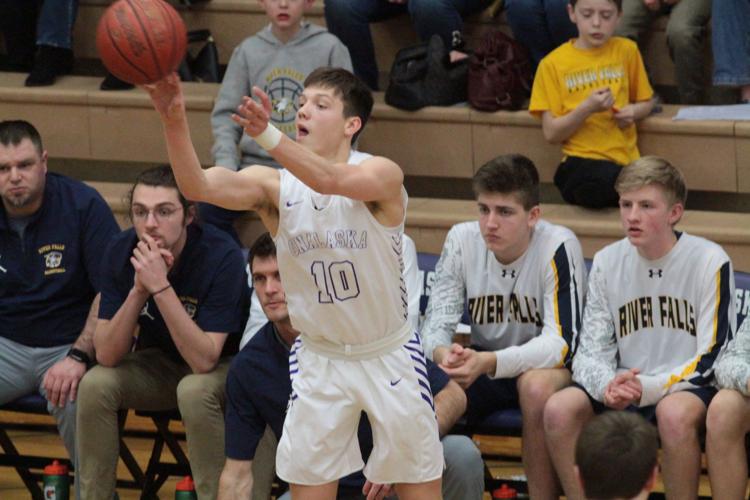 River Falls managed just 14 points and was 7 of 19 from the floor, including 0-for-10 from beyond the arc to go along with eight first half turnovers. In fact, the Wildcats didn't make a 3-pointer until 12 minutes left in the second half. They finished 3-for-20 from beyond the arc for the game with the third coming in the final seconds.
"We really got into the gaps well and denied (Zac Johnson) well," Arenz said. "We just really defended the 3 well, I don't think they made one in the first half."
Stuttley led the Onalaska offense with 15 points, but was even better on the defensive end. He had the task of covering River Falls junior southpaw Zac Johnson, who averaged over 20 points per game coming in, but Stuttley shut him down. Shading over to his right and using his long wingspan, Stuttley held Johnson to just eight points on 4 of 12 shooting, including 0-for-7 from beyond the arc.
"I just made sure I pressured him the whole way up, because we knew that he is primarily their main scorer," Stuttley said. "If we could get him off, we could get their whole team off. We did that tonight."
River Falls was able to trim the lead to 28-19 early in the second half, but back-to-back three-point plays Stuttley and McGrath pushed the lead back up to a comfortable 15-points. That was the last time the lead would was under double digits. 
In addition to Stuttley's 15, Arenz finished with 10, Dakota Mannel and McGrath finished with nine and seven, respectively, while Victor Desmond and Sam Kick each added six points to help the Hilltoppers set up round three with Central on Thursday night. Of course, Onalaska swept the regular season series.
"We just have to beat them once more," Kowal said. "Our kids are going to get a little rest and then prepare really well these next few days."
Be the first to know
Get local news delivered to your inbox!