HOLMEN — Senior Cale Hemker scored 14 of his game-high 25 points in the second half to propel the Holmen High School boys basketball team to a 60-50 victory over Sparta in a WIAA Division 2 regional quarterfinal on Tuesday.
Hemker's 25 points were backed up by 10-point performances from Ben Olson and Cam Weber, and the Vikings (8-15) advanced to a semifinal game at top-seeded Onalaska (21-1) on Friday.
Holmen has won four of its past five games, and Tuesday's win gave it a third win this season against the Spartans (5-18), who were led by Brian Sanchez and Kadon Milne's 15 points and Brett Stuessel's 10.
Division 3
GALESVILLE — Senior Grant Beirne went off for 33 points as the Red Hawks (13-10) blew past the Papermakers and into the semifinal round.
Sawyer Schmidt scored 19 points and teammate Luke Vance 10 to back up Beirne, who is averaging 23.4 points per game during G-E-T's five-game winning streak.
The sixth-seeded Red Hawks play at third-seeded Mauston on Friday.
Black River Falls 47, Arcadia 37
BLACK RIVER FALLS — Freshman Trey Cowley scored 12 of his team-high 17 points in the second half for the Tigers (15-8), who have won six of their past seven games.
Mike Roou added two 3-pointers and 12 points as Black River Falls beat Arcadia (1-22) for the third time. The Raiders were led by Michael Schweisthal's game-high 20 points.
The fifth-seeded Tigers play at fourth-seeded West Salem (14-8), which won the Coulee Conference, on Friday.
VIROQUA — Nothing was reported to the Tribune.
Prairie du Chien 62, Dodgeville 53
PRAIRIE DU CHIEN — Nothing was reported to the Tribune.
Division 4
Onalaska Luther 61, C-FC 41
ONALASKA — The Knights put the game away by outscoring the Pirates by 21 points in the first half for their third straight victory.
Onalaska Luther (12-11) made five 3-pointers — all in the first half — and were led by a 16-point performance by freshman Isaiah Schwichtenberg. Schwichtenberg made four of the Knights' 3s. Junior Isaiah added 11 points and six rebounds and senior Brandon Stadtler 10 points for Onalaska Luther.
Michael Bissen had nine points and 13 rebounds to lead C-FC (4-19). Teammate Austin Becker also scored nine.
Melrose-Mindoro 63, Augusta 40
MELROSE — Nothing was reported to the Tribune.
New Glarus 88, Brookwood 46
NEW GLARUS, Wis. — Nothing was reported to the Tribune.
Division 5
BANGOR — The fourth-ranked and top-seeded Cardinals (22-1) held Granton to seven second-half points in a blowout victory.
Oddly enough, Granton's Noah McConkey made five 3-pointers and scored a game-high 23 points.
Bangor was led by junior Zane Langrehr's 17 points, and 13 of those came in the first half. Senior Grant Manke and sophomore Mathieu Oesterle each scored 16 points for Bangor in its fourth straight win. Oesterle had 14 and Manke 12 in the first half.
The Cardinals host eighth-seeded Plum City/Elmwood on Friday.
Blair-Taylor 97, Coulee Christian 32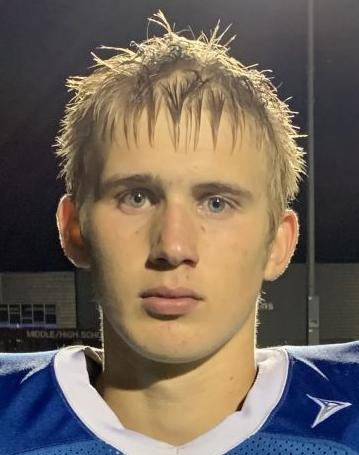 BLAIR — The second-ranked and second-seeded Wildcats (21-2) had a 32-point lead by halftime, and junior Matt Waldera passed the 1,000-point mark.
Waldera scored 20 points to lead four double-figure scorers for Blair-Taylor. Issac Nerby added 18, Kyle Steien 15 and Cain Fremstad 10 as the Wildcats advanced to host seventh-seeded Eleva-Strum (8-15) on Friday.
Coulee Christian (4-15) was led by Mike Merters, who scored 19 points.
Cashton 72, Alma/Pepin 48
CASHTON — The Eagles won a regional game for the first time in 17 years and took control early to do it.
Senior Isaac Hemmersbach scored 15 of his game-high 19 points in the first half, and sophomore Bowdy Dempsey made two of Cashton's four 3-pointers on his way to 18 points.
Cashton's most recent postseason win was a 58-56 victory over Hillsboro in a regional played March 4, 2003.
Senior Trevin Freit added 12 points for the Eagles (16-7), who are seeded fourth and host fifth-seeded Hillsboro (13-9) in a semifinal on Friday.
Iowa-Grant 90, De Soto 57
LIVINGSTON, Wis. — Nothing was reported to the Tribune.
Be the first to know
Get local news delivered to your inbox!