WIAA boys cross country: Onalaska Luther's David Vannucchi wins D3 title again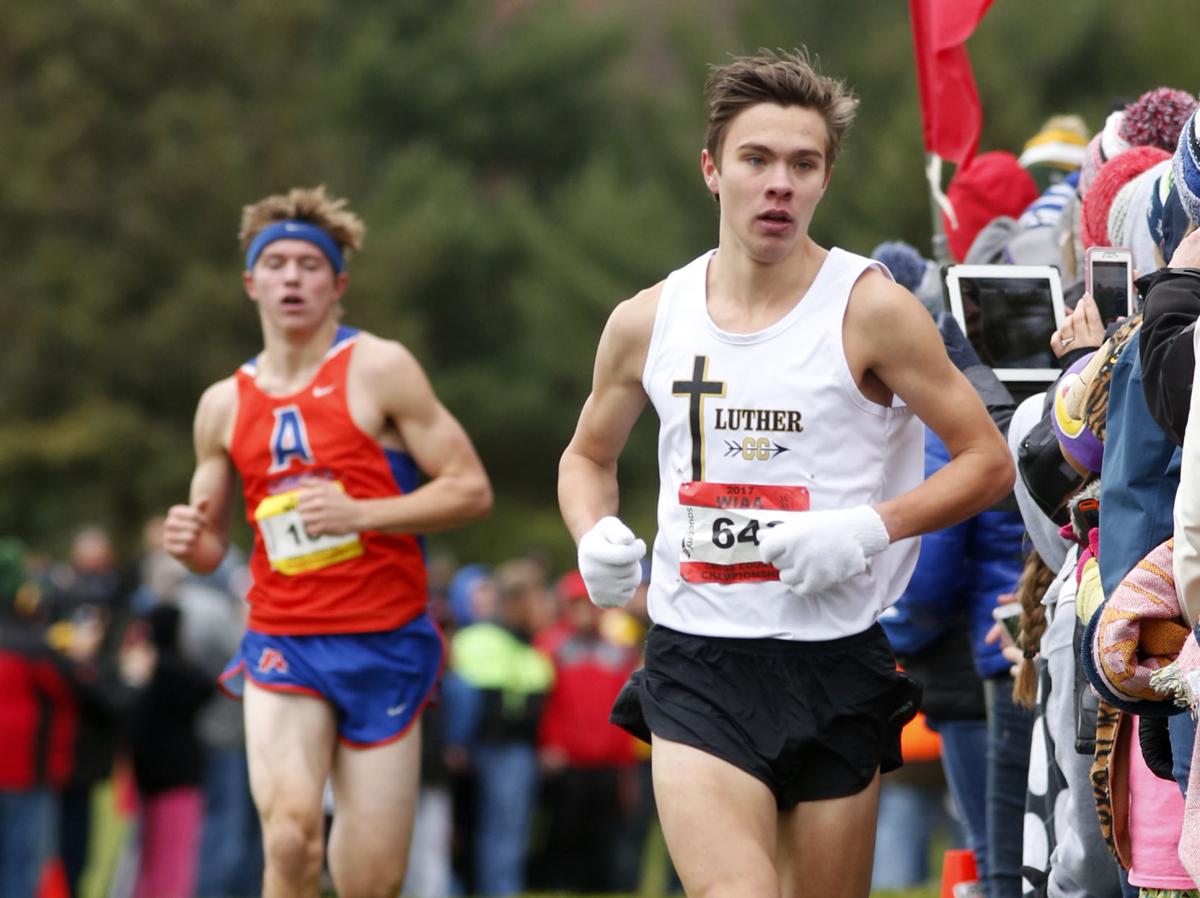 WISCONSIN RAPIDS, Wis. — After crossing the finish line, Onalaska Luther High School junior David Vannucchi collapsed to the ground, exhausted from the effort that was necessary to win a WIAA Division 3 cross country championship.
Vannucchi had won before, but repeating is never easy.
Vannucchi led at all three checkpoints and was the first in his race to cross the finish line in 15 minutes, 54 seconds.
After meet volunteers helped Vannucchi off the chilly ground Saturday, he went back toward the finish line to see which teammates followed closely behind.
Most runners stepped into a heated tent with a bottle of water waiting once the race was over, but Vannucchi waited until all teammates were done before walking through the tent to the awaiting media.
Vannucchi and his Knights teammates found themselves eighth in the team standings with 197 points. Durand won the team title with 79.
"That just exemplifies who he is," Knights coach Kevin Lisk said. "That's him. He's not one who likes the spotlight or shines it upon himself."
Vannucchi made it to the first mile mark in 5:06, and was at the second mile mark in 10:13. His shortest split was from the start to the first milestone.
"It's a big relief to come back and defend," Vannucchi said. "This is why you put so much into this. I knew there was pressure. I tried to tune out the pressure, but there was a lot."
It's the second straight year that Vannuchi has won the individual title.
After winning, he didn't have to wait terribly long for his next teammate. Junior Sam Larson picked up a 10th-place finish, and he found himself with a podium spot and a medal.
Lisk stood near the end of the course waiting on Larson to come around. Lisk admitted that he had an idea where he was running, but Lisk wasn't going to yell that out to Larson to give away any secrets.
Larson crossed the finish line in 16:43, which was 3 seconds ahead of the No. 11 overall runner (Brillion sophomore Gunner Schlender).
"He's not a sprinter, and he's not really a finish kicker," Lisk said. "For him, he has to extend the push. He finished 10th, and he was happy as can be. He said he never raced that hard in his life."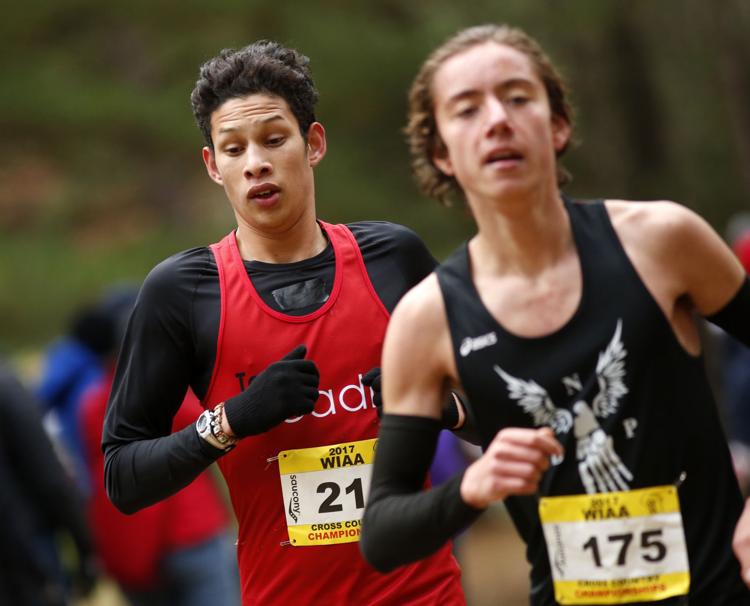 ROMERO FOURTH AND HOLDS OFF FRIENDLY FOES: Arcadia's Ramon Romero had the happiest smile on his face when he finished. He was happy to get into warmer clothes.
The four-time state qualifier was also pleased with his result, which was a fourth-place individual finish in the Division 3 race (16:05).
"I didn't think I was going to do it," Romero said. "It felt great. I loved it. There was good competition and now I can say I got to run with the best in the state."
Westby senior Hayden Fredrickson followed closely behind Romero and wound up sixth (16:27.8) after running at the front of the pack the first two miles.
West Salem freshman Charlie McKinney was eighth (16:31.42) and was the fastest freshman in the race. The second-fastest freshman in the Division 2 race was Logan's Tracy Bye (17:44.59).
McKinney was the only non-senior among the top 11 runners.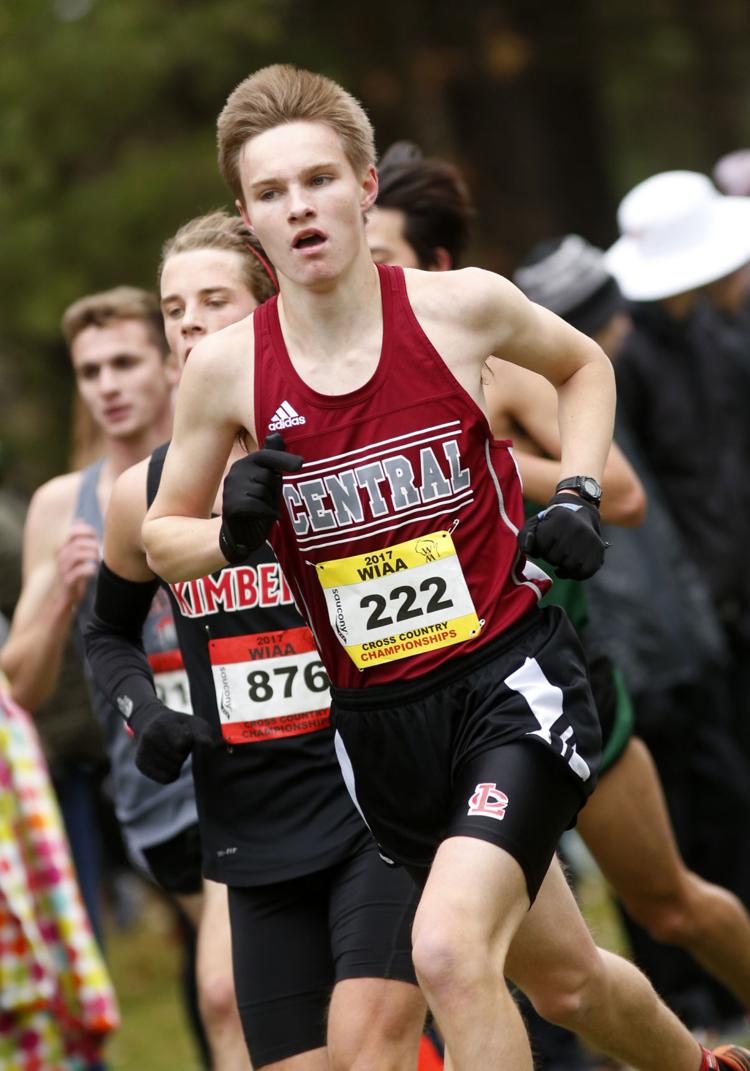 ERVIN CHASES CENTRAL RUNNERS: Onalaska's AJ Ervin tried to keep up with Central runners Jett Mickelson and Chad Richter.
Ervin finished in 151st while Richter got 60th (16:46) and Mickelson received 85th (17:05).
Ervin said he kept up with Mickelson pretty well in the first mile, but that's when Mickelson distanced himself from his fellow MVC friend.
"I tried to get with these Central guys, but I fell in the first mile, and that's when I lost them," Ervin said. "After that … it's a tough course, I wanted to PR today, but I didn't do that."
Mickelson's second-mile split was 5:35 while the first mile was a 5:08. For Ervin, his first-mile split was 5:11, while the second mile he turned in was a 5:50.
"The course wasn't bad, but the weather killed," Mickelson said. "I didn't adjust a whole ton."
Richter's second-mile split was 5:35, while his first mile was a 5:12.
LOGAN PLACES FIFTH: Zach Slevin led the Rangers with a 32nd-place finish (17:07) as Logan ended up fifth to end the season.
Fellow sophomore Dylan Mitchell was 68th (17:42) and freshman Tracy Bye ended up three spots and 2 seconds behind Mitchell.