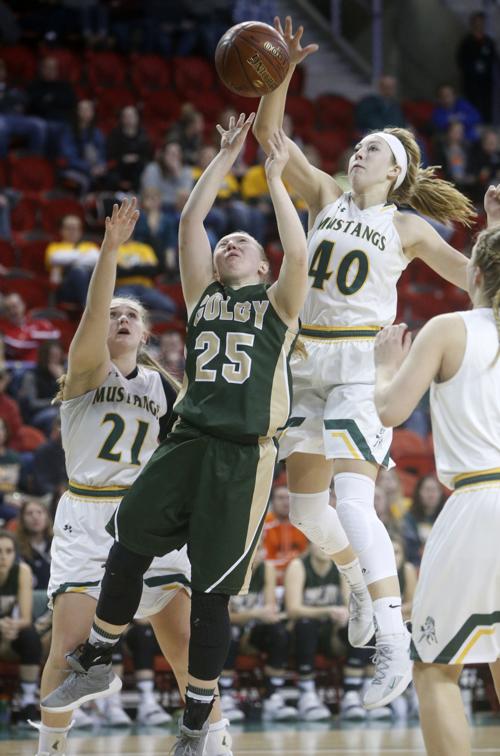 GREEN BAY — It's difficult to isolate one player on the Melrose-Mindoro High School girls basketball team.
The Mustangs do such a good job of working together, moving without the ball, setting each other up for success, that it seems every individual feat was the direct result of a teammate's pass or screen or steal. But when games start to get tight, as the WIAA Division 4 semifinal Thursday at the Resch Center did for a short stretch, Melrose-Mindoro has learned it can lean on junior Emily Herzberg.
The 6-foot, NCAA Division I South Dakota State recruit possesses an array of skills that are difficult to hold down for long, and they're going to be vital in the Mustangs' pursuit of a state championship. Melrose-Mindoro (26-1) has the rematch those in the know expected all season in the title game, facing off with Aquinas (26-1) at approximately 12:45 p.m. The two battled for the title last season, and Aquinas came away with a 68-52 win.
Herzberg, who will be joined at SDSU by junior teammate Mesa Byom, said the Mustangs were motivated by a goal of getting back to the state tournament, and knew all along it would likely mean a rematch with the Blugolds.
"In the season we try to focus on the next opponent, we don't to get too dead-set on, 'Oh my God, it's Aquinas.' So we've tried to keep our distance, but we're obviously always seeing each other in the news and stuff," Herzberg said as the Mustangs got ready for practice at Green Bay East.
"It's just nice, practicing all year, pushing ourselves to get to this caliber, so it's nice to get another rematch with them."
Herzberg, who helped power Melrose-Mindoro's offense with 21 points in the semifinal game, is accustomed to the balance with which her team plays. The Mustangs know any one of their top players could be the one to go off on a particular night.
But Mustangs coach Joey Arneson has seen Herzberg grow into a go-to player, and the one his team turns to often in key moments.
"Emily is a gamer. In those big games, there's some girls who maybe fall by the wayside, and some girls excel; Emily is certainly one who excels," he said.
"If we need a big play, it's likely to come from number 40. We can always rely on that. It may not be the basket. It might be the big rebound, the blocked shot, the steal, she does everything so well, that it almost gets to the point we expect it from her."
Arneson's confidence, Herzberg said, allows her the fortitude to keep shooting even if she's missed a few, like she had early Thursday. She asked Arneson if she should keep shooting or look to distribute more, and Arneson told her to keep shooting and get out of the mini-rut.
"Him having that trust in me really helps not only me from a shooting perspective, but it builds me up as a leader," Herzberg said.
As usual with the Mustangs, even as Herzberg got going and help lead the 63-44 win, others made critical plays. Senior and UW-Whitewater recruit Erika Simmons scored eight points during the 10-2 run Melrose-Mindoro used to pull away after Colby had cut its deficit to six.
"All we can do for that is make a run back, and I think our team does very well under the pressure of trying to close the gap on a team's run," Simmons said.
Saturday's rematch with the Blugolds, which will mark the third straight season the Mustangs' final game comes against Aquinas, will put two extremely versatile teams against one another.
Arneson knows his team has the experience of being challenged throughout the year, and is ready for them to take that final step up the ladder against Aquinas.
"That's who we emulate ourselves after, and they set the bar very high. I think we've gotten to that point, where I'm hoping that we can exceed that," he said. "(Saturday), I hope we can prove we can be mentioned with the Aquinases of the world."
Be the first to know
Get local news delivered to your inbox!