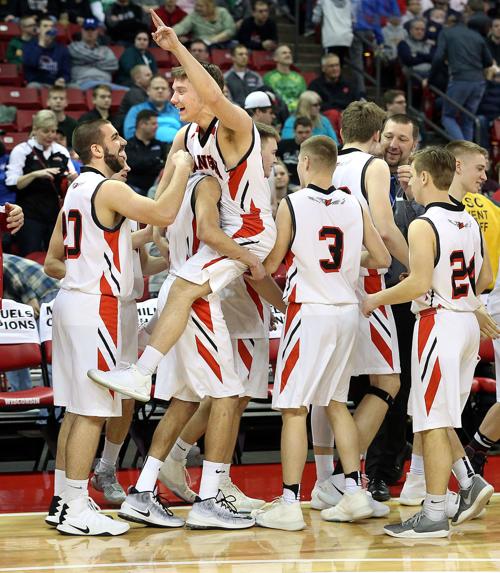 MADISON — Any team's trek that ends with it hoisting a state championship trophy goes down in the record books. That title will always be associated with that group of players.
But WIAA Division 5 boys basketball history will remember the 2017-2018 Bangor High School team — and remember it fondly.
The Cardinals' thorough domination of the Division 5 tournament, which culminated Saturday with Bangor pounding Chippewa Falls McDonell 91-67 at the Kohl Center to win their first state championship, will be entered in the record books forever.
In two games of the state tournament, Bangor set 11 team records and senior guard Luke Reader set two individual marks that any player will be hard-pressed to break.
It also etched its name in WIAA history as the first school to ever win the football, boys basketball and girls basketball state championships in a single school year.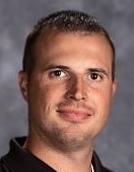 "It's amazing," coach Jordan Laufenberg said of the team's record-book-rewriting weekend. "It's a testament to all the hard work that these kids put in. I'm super happy for them. They definitely deserve this, and I couldn't be prouder."
Bangor (27-1) set Division 5 records for points in game (91), which was also a title game record, points in a half (44 — first half on Saturday) and total points in a tournament run (164).
Saturday's rout of the Macks was indicative of how the Cardinals played throughout its season, one in which they didn't lose a game to a Division 5 team. Bangor was again the stronger, more physical team, and once again its opponent had no answer for that discrepancy.
Bangor controlled the second half after leading by 13 following an up-and-down opening 18 minutes. Sp
urred by a gutsy performance by senior Caleb Miedema — who turned his ankle in the first half — Bangor clamped down on the offensive rebounds that kept the Macks competitive in the first half, and went on a 13-2 run to extend its lead beyond what McDonell could make up.
"That's a pretty impressive group. They were physical, the challenged everything, just a machine on the boards. They just kept coming at you," Macks coach Archie Sherbinow said. "Everything was a struggle."
You have free articles remaining.
After allowing 10 offensive rebounds in the first half turn into seven second-chance points, Bangor allowed just three offensive boards in the second half and McDonell failed to score on any of them. It was just one facet of the Cardinals' ownership of the glass — they finished with a 47-27 advantage on the boards, with the 47 rebounds in a game breaking the Division 5 record they set with 46 on Friday.
"They were so physical down low, it's tough getting a rebound because they just boxed out so well," said Macks senior Hayden Baughman, who had a team-high 24 points on 8-for-16 shooting. "They're a bunch of football players, so they're OK with contact. They got the best of us on that end."
Miedema scored the first eight points of the second half for Bangor on the way to a game-high 25 points. The 6-foot-4 senior scored his 1,000th career point in the semifinal against Green Bay N.E.W. Lutheran on Friday, as well.
Sophomore forward Grant Manke had 19 points and 13 rebounds for his second double-double of the tournament after posting an 18-12 performance on Friday. Senior guard Drew Johnson added 12 points and three steals, senior Cade Amborn had eight points and seven boards, and senior Garrett Krueger added seven points and five rebounds.
Senior Luke Reader finished with nine points, seven rebounds, four steals, and a Division 5 record 11 assists. Reader also set the record for assists in a tournament with 16.
Reader came into the tournament as Bangor's leading scorer at 16.8 points per game, but focused on facilitating and finished with nine points in each state game.
"I have four great guys around me; four stars, and then bench players also. I can trust them with anything, throw them the ball and they'll score," Reader said of balancing his scoring with his passing. "It's just having that trust with your teammates, knowing that you pass them the ball and they'll score."
Bangor never trailed in the title game — as it didn't in the semifinal — and outscored the Macks 52-22 in the paint. Of the team's 34 made field goals Saturday, 22 were assisted — another Division 5 tournament record.
"They're just extremely unselfish," Laufenberg said. "At the end of the day, it's about winning the ball game, and they've done that."
---
Bangor vs. Chippewa McDonell championship game
Bangor vs. Chippewa McDonell championship game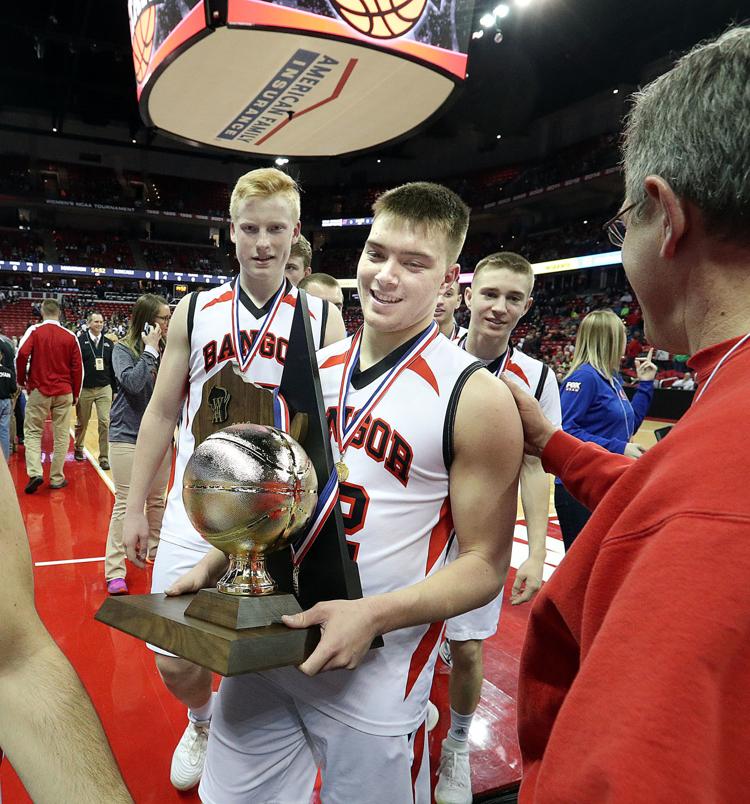 Bangor vs. Chippewa McDonell championship game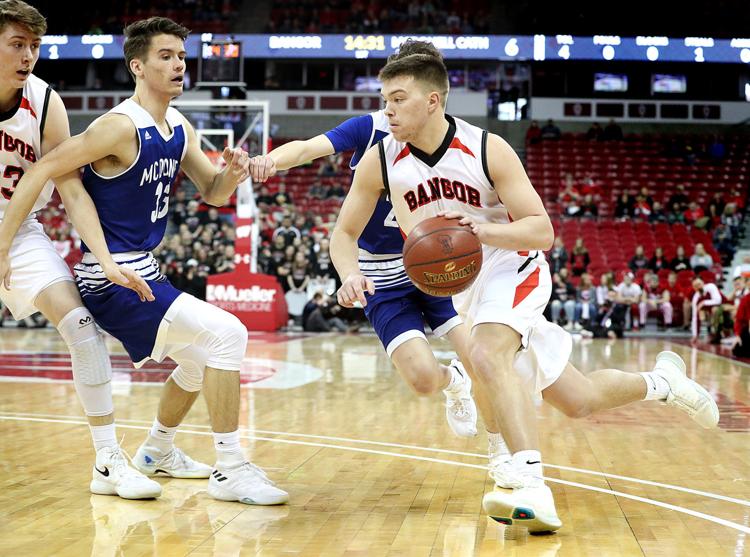 Bangor vs. Chippewa McDonell championship game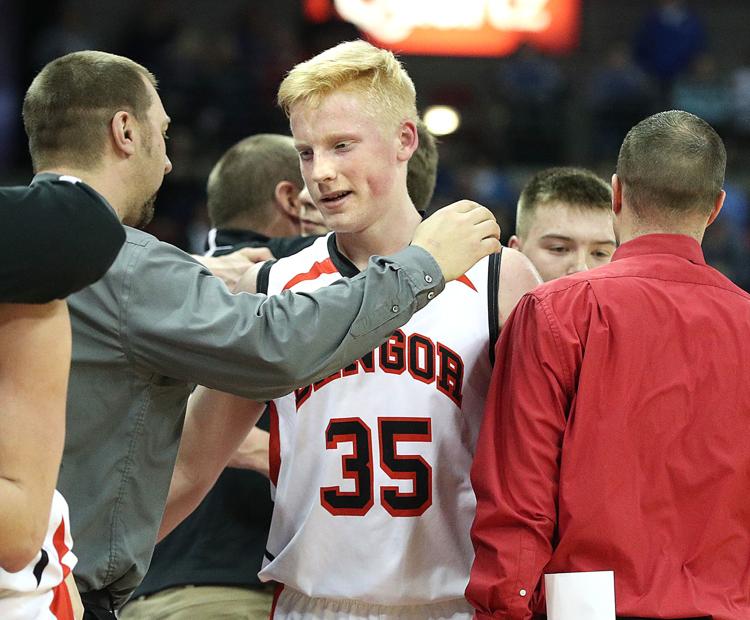 Bangor vs. Chippewa McDonell championship game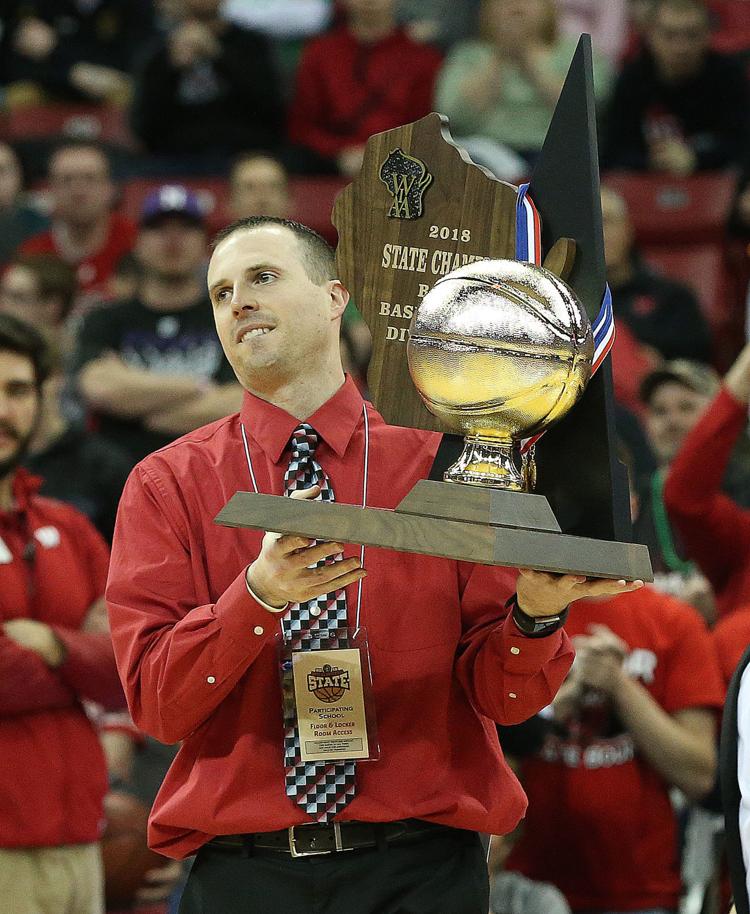 Bangor vs. Chippewa McDonell championship game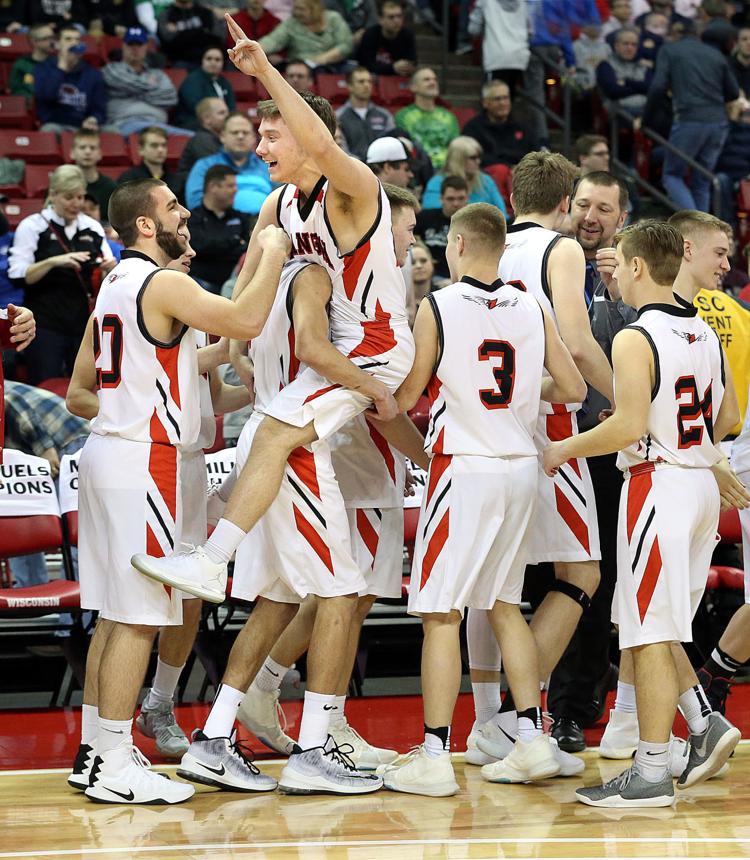 topboys-bb-secondary-photo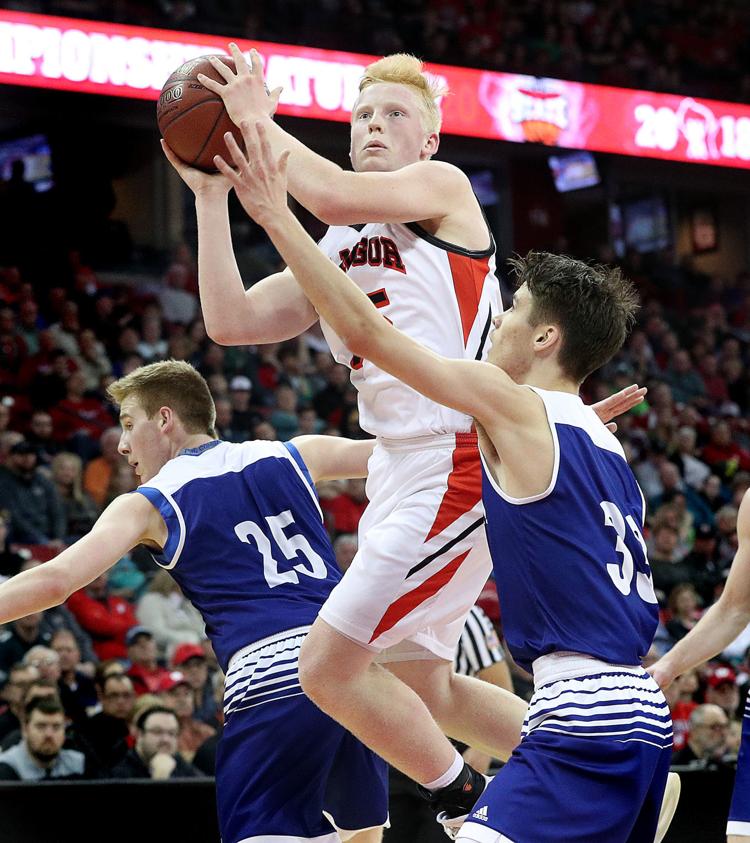 Bangor vs. Chippewa McDonell championship game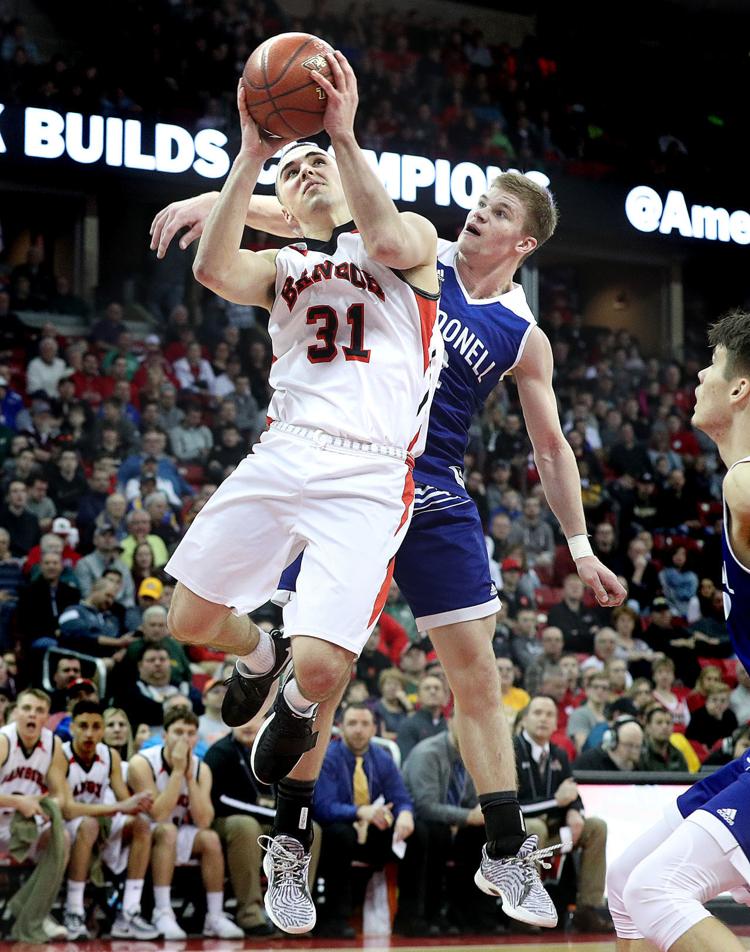 Bangor vs. Chippewa McDonell championship game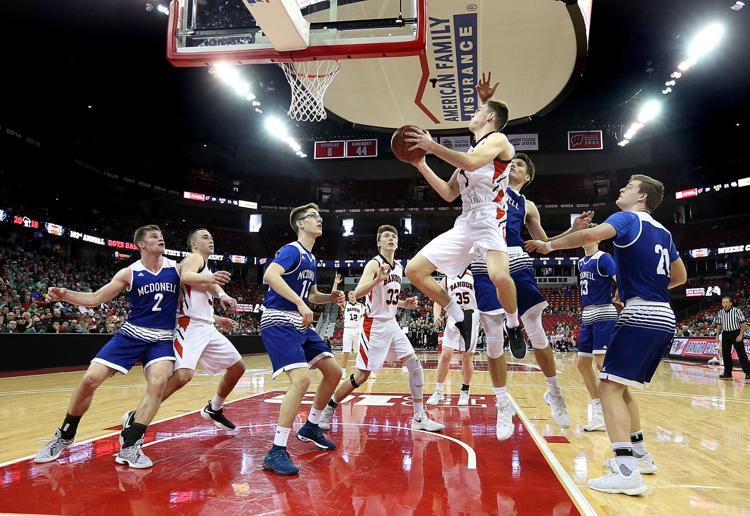 Bangor's Grant Manke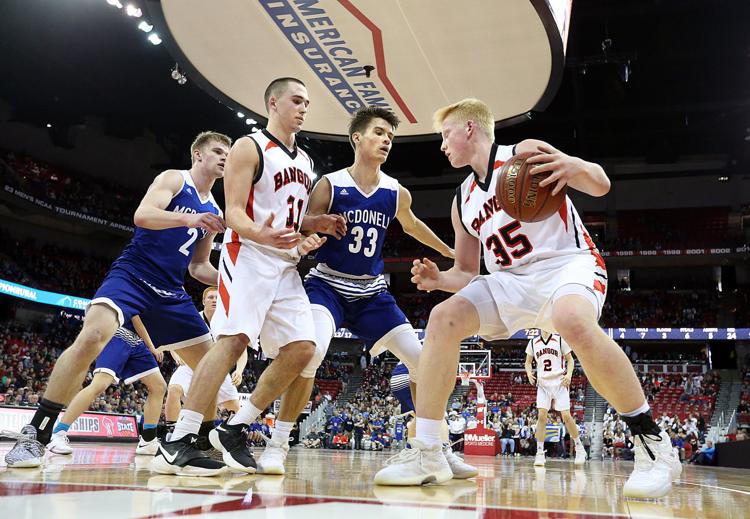 Bangor vs. Chippewa McDonell championship game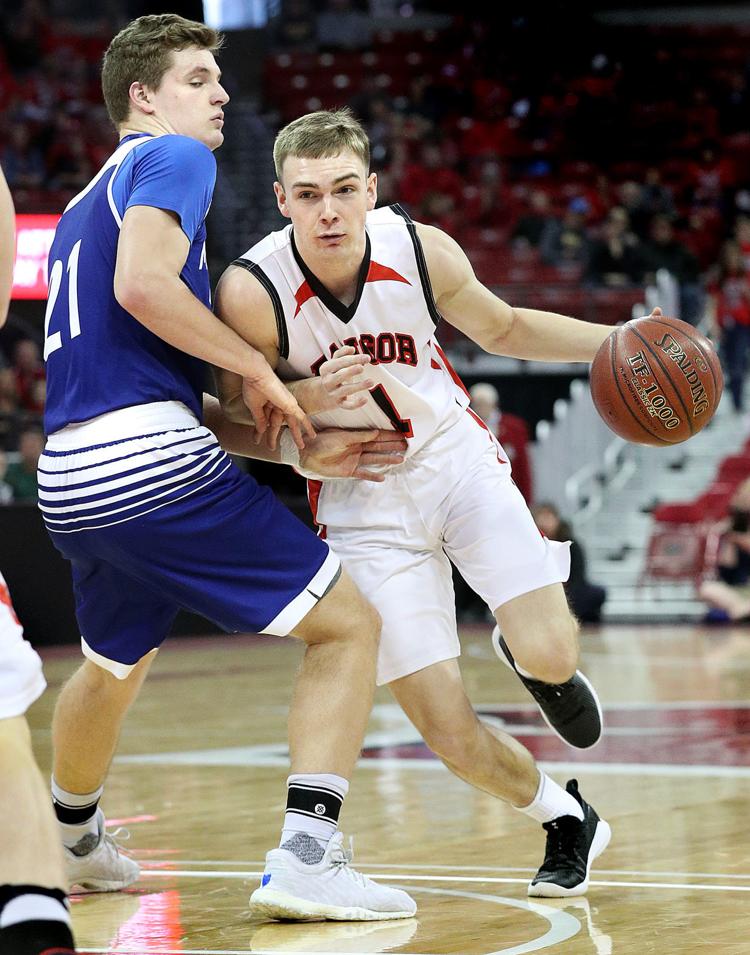 Bangor Championship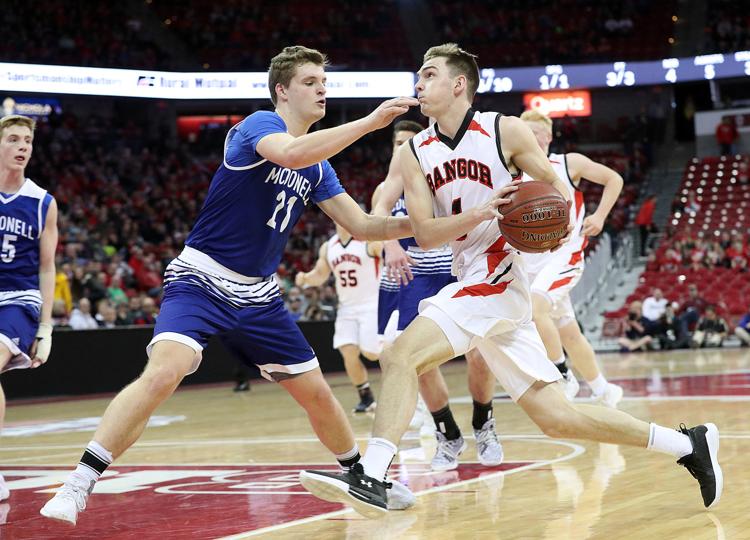 Bangor vs. Chippewa McDonell championship game
Bangor vs. Chippewa McDonell championship game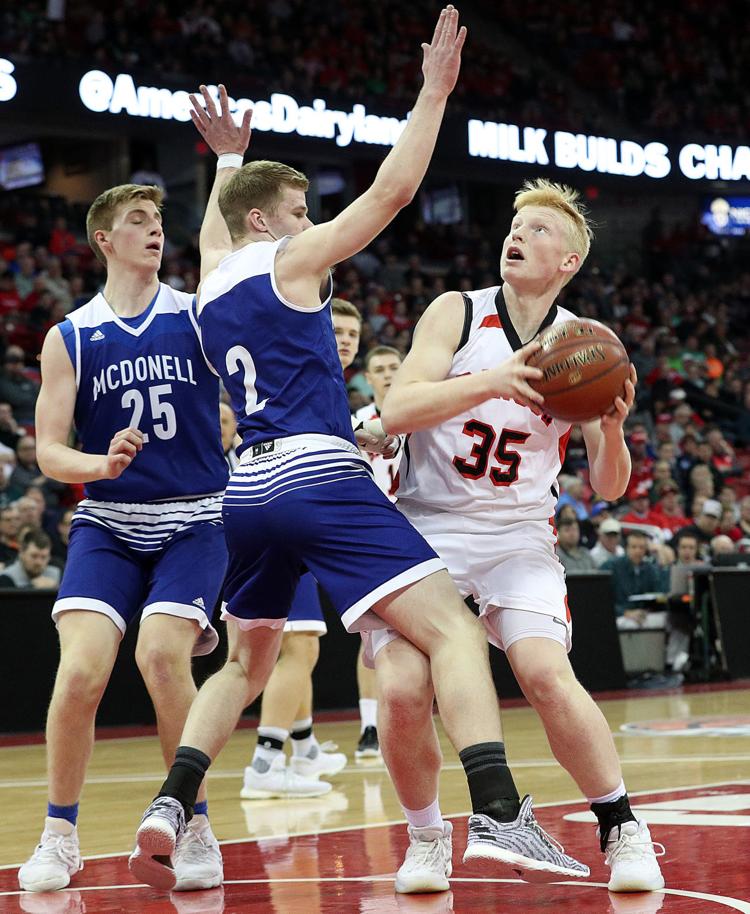 Bangor vs. Chippewa McDonell championship game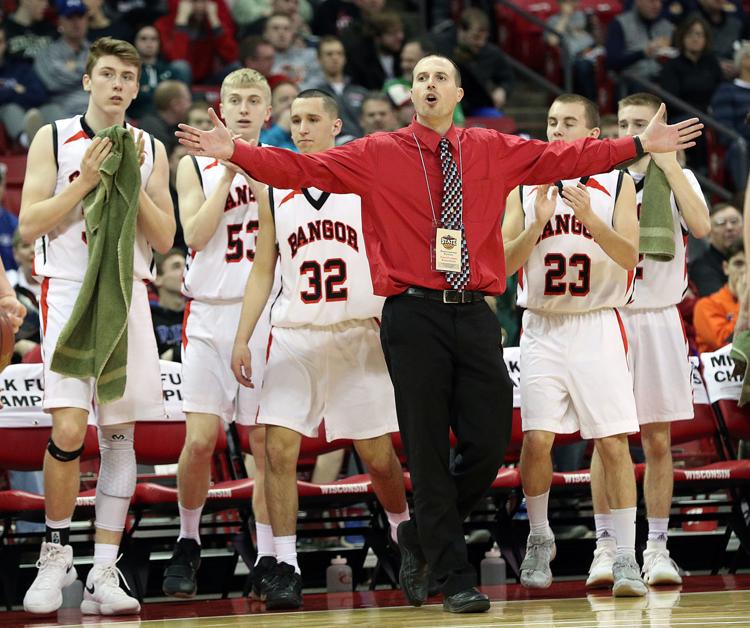 Bangor vs. Chippewa McDonell championship game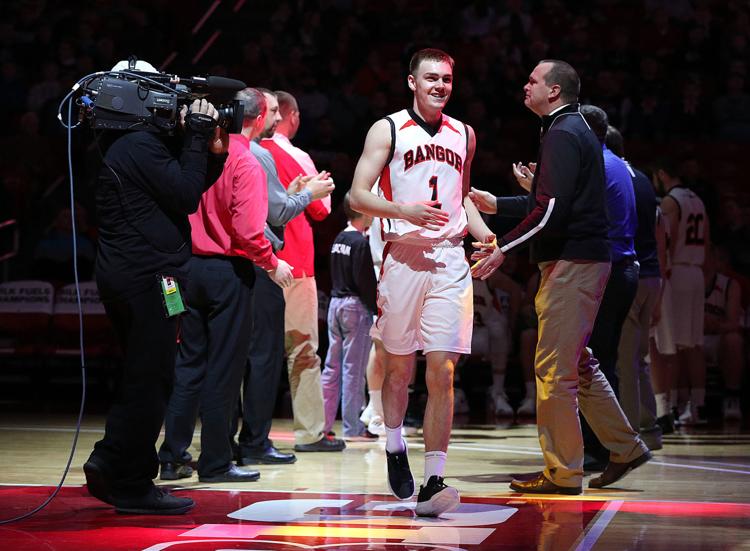 Bangor vs. Chippewa McDonell championship game