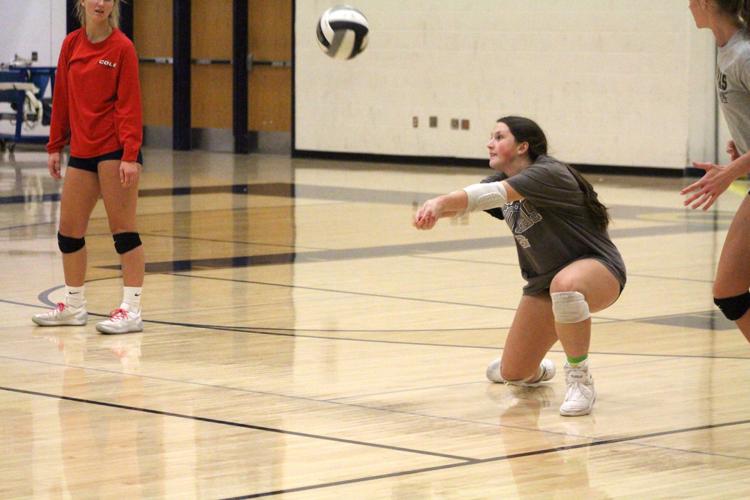 Victoria Nolte is aware of the pictures, ones of her blowing bubbles with her gum as she's making a dig or passing the ball to a teammate. For some, it's jaw-dropping. For her, it's natural.
"I honestly don't even think about it," Nolte said. "I think just chewing gum takes my mind off the game. And when my mind's not on the game, I feel like I just pass a lot better and do everything I need to without even thinking about it."
"She's just dialed in, man," Aquinas High School volleyball coach Nellie George said, "and I love it. I love it."
Just as effortlessly as Nolte blows bubbles during games, the junior made the switch to libero this season for the third-seeded Blugolds (30-3), who play second-seeded Waterloo (31-10) in the WIAA Division 3 state semifinals Friday in Green Bay, and has played a key role in Aquinas' postseason run.
Nolte leads the team in digs (416, a season-high 32 of which came in the Blugolds' win over Grantsburg in the sectional final) and serves received (550) and has filled the hole left by Megan Scheidt, who was a senior last year.
"Losing Megan, that was a big thing for us. We knew that was our prime position we needed filled," senior Taylor Theusch said. "The scrappiness of (Nolte's) game and just the will to do anything and the determination, it's all her character."
Although she was a defensive specialist for Aquinas last season, being a libero is still relatively new to Nolte.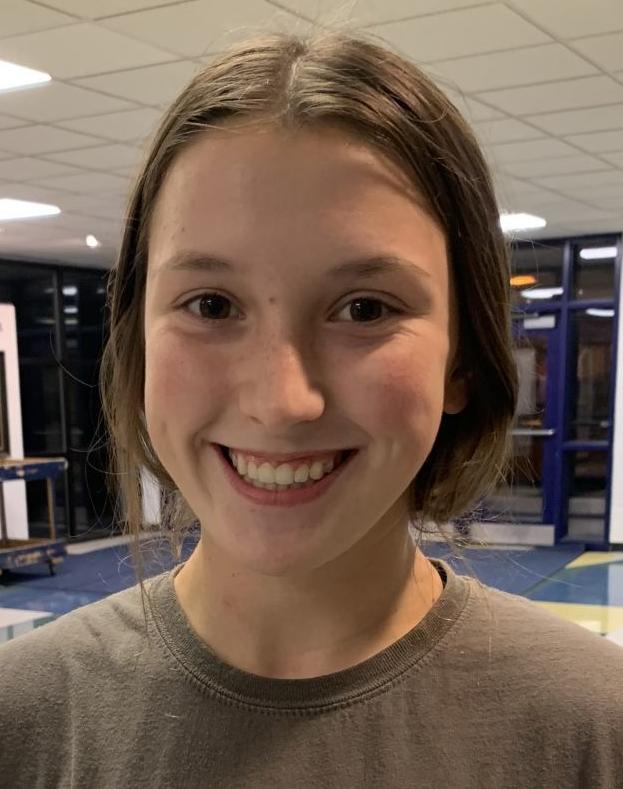 Nolte has experience playing at the net and was an outside hitter during her club season, which began in January, this past offseason. An ankle injury suffered during the season, coupled with her club team needing a libero, nudged her to make the switch.
"I stepped up and did my part and just kept improving," Nolte said.
You have free articles remaining.
Register for more free articles.
Stay logged in to skip the surveys.
Still, there was a bit of a learning curve even as the high school season rolled around. Nolte said she failed to move her feet in early matches and has improved on reading arm and wrist angles of opposing hitters, which allowed her to become increasingly confident and aggressive as the season progressed.
George, who praised Nolte's volleyball IQ, noted her growth and drive to refine her skills.
"She asks a lot of really great questions," George said. "When she makes errors, she's always looking for feedback on, 'What do I need to do different so that doesn't happen again?'
"She always wants to see, 'What was my passer rating? And what was this?' Because she's always striving to do better."
But more than digs and passer rating, George has entrusted Nolte with one of the sport's most important pieces: communication.
"I think she does a really good job with that," Theusch said. "She's really loud, which really helps us. We always know where she is. We always know how many blocks we have. And that's her job to call that stuff out for us, so she's really stepped up to the plate in that area."
"It's allowed the rest of the kids to just kind of listen to her and take her lead on those things," George added. "And she's put them in good positions."
The main beneficiary has been senior hitter Lexi Donarski, who leads the team with 409 kills. Nolte knows that she might not get the spotlight that comes with leading the team in kills, but she doesn't mind.
"As long as I put the ball up, and they can get those glamor stats, it doesn't really matter to me," Nolte said.
Nolte and Aquinas will likely be tested on that front against Waterloo on Friday. The Pirates have a potent front row, led by University of Illinois volleyball commit Brooke Mosher, who has team highs in kills (498) and aces (110). Her 408 assists are good for second on the team.
The Blugolds' defensive leader thinks they will be up to the task.
"I've been watching them a little bit throughout the season because I knew matchups could happen," Nolte said. "I definitely feel they have a strong attack, but I feel so do we. And our defense can definitely back it up."