MADISON — Truck Hannah can be pretty intense when it comes to the sport of wrestling.
But he can just as easily be the most laid-back guy in the room, which shows just how comfortable he is in his favorite atmosphere.
His name is Tyler, by the way. It's just more fun to use his nickname because he's been a runaway truck ever since he became a freshman at Viroqua High School.
Hannah, who transferred to Prairie du Chien for his senior school year, has always understood his talent and believed in it. He expects the world of himself, and the fact that none of his first three trips to the WIAA individual state tournament resulted in a championship wasn't easy to accept.
Hannah made good Saturday night on his final opportunity to achieve a goal he has had since his first February trip to the Kohl Center.
But the anticipated celebration that one would expect to be unleashed after Hannah held on to beat Wrightstown junior Quincy Klister 4-1 in an overtime tiebreaker and win the Division 2 195-pound championship never came.
Instead, Hannah accepted his arm being raised while simply pointing in the direction of people he knew in the crowd.
"I feel like this is to be expected after I lost (the championship match) last year," Hannah said while leaning against a wall at the Kohl Center. "I've been training my butt off and finally got the job done."
"I thought of it more as taking care of business," said Hannah, who has helped the Blackhawks qualify for next weekend's team state tournament at the University of Wisconsin Field House.
That was the laid-back Hannah. So was the one who walked around without seeming to have a care in the world prior to his final match of the individual season. The intense Hannah appeared during the match, slapping Klister's arms down on tie-ups he didn't like.
Hannah spent his first two seasons at 170 pounds and the last two at 195. He won 186 matches, lost 14 and finished third twice and second once at state before Saturday.
You have free articles remaining.
He expected to have his hands full with Klister, who entered with a 44-3 record and No. 3 state ranking. Hannah recorded a sudden victory over second-ranked Bryce Burns of Melrose-Mindoro/G-E-T during Friday night's semifinals, and this challenge was a similar one.
"I expected a hard-fought match," Hannah said. "This is the state finals. I think we went a little conservative, but I still got the job done, and I'm thankful for that."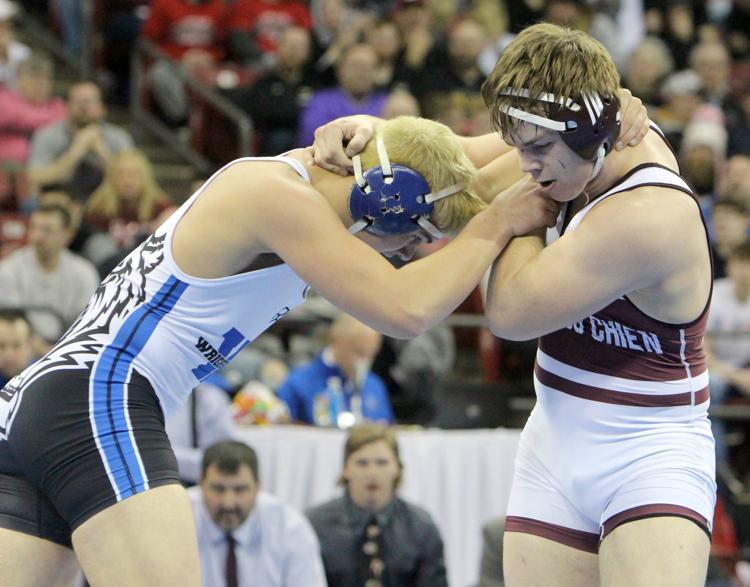 Conservative is guarded. Chances weren't taken by either side unless it was with full confidence, and the wrestler under attack always seemed to have the solution to getting out of it.
Klister escaped midway through the second period, and Hannah a little quicker in the third. A scoreless one-minute period after regulation solved nothing, and Hannah picked the down position to start the tiebreaker.
It took 35 seconds to escape, but Hannah wasn't done after Klister went on the offensive.
Klister got Hannah's right leg, but Hannah fought out of it and recorded a huge takedown for valuable separation. Klister couldn't escape Hannah's control on the back half of the tiebreaker, and the score held.
"I told my training partner (Saturday) morning that I was going to crunch (Klister), and that was my chance to crunch him," Hannah said. "I found the corner and did what I could, I guess."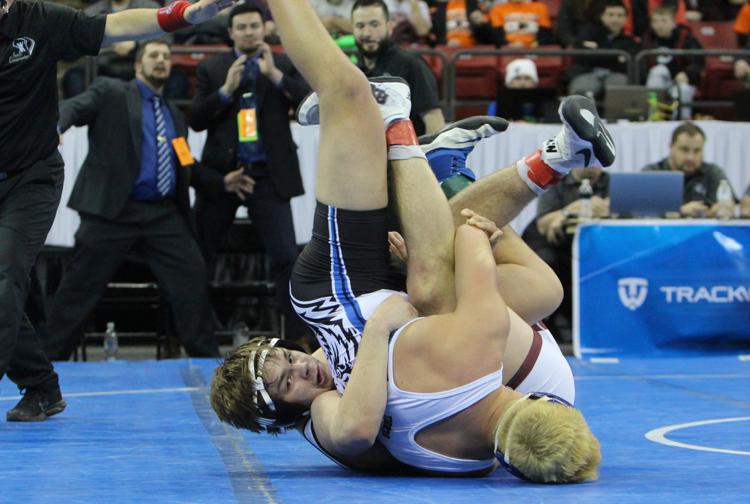 The performance and completion of a 53-0 season could be a springboard into a college career, but Hannah said he isn't sure what the future holds. He might not wrestle and seems comfortable with that choice if it's made.
"There are some options out there, but I don't know for sure if I will wrestle in college," he said. "I might just go to school and get my degree."
If his decision is the latter, he has one more week to get something that has been very dear to him out of his system.
And he couldn't have that week up in a better way.
Be the first to know
Get local news delivered to your inbox!