Onalaska High School graduate Matt Thomas is a EuroCup champion, and he had a big hand in making that a reality for the Valencia Basket program on Monday.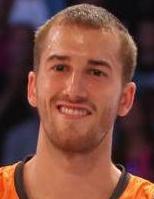 Thomas scored a team-high 19 points as Valencia beat ALBA Berlin 89-63 in the third -- and deciding -- game of the 7DAYS EuroCup championship series.
Thomas scored 40 points in the three-game series and saved his biggest game for last after Berlin tied the series at 1 by winning the second game in overtime. Thomas also scored 16 points as Valencia won the first game.
Valencia posted a 20-3 EuroCup record this season and swept its first two opponents in the 7DAYS EuroCup before beating Berlin.
Thomas came off the bench and played a team-high 28 minutes on Monday, and he responded by making 5 of 7 shots from behind the 3-point line. Thomas also had three assists and two steals as Valencia earned a spot in the 2019-2020 EuroLeague season.
Thomas, who helped Onalaska win a WIAA Division 2 state championship in 2012 before playing in four NCAA Tournaments with Iowa State, made 7 of 12 shots overall in the championship game and 10 of 16 3-pointers in the championship series.