GREEN BAY — Down in Dallas, they still talk about it. They still think about it.
"It's definitely in our heads," Dak Prescott confessed at midweek.
Nine months after the Green Bay Packers beat the Dallas Cowboys in the NFC divisional playoffs on one of the most clutch throws and catches in NFL postseason history — quarterback Aaron Rodgers rolling to his left on third-and-20 and firing a laser-accurate 36-yard sideline strike to tip-toeing tight end Jared Cook with 12 seconds left in regulation, setting up Mason Crosby's 51-yard game-winning field goal — the Cowboys are playing host to the Packers at AT&T Stadium for a rematch today.
And Prescott, the Cowboys' now second-year quarterback who was standing on the sideline in awe of Rodgers' throw, hasn't forgotten it.
"No way," Prescott recalled thinking at the time. "No way he caught the ball and no way Aaron Rodgers made that play."
What Prescott doesn't know – how could he, really? – is that the seemingly drawn-up-in-the-dirt play that Rodgers conjured up in the huddle with the game on the line and the play-clock winding down was months in the making. As improvisational as it seemed in the moment – Fox Sports' cameras caught Rodgers gesturing to Cook, Davante Adams, Randall Cobb and Trevor Davis where to run, since there wasn't a true play-call in the huddle – Rodgers actually had been thinking about such a situation for a long, long time.
"The things that I do on the field, most of the time come with deep thought and contemplation — weeks, months before they actually happen," Rodgers explained to the Wisconsin State Journal this week. "Sometimes (only) days, sometimes even hours. Sometimes I think of something before a game, and say, 'Hey, we get this situation, I might check to this' or 'I'm thinking maybe this.' But plays like that one last year, that is something I thought about for a few months."
The play wasn't an isolated incident either. While Rodgers wouldn't say how many times during a season or during a given game he summons an idea from his memory bank – "No comment," he said with a smirk – his teammates say it's hardly unusual.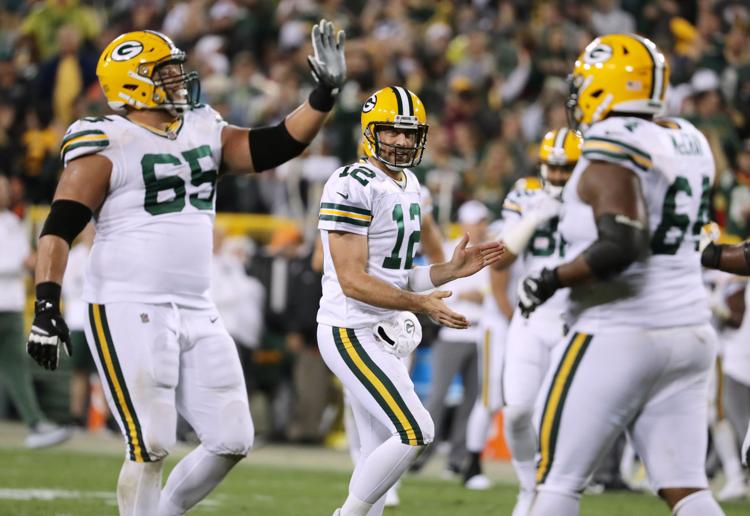 In fact, one of Rodgers' other signature clutch throws – his 48-yard fourth-down, last-minute touchdown strike to Randall Cobb in the 2013 regular-season finale at Chicago to beat the Bears and send the Packers to the playoffs – was also an in-the-moment call he'd thought up far in advance.
"We have these moments where he says, 'I got it,'" Cobb explained, smiling and mimicking Rodgers' cool, dismissive wave toward the sideline in such situations. "There's not really much that amazes us anymore. The throw amazes you more than him drawing it up, I would say. I think we're kind of used to that now that he tries different things in different situations.
"I mean, it was the same thing as what happened with my catch against the Bears in 2013, the game-winner. That was a play he drew up in the sand right before. And then I just broke off my route. And we were on the same page."
Cobb said Rodgers uses practices as his play-inventing laboratory, but when the moment comes in a game, he doesn't always give full instructions. On the throw to Cook, for example, Rodgers had time to tell Cook and Adams where to go but told Cobb and Davis to simply run to the left. In his mind's eye, Rodgers envisioned Adams' route clearing out space for Cook, who was running a drag route along with Rodgers toward the Cowboys' sideline.
"A lot of guys would be scared to do that because they want to run what the coach calls in a particular situation," Cobb said. "But we are able to do different things with him at quarterback."
Asked where the throw ranked in the pantheon of his greatest passes, Rodgers replied, "I think I've made more difficult throws as far as body angles and speed on the roll and prettier throws. That was accurate, but it didn't get there the prettiest way, spiral-wise.
"But the time that it was (in the game), the fact that we kind of put it together on the fly there in the huddle, the fact that Lane Taylor did his job so well and gave me a little extra time, Davante running on a bad ankle clearing things out and then Jared somehow getting his toes in – a lot went into that play and one that you're going to look back on for a long time and feel good about.
"Plays like that are about manifesting positive thoughts. In that situation, I've told myself that it's a possibility months before. 'If we're ever in this type of situation, not a bad play would be to do this … roll left and have a guy leak out and have everybody come to the side of the roll.' That's part of the power of positive thinking and also other forms of preparation. It's not just about the film watching or studying your plan. It's training your mind to go to those places and those situations."