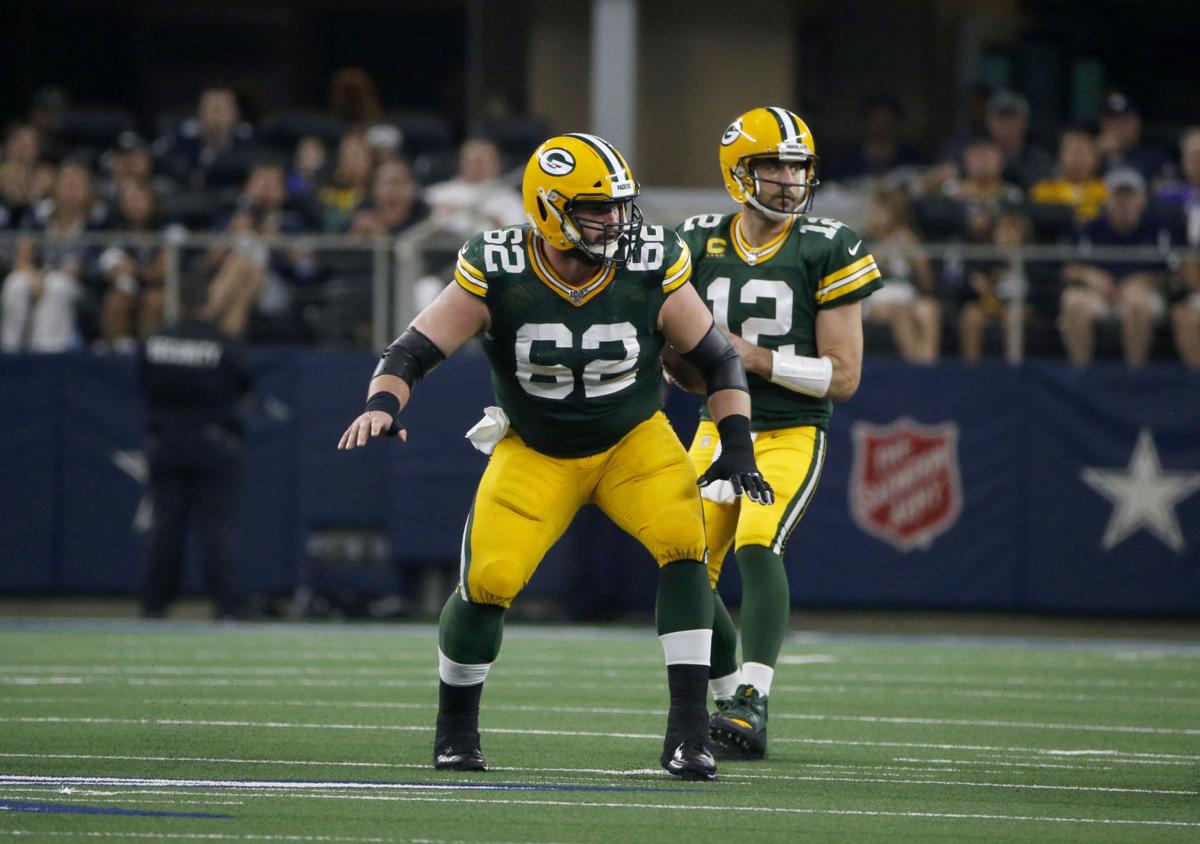 GREEN BAY — Lucas Patrick had no idea what Aaron Rodgers had said about him. But when he found out, he wasn't at all surprised.
The Green Bay Packers' backup offensive lineman had been thrust into the lineup during the first quarter of Sunday's 34-24 victory over the Dallas Cowboys after starting center Corey Linsley — the seemingly indestructible Linsley, who'd played 2,768 consecutive snaps dating back to 2016 — sustained a concussion.
While Patrick had held his own for the 55 snaps that followed, he'd also made some mistakes — most prominently, two errant shotgun snaps that he'd sent in the general direction of his quarterback but wound up in the hands of alert running back Aaron Jones, who saved the offense from a potential catastrophe each time by snatching the off-target ball.
After the game, Rodgers was asked about those two plays. He clarified that they weren't designed to be direct snaps to Jones ("They weren't meant to be") and even broke down why they happened ("When he was going left, he was kind of throwing it a bit right") before praising Jones for being so aware ("The first time, I can't believe he caught it").
Rodgers could have ended the discussion then and there. He'd answered the question.
But he had more to say. Much more.
"I'm proud of Lucas," Rodgers said. "He had a couple wayward snaps, but for him to step in like that and play well and be effective was great. I was just telling him how proud I am of him.
"We'd had a great conversation over the lunch table kind of mid-camp. I felt like he was struggling a little bit mentally. Since the end of training camp, he's really gained a lot of confidence in the scheme, where he can step in in a tough environment (against) a really good front and be effective."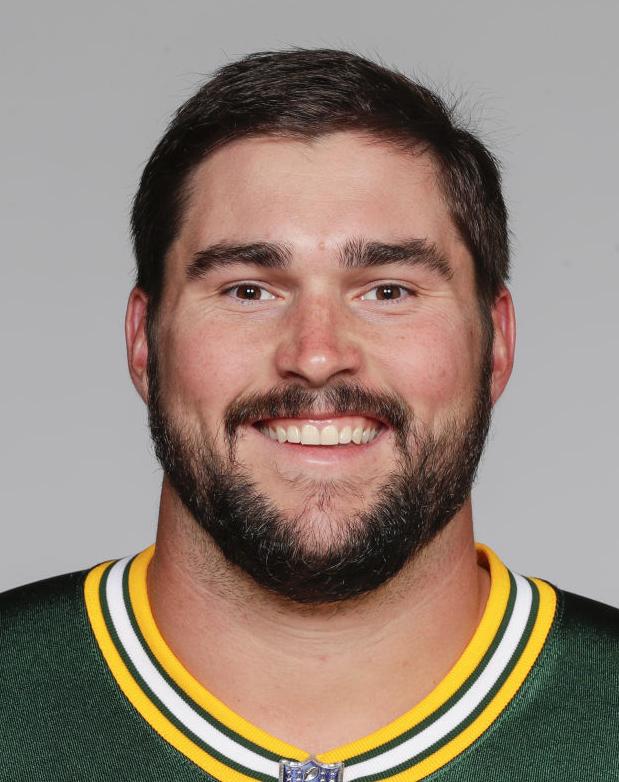 Moments later, Patrick, who had already showered and was on the Packers' team bus, looked down at his phone. It was his fiancée, Annie, informing him of what Rodgers had said.
"Every guy in this locker room can act like (it's no big deal). It's still cool to have Aaron Rodgers say something about you," Patrick said Tuesday, as the Packers began preparations for Monday night's game against the Detroit Lions at Lambeau Field. "That's still cool to have him say anything positive, let alone what he did. I'll forever be thankful for that."
The conversation Rodgers was recalling with Patrick had been after what Patrick felt had been a lackluster offseason program for him. His inconsistency had carried over from organized team activity practices and into the start to training camp, and the perceptive Rodgers had noticed Patrick's flagging confidence and sought him out in the team cafeteria. Even before they were finished eating, Patrick's outlook had changed.
"I can't speak enough about what type of teammate he is — the things he's done personally for me and my confidence," said Patrick, who is in his third full NFL season, having spent 2016 on the practice squad after an unexpectedly strong camp as a former tryout player and undrafted rookie.
"He'll come up personally and talk to you and encourage you. The best part about playing for '12' is his accountability and his expectations. He sets 'em high, and he holds you to that. He expects me to play to his standards. And we all know his standard is a world championship, future Hall of Famer. He brings everybody up to him, and I can't thank him enough what he's done for my career and just recently, encouraging me and helping me stay on top of everything.
"You know, everyone likes to think you're always the belle of the ball or you're always having a great day, but I didn't feel like I was having the best OTAs or camp. I didn't think it was up to my standards, let alone up to the Packers' standard, or Aaron's — it wasn't even remotely there. And he took time out of his day to talk to me and encourage me. (He said) that, 'It's not just one day that turns you into a bad player, and it's not just one day that turns you into a great player. It's stacking a few days on top and it's a mentality of approaching it with hard work and determination.'
"He brings the best out of everyone."
If that doesn't sound like the same Rodgers depicted by ex-teammates Greg Jennings and Jermichael Finley whenever they are given a pulpit, or the one whose leadership is frequent fodder on the national sports debate shows on cable television, that's because — in Patrick's estimation, anyway — the version of the two-time NFL MVP they propagate doesn't exist.
"Yeah, I think when I'm done (playing), I'll maybe write an op-ed or whatever it's called about that. Because the national narrative is extremely wrong from my experience," Patrick said. "Like, for him to even say anything that he does to me personally is one thing. To go out in front of the national media in a post-game press conference and say that, I mean, not only does the 1-on-1 talk build the confidence, but for him to say that — projecting in front of thousands of fans, 31 other teams, all these other people who are tuned into everything he says — that builds me up more than anyone.
"Any guy in this locker room, if you feel like '12' has your back, it's like the whole state of Wisconsin has your back. Everyone knows he's special. Everyone knows what he can do on the field. But I don't think many people truly know what he does off the field to help guys like me.
"I mean, I think if you went around to a bunch of guys in the locker room who are just fighting to stick in this league, he's probably talked to 99 percent of them and has expressed words of encouragement."
Patrick emphasized, though, that Rodgers' approach also includes tough love. If you make a mistake, you will hear about it — and Patrick did on the snaps.
"(After the first one, he said) 'Get the snap to me.' Like it's that simple," Patrick said. "That's his job. And then (I) did it again, and he was more firm. He also was like, 'look man, just give me the ball, go and do your assignment, you'll be fine.'
"It's not always peaches and cream. He'll shoot you straight. But I appreciate that. Because at this level, we need people who are willing to say, 'This is where you're deficient.' Or, 'This is where you need to get better.' And he's not afraid to do that. And it makes this team so much better."
Like Rodgers on Sunday, Patrick could have ended the conversation there. He'd shared his thoughts on Rodgers, as well as addressing his errant snaps both light-heartedly ("It'll be interesting to see how the other teams scout those") and by taking full responsibility ("That easily could've cost us that game").
Instead, he asked if the cluster of beat writers surrounding his locker if they could stick around.
"If we've got time, there's a story …" Patrick began. When the heads around him nodded, he recounted an interaction he and his mother had with Rodgers during the 2017 preseason, after Patrick's year on the practice squad and long before he'd played his any of his 30 career regular-season NFL games.
After practice one day, Patrick's mother, Liz, met her son at the stadium and parked in the players' lot. Liz, who had raised Lucas and his sister as a single mother, was pulling out of her parking spot – in her "early 2000s Ford Escape," Patrick said – when one of his teammates knocked on her window.
"This is the player I know, this is the Aaron I know," Patrick said. "He walks up, taps on the window, asks my mom to roll down the window and as a person – not 12, not Aaron Rodgers and all this – as one of my teammates, came up and talked to my mom. That's literally the nicest thing he could've ever done, especially (during) the preseason (when) there's some guys who are hassling (him) for stuff who may not be on the team the next week.
"For him to go out of his way to talk to my mom, just to say 'Hey' ... I mean, he introduced himself. (My mom thought), 'Of course we know who you are.' Those stories, I don't think get highlighted enough. That's the true guy in this locker room."
Be the first to know
Get local news delivered to your inbox!