MINNEAPOLIS — At first, Minnesota Twins pitching coach Neil Allen gave a deadpan answer when asked how many pitches Jose Berrios might be allowed to throw out of the bullpen in tonight's wild-card game.
"About 240," Allen said with a chuckle. "Hey, your whole season comes down to that one game. We've got to live for that moment, that day, that time."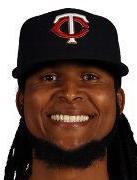 Staff ace Ervin Santana will make the Twins' first postseason start since Game 3 of the 2010 American League division series, when Brian Duensing matched up against then-Yankees right-hander Phil Hughes. Berrios, however, will be ready at the first sign of trouble.
More likely, Allen said, Berrios could throw as many as 50 or 60 pitches should the need arise and he's able to get on a roll.
After making a 29-pitch tune-up (21 strikes) appearance on Sept. 29, his first relief outing in the Twins organization since 2012 in the Gulf Coast League, Berrios pronounced himself eager for the challenge. He also will lean on the experience he gained in March while pitching for Puerto Rico in the World Baseball Classic.
In addition to a five-inning start against Italy in the first round, he wowed Team USA with a 40-pitch relief outing in the WBC final at Dodger Stadium. Despite being charged with three unearned runs, he stole the show with strikeouts of Giancarlo Stanton, Jonathan Lucroy, Ian Kinsler and Christian Yelich.
Back in 2013, when he was just 18, Berrios came out of Puerto Rico's bullpen to strike out Robinson Cano.
"In the WBC every game is like a playoff game," Berrios said. "Every game you have to go out there and compete and try to win. That's helped me prepare for this scenario. On Tuesday I'll think the same thing. I have to go out there and focus pitch by pitch with one purpose. I'll do the same thing."
It also should help Berrios, 23, that he got his Yankee Stadium debut out of the way so recently. Making his first start after the birth of his third child and concerned about Hurricane Maria bearing down on his homeland, Berrios threw 90 pitches in just 3⅓ innings in a 5-2 loss on Sept. 19.
He was charged with three earned runs on five hits and four walks while striking out four. He threw 108 pitches at home on July 19 to beat the Yankees, allowing just one earned run on six hits and two walks while fanning five.
Don't look for Berrios to be inserted into a jam. Rather, he would be given a clean inning and plenty of time to warm up.
"We wouldn't ask him to pitch in the middle of an inning," Allen said. "If we need someone to shut the inning down, we'll go with someone who's done that before."
The Twins could go with double-barreled bullpen action should Santana run into difficulty in the middle innings. Berrios would be given at least an out or two to warm up that inning, plus the Twins' whole offensive half-inning, to prepare for his biggest stage yet.
"It's different but I think it will be fun, and I'm ready for that," Berrios said. "Everybody talks about Yankee Stadium, but I did that already. Hopefully Ervin goes nine (innings) and we win. If he doesn't, I'll be ready to try to get the win for us."