There's no wasted time in the life of Ben Askren right now.
For example, the 30 minutes between sessions at a wrestling camp at Aquinas High School on Tuesday served as both media availability and lunch time for the Hartland, Wis., native.
He's a busy guy — he runs a statewide wrestling academy to which he lends both his name and time as a coach, while also serving as the head coach of the Badger Regional Training Center, which is looking to raise the next crop of U.S. Olympic wrestlers. Oh, you also may have heard of Askren through his other gig as an undefeated mixed martial arts fighter in the UFC.
Askren is less than a month away from his second fight in the UFC after a career spent dominating other promotions. He'll fight Jorge Masvidal in a welterweight fight that has all the making of a No. 1 contender's match for the UFC title. He won his first UFC bout in March against Robbie Lawler via choke after Lawler controlled the opening minutes and had Askren on the ropes.
We'll dive deeper into what's coming for Askren, but to truly appreciate it, one must understand that just eight months ago, MMA was in Askren's rear-view mirror.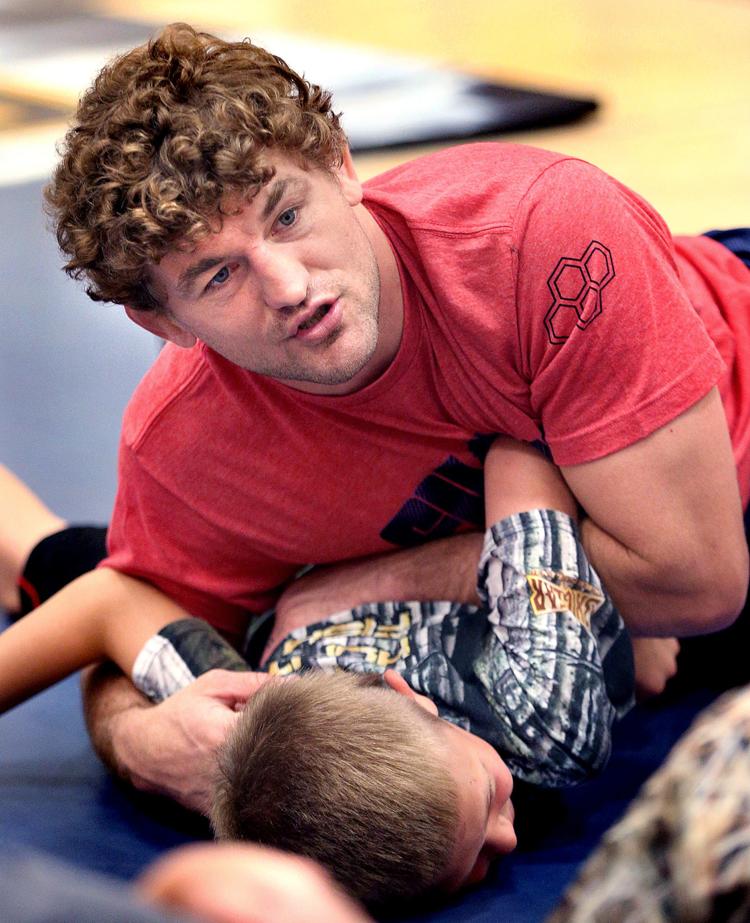 When Askren was in La Crosse for the same wrestling camp last June, he said he would only return to the sport if he was in line to fight for a championship or against one of the best of all-time. When those opportunities didn't present themselves, Askren was ready to hang up his gloves and focus on coaching wrestling, which he says is one of his favorite things to do.
But in November he became part of history as one half of the first-ever contract trade in MMA, sending Askren to the UFC and former flyweight champion Demetrious Johnson to ONE Championship, a promotion that holds most of its fights in Asia.
"It's been pretty crazy," Askren said while sitting at a table in the Reinhart Athletic Center. "I know I don't have too much time left, so I'm taking the opportunity while it's there. I'm 34 (years old), (and) this is essentially my last opportunity, so I had to say yes."
Since then, the 2008 Olympian has become one of the most sought-after quotes in MMA. After the trade was complete, Askren began lighting MMA online communities ablaze with trash talk and calling out anyone and everyone in the UFC's welterweight division.
They weren't the profane tirades that helped Conor McGregor's rise, but the bits — such as the "Bum of the Month Club" — were reflective of who Askren is. Confident, never afraid to speak his mind, pro-wrestling heel-ish, but with the ability to back it all up in the cage.
You have free articles remaining.
Register for more free articles.
Stay logged in to skip the surveys.
(For the record: The Bum of the Month club is focused on Masvidal until he and Askren fight, but Colby Covington and UFC welterweight champ Kamaru Usman are next in line.)
Askren proved his meddle in his first UFC fight, with Lawler picking him up, slamming him to the mat, and landing a few punches on the ground that left Askren bloodied. But, as he described Tuesday, he didn't panic, got back to his feet, and was able to cinch in a bulldog choke to finish the fight.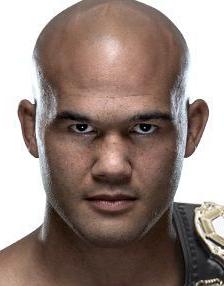 "I put myself in a really bad position right off the bat," he said. "I think it showed sides of me that I didn't really need the public to see. I can take a punch, I've got a lot of heart, that I'm willing to deal with adversity. I didn't need the world to see that; I knew it was there from my wrestling days. But everybody got to see it, and it's another facet in my fighting game that is tough for people to deal with."
Askren vs. Masvidal is on the main card of UFC 239, a pay-per-view event slated for July 6 in Las Vegas. Even with two championship fights that feature some of the biggest names in MMA — Jon Jones defends his light heavyweight championship in the main event, while Amanda Nunes defends her women's bantamweight title against Holly Holm in the co-main event — Askren and Masvidal's bout is garnering just as much buzz.
"Jon Jones has started to pay me royalty checks for all the pay-per-views I'm selling for him," Askren said his with trademark joking-but-not-really smirk. "But I think a lot of people are excited for my fight, I'm excited for my fight. It's funny, because I don't feel like I've changed at all, but people's perception of me has changed. It's very interesting how that works sometimes."
The whirlwind eight months behind Askren has shot him higher into the land of MMA fame, and his relatability is a big factor in that. Obviously he's athletic, but you wouldn't guess "elite cage fighter" just from looking at him. He's muscular, but not ripped. He's joked previously about having a "dad bod."
Askren's comfortably himself, and that has proven to be a boon for both he and the UFC.
"I think a lot of people were sick of every single person asking for the money fight, trying to be super macho and super tough," he said. "I try to be real. There's a real aspect to everything, and I think a lot of people like that."