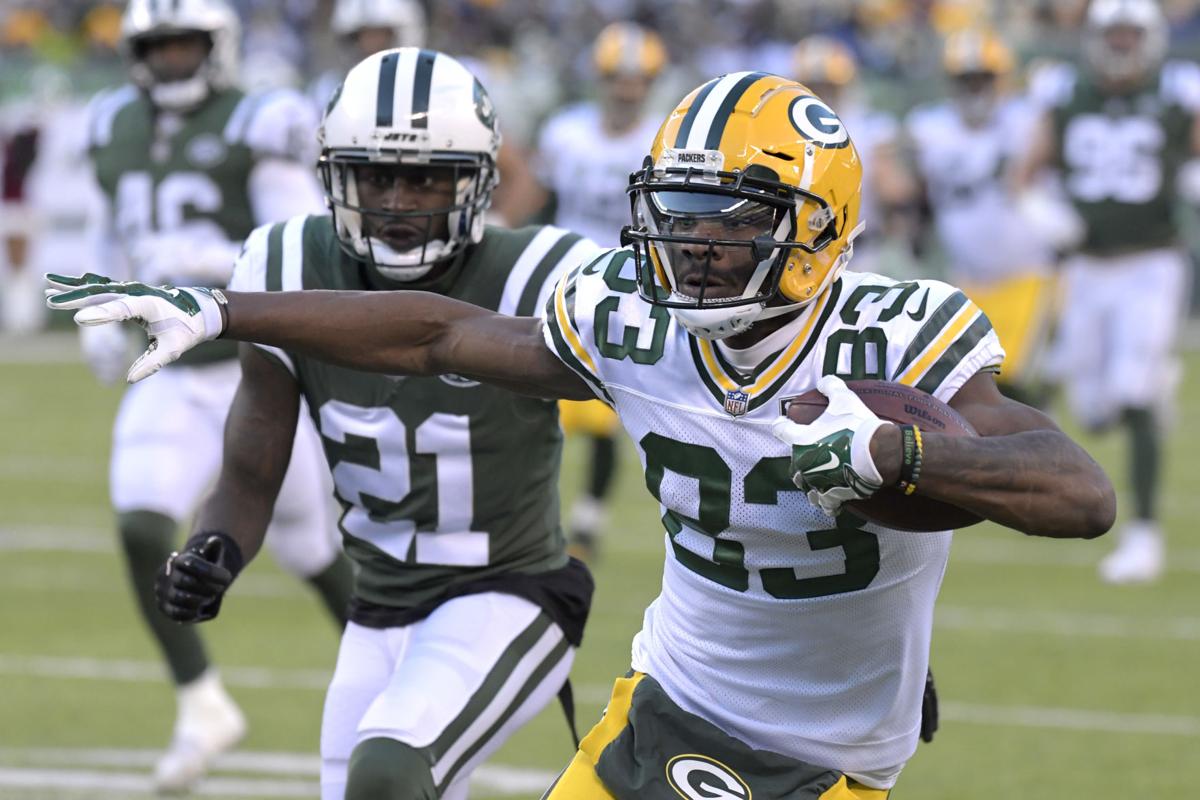 GREEN BAY — When it comes to putting together the pecking order of his wide receivers, Matt LaFleur likes to use another sport — the one he was playing when he ruptured his Achilles' tendon this offseason — to describe his vision.
"The way I look at the receiver group is kind of like filling out a basketball roster," the Green Bay Packers first-year coach explained during the offseason program. "You need guys that are at a certain area of expertise, and then it's our job as coaches to put those guys into position where they can showcase that skill set.
"We do have a lot of young receivers. We're just trying to see them improve on a daily basis."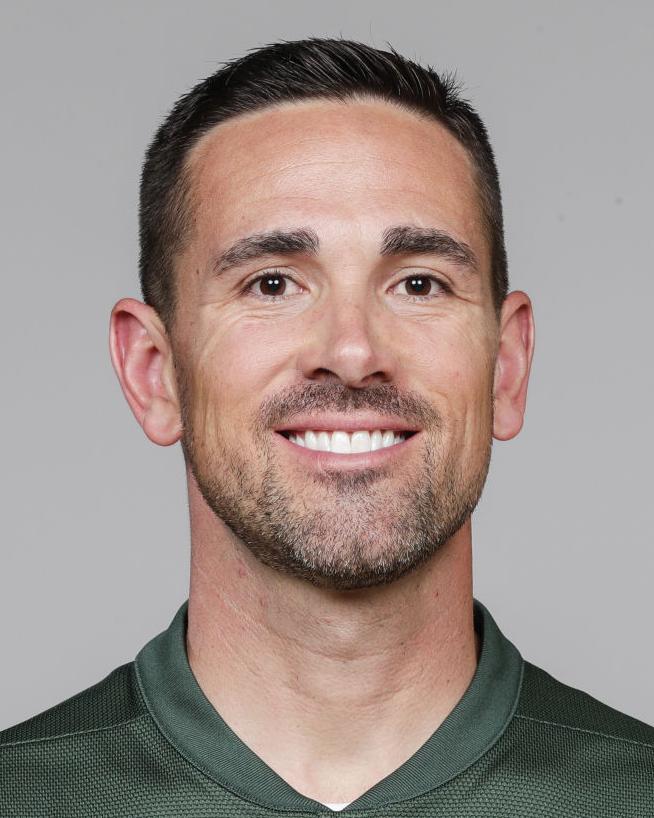 It's a philosophy that permeates the schemes employed by the NFL's hot young offensive-minded coaches, from the Los Angeles Rams' Sean McVay and San Francisco 49ers' Kyle Shanahan to LaFleur, who was the Tennessee Titans' offensive coordinator last season, and new Cincinnati Bengals coach Zac Taylor, both of whom spent time on McVay's staff.
Obviously, No. 1 wide receiver Davante Adams is the Packers' leading scorer — their Giannis Antetokounmpo, if you will. In 15 games last season, he caught a remarkable 111 passes for 1,386 yards and 13 touchdowns — and quarterback Aaron Rodgers said this offseason he'd like to target Adams even more often this year.
The issue is whether the Packers have put enough talent on the floor around Adams and given Rodgers enough additional weaponry — especially in the wake of the team moving on from two of his favorite targets, Jordy Nelson and Randall Cobb, in successive offseasons — to get his game back to its customary levels.
"It will be a lot different," said Rodgers, who was disappointed when the team cut Nelson last offseason (Nelson played last season in Oakland, then retired this spring after the Raiders cut him) and let Cobb walk without so much as an offer in free agency in March (Cobb signed a one-year, $5 million deal with the Dallas Cowboys). "We've relied on (Cobb) for years as that slot guy. Who's going to be that guy to take over the slot role?
"Davante, we can move him around anywhere. He can play outside, off the ball, on the ball, in the slot. In these offenses you're seeing run in L.A., San Fran, Atlanta, Matt in Tennessee and now here, those guys all had slot guys who can really go. So we need to find who that guy is."
Throughout the Packers' offseason practices, that guy was fourth-year man Geronimo Allison, who missed most of last season following surgery to repair a core muscle injury. Allison was on pace for a 1,000-yard season at the time of the injury.
"There's going to be a lot of opportunities," Rodgers said. "(But) I think you have to continue to temper expectations in shorts and helmets. (Practicing in) pads is a great equalizer. Until then, you just want to see the mental part of it be consistent."
Consistency has long been a crucial word in Rodgers' vocabulary when discussing his connection with wide receivers, and it's hard to tell if the team's three rookies from last season — Marquez Valdes-Scantling, Equanimeous St. Brown and J'Mon Moore — have made significant strides in that department. During the offseason program, the player Rodgers spoke most glowingly about when discussing consistency was former UW-Whitewater star Jake Kumerow, who became one of Rodgers' favorite young receivers during training camp a year ago.
But with a new coach and a new offensive scheme, how the receivers not named Davante Adams perform during training camp and preseason games will go a long way to determining the pecking order.
"We actually have a very diverse room," wide receivers coach Alvis Whitted said. "I know Matt talks about looking at our receiving corps as a basketball team, where those parts can be interchangeable. You don't want a team full of point guards, but (rather) a good mixture of guys that have different skill sets that can go out and do different things and have that versatility. And I think we do have that in our room, especially with Davante being the leader of that group."
Here's a closer look at the wide receiver position as the Packers prepare for training camp, which kicks off with its first practice on July 25:
Depth chart
17 Davante Adams: 6-foot-1, 215 pounds, age 26, sixth year from Fresno State.
81 Geronimo Allison: 6-3, 202, 25, fourth year from Illinois.
83 Marquez Valdes-Scantling: 6-4, 206, 24, second year from South Florida.
16 Jake Kumerow: 6-4, 209, 27, second year from UW-Whitewater.
11 Trevor Davis: 6-1, 188, 26, fourth year from California.
19 Equanimeous St. Brown: 6-5, 214, 22, second year from Notre Dame.
82 J'Mon Moore: 6-3, 205, 24, second year from Missouri.
13 Allen Lazard: 6-5, 227, 23, first year from Iowa State.
1 Jawill Davis: 6-1, 191, 24, second year from Bethune-Cookman.
You have free articles remaining.
88 Teo Redding: 6-1, 176, 24, first year from Bowling Green.
10 Darrius Shepherd: 5-11, 186, 23, rookie from North Dakota State.
Burning question
Will the young guys make the Year 2 jump?
When general manager Brian Gutekunst said following the April draft he was "content" with what he had at wide receiver, he wasn't saying he was OK with where each of his young receivers were in their development — only that he didn't think the Packers needed to add any more competition to the group because he liked the youngsters' potential. But without any really proven pass-catchers on the roster after Adams, he'd better hope that the kids are all right.
During offseason practices, Valdes-Scantling worked as the third receiver after Adams and Allison in practices open to reporters, and when Adams missed time with a minor injury, Kumerow was the next man up with the 1s. While they enter camp ahead of the others, the competition is wide open, LaFleur said.
"The attention to detail is there, which is the biggest thing," Adams said when asked to evaluate the less-experienced receivers. "You have heard Aaron use that phrase millions of times at this point. Last year, they came in kind of wide-eyed and bushy-tailed ready to go, but it was a lot being thrown at them, a new offense. It's a new offense now, but they kind of understand the flow, how to be a pro, and got through a season.
"They've got all that behind them, so the rookie stuff is gone, and they're attacking it the right way, asking a lot of questions, diving into the (play) book, hitting me up (with questions). When I get a text like that, it makes me smile because I love answering questions like that. I love to mess around and joke around, too, obviously, but to get something like that out of the blue, it lets me know that your mind is in the right place."
On the rise
Rodgers has been raving about the former Warhawks standout for nearly a year now, having identified him as a player to watch during training camp last summer. Kumerow might have parlayed the strong impression he made on the two-time MVP into a significant role in the offense once the season started if not for a shoulder injury he suffered while diving across the goal line at the end of an 82-yard touchdown in the second preseason game.
Now healthy, and part of a receiver group with no clear-cut roles after Adams, Kumerow will have another chance to grow his connection with Rodgers and earn more playing time.
"(It's) just little things that he does — I think almost innately — that separates him from a guy you might not trust as much because you know the guy is going to do it right, he'll always going to be in the right spot, he knows what he's doing all the time and what the other guys are doing," Rodgers said. "And when he gets a chance to make plays, he makes plays. And he does it in a super-classy, understated way."






Having caught 20 passes for 303 yards and a pair of touchdowns before his injury, Allison was on his way to a 1,000-yard season and proving to be a worthy replacement for Nelson. Instead, he landed on season-ending injured reserve and now enters a contract year with a huge opportunity to cash in in free agency if he can stay healthy. A healthy, productive Allison would also give the Packers passing game an added dimension, especially with LaFleur having given Allison the first crack at the slot receiver spot that Cobb used to man.
While the 6-foot-3 Allison doesn't look like the typical undersized, waterbug-like slot receiver most teams use, Allison said LaFleur told him that he fits the mold for a slot receiver in this offense.
"One thing coach Matt has always had was bigger wide receivers in the slot, so he's used to that," Allison said. "I'm used to being versatile and being a utility guy to move around and be agile. I'm comfortable with that."
Key competition
The Packers haven't been afraid of imbalanced rosters coming out of past training camps, having willingly kept seven wide receivers on the 53-man roster when they felt it was justified. The question this year is just how many receivers will earn their keep, and entering camp, it's hard to predict.
Was the positive impression Trevor Davis made during the offseason a sign of things to come or meaningless shorts-and-helmets practice productivity? Will Moore, the forgotten man in last year's three-receiver draft class, take advantage of a new offense that puts him back on somewhat level ground with his fellow second-year receivers? Can the speedy Valdes-Scantling build on the most impressive resume of the three 2018 receiver draft picks? Will St. Brown, who had a quiet offseason, jump out once the pads come on? LaFleur is as curious as anyone.
"All those young guys can run and can really take the top off (of a defense). That's an important piece to our offense, (because) we're always trying to stretch the field vertically with our three-level throws," LaFleur explained. "You've got to have somebody with speed to get down there and make sure you're clearing out the defense to open up those deep crossing routes and try to get those explosive plays.
"There's a lot of versatility within our receiving corps that we have already. And then getting Geronimo back from injury, how he responds is going to be critical because he's another guy that has a lot of flexibility to play inside or outside."