Three things to watch when Green Bay Packers host Oakland Raiders
Jason Wilde breaks down three keys for the Green Bay Packers when they host the Oakland Raiders on Sunday at Lambeau Field in Green Bay. 
1. BUYING IN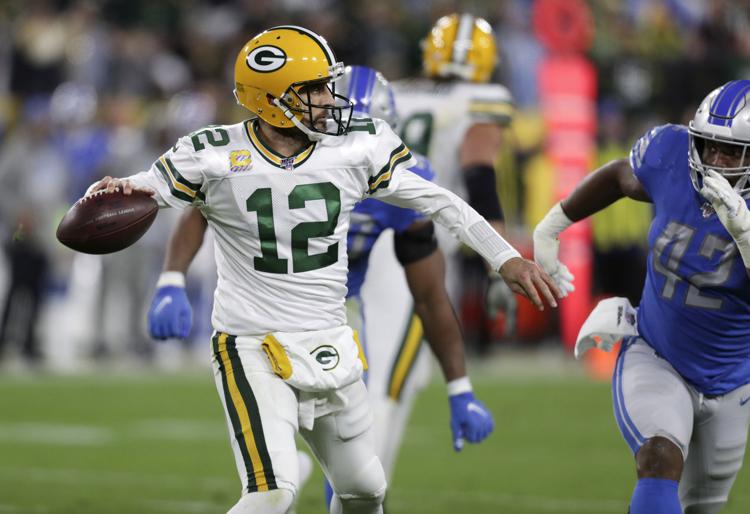 Jon Gruden has seen a few self-described experts and analytics aficionados suggesting that Aaron Rodgers (above) isn't on top of his game anymore. From what Gruden, the Oakland Raiders head coach, has watched on film of Rodgers, the Green Bay Packers two-time NFL MVP quarterback, those statistical analyses don't match up with what he's seen.
"The stats, I get nauseous with all this. I don't even know what some of these stats mean," Gruden said during a conference call with Wisconsin reporters at midweek. "I take pride in knowing the stats. I mean FBRs and FBLs and all these damn stats, I don't know what they are. All I know is he wins. He plays his best when the game's on the line. He's had a lot of (roster) turnover. I mean, they've had new receivers roll through there, new running backs and tight ends, different linemen, but the guy manages to thread the needle and make big plays when nothing's there. He can still scramble. I wish we didn't have to play him, honestly, but I look forward to competing against him."
Six games into the season, it appears Rodgers has truly begun to buy into new head coach Matt LaFleur's offensive system. Rodgers still extends plays and still occasionally passes up open receivers in search of something better downfield, but he's consistently gotten the ball out of his hand more quickly than he seemed to last season and has made a host of clutch, accurate throws during the team's 5-1 start.
"I would say there's a foundation in the system, and a timing of the system that we wanted," Packers offensive coordinator Nathaniel Hackett said. "(The approach) was more focused on what we wanted to accomplish and showing him how we want it to all fit together and just have him put his spin on it at times. But at the same time, merge and make a system that gets the ball out quick or allows us to run the ball, play action — all the things we're trying to accomplish every game.
"I think he's getting more comfortable. I think anytime you've been in any system for as long as he has and now to go and just call a play — I mean, that's a challenge. And I think he's done a really good job."
2. TREVOR TIME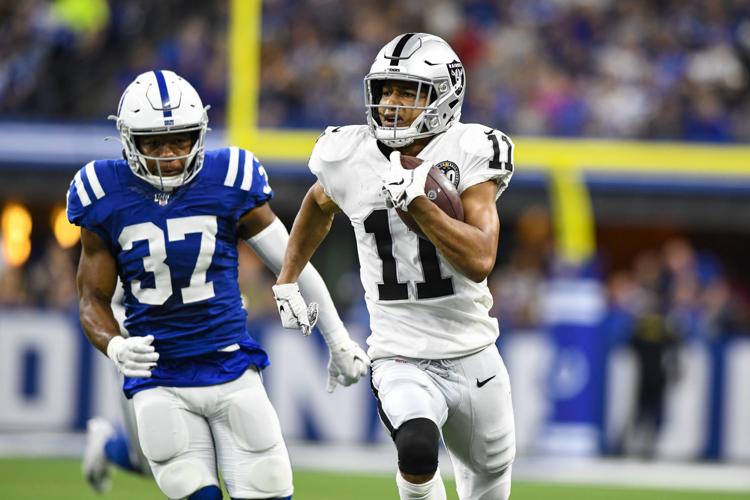 With No. 1 receiver Davante Adams (toe) ruled out, No. 2 receiver Marquez Valdes-Scantling (knee/ankle) listed as questionable and No. 3 receiver Geronimo Allison (concussion) listed as doubtful, Trevor Davis (above), whom the Packers traded to the Raiders last month for a 2020 sixth-round draft pick, sure would have come in handy this week. Instead, he comes in with the Raiders, having caught four passes for 42 yards with his new team and returning both kickoffs (with a long of 52 yards) and punts (with a long of 13) with his new team.
The Packers are not only thin at receiver but also missed Davis last week, when rookie Darrius Shepherd misjudged a punt, tried to catch it above his head and fumbled it away to the Detroit Lions. Davis figures to play extensively on offense and on special teams against his former club.
"This kid has a lot of qualities that we look for. It's hard to coach speed and guys that can return punts and kicks and make stuff happen after the catch. We're looking at this kid like he's got a real good future," Gruden said. "He's been a blessing. He walks in here and he has to start for us against the Indianapolis Colts. He's our starting punt returner, kick returner and flanker. Then, we go to London and he does it again. He's been really good. He's excited, and I'm sure Green Bay is excited to go up against him. It'll be great homecoming for him."
At the time of the trade, Davis had caught one pass for 28 yards in the Packers' season-opening win at Chicago but hadn't had much impact on special teams this season. With Davis set to be a free agent after the season, Packers GM Brian Gutekunst likely was looking to get a pick for him since the team's increased activity in free agency means they won't collect as many compensatory picks as they had under Ted Thompson. 
"Ultimately, (the trade) was something that long term that I guess we felt like was in the best interests of our team," LaFleur said. "We've got a lot of respect for Trevor. I think he's a great football player. He's proven that. He's done some really good things. He shows up on tape in Oakland. He had a huge kick return against the Bears, has had a couple of explosive plays as a receiver as well. So, I'm happy for him that he's doing well there."
3. MAN IN FULL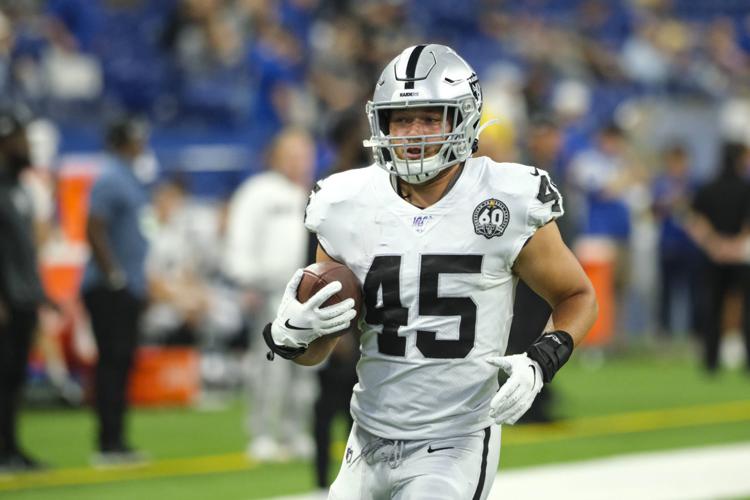 The Raiders come into the game ranked eighth in the 32-team NFL in rushing offense (134.4 yards per game) and with running back Josh Jacobs having run 88 times for 430 yards and four touchdowns (4.9 yards per carry) in just five games — ranking him sixth in the NFL in yards per game. Given the Packers' inconsistency against the run defensively, slowing him down will be vital.
The Raiders were smitten with Ingold while coaching him at the Senior Bowl, and while they didn't draft him, they aggressively pursued him as an undrafted free agent.
"If I've done anything right since I've been here coaching the Raiders, it was the recruiting call I made to Ingold. I'm really happy about getting him here," Gruden said. "He played quarterback in high school in Green Bay. This is a big game for him. I'm trying to get some video of him throwing the ball but all I have is him handing off."
In his conference call, Gruden continued raving. "I really like this kid. He really made an impression (at the Senior Bowl), not only on me but our entire scouting and coaching staff," Gruden said. "He's a good player, man. He can catch it, he's got some run skills and he's been a real reliable blocker. We've asked him to do a lot."
For his part, Ingold is trying to keep his homecoming in perspective.
"I think the big deal for me is playing in front of the community that helped me grow up and love football," Ingold said. "The Packers — it's cool, but I think the people in the stands and the people I grew up with that are going to be able to watch and NFL game and see me go out there, it's going to be a thankful moment for me to thank them and show them how we play football out here in Oakland."
---
Jason Wilde covers the Packers for ESPN Wisconsin. Listen to him with former Packers and Badgers offensive lineman Mark Tauscher weekdays from 9 a.m. until noon on "Wilde & Tausch" on 100.5 FM ESPN Madison.