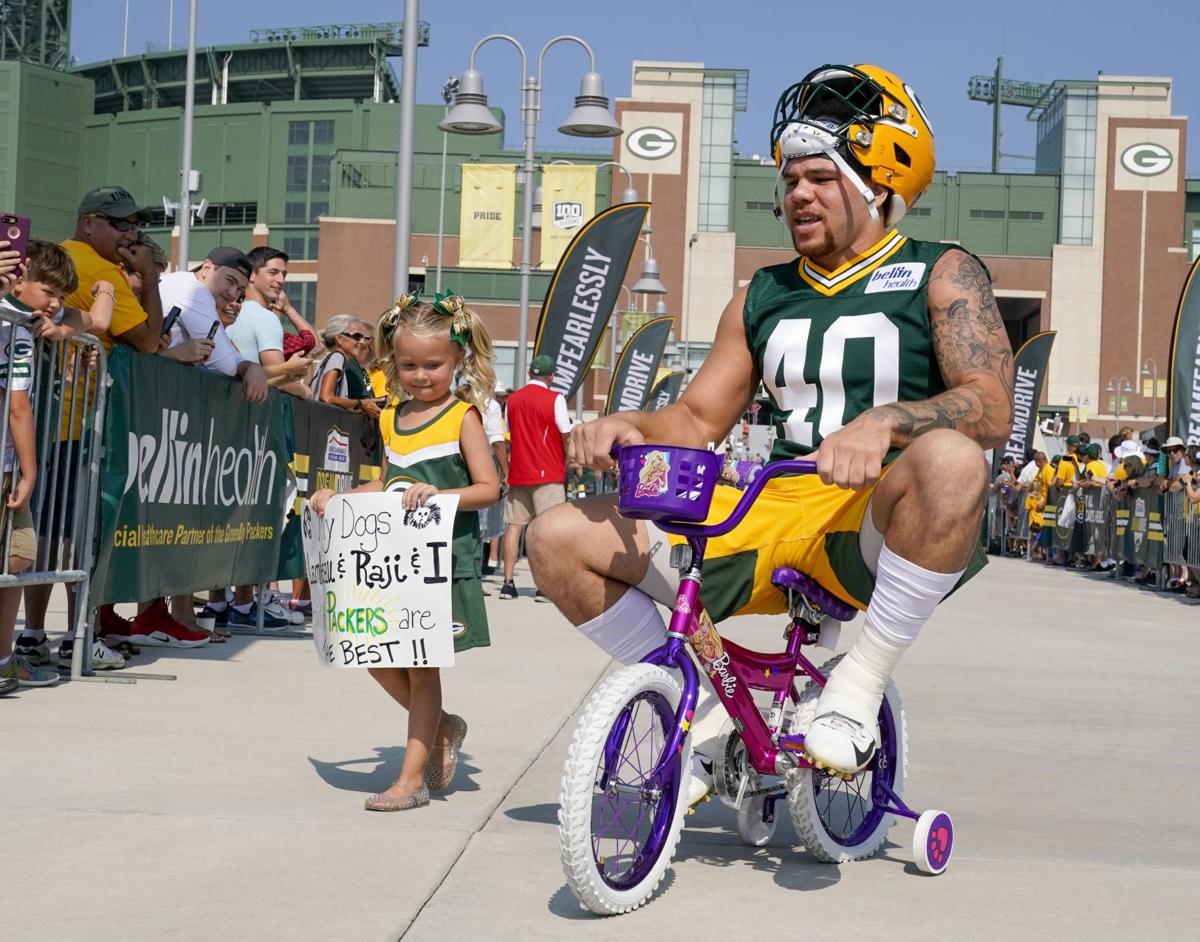 GREEN BAY — Curtis Bolton gets it. He understands who he's supposed to be in the big picture of NFL training camps, understands what his humble goal ought to be this summer with the Green Bay Packers.
"Statistically, I'm a guy that's supposed to come in, play in camp and go about my way and be on practice squad, at most," the Packers undrafted rookie free agent inside linebacker said after Sunday's practice. "But I have higher expectations for myself, regardless of what statistics say, regardless of what the outside world and the media say.
"I'm always going to bet on myself, so I'll continue to do that. Just try to play the best ball I can."
That approach is working well so far for Bolton, who has gotten to work with the No. 1 base defense the past two days after starter Oren Burks sustained a chest injury during Thursday night's preseason opener against Houston. A league source confirmed Sunday that Burks' pectoral injury could be season-ending and, even if it isn't, the Packers will be looking for someone to pair with veteran defensive signal-caller Blake Martinez at inside linebacker to start the year.
That someone could be Bolton, though special teams maven James Crawford, rookie seventh-round pick Ty Summers and first-year man Brady Shelton are in the mix as well. And general manager Brian Gutekunst, who continues to work the waiver wire and churn the lower portions of the roster, also could find help via a claim, trade or signing.
"We feel good about those young guys. They're coming along," coach Matt LaFleur said. "Those guys are three good options. I know 'Gutey' and his staff are constantly looking to see what else is out there. Those guys, they did a lot of good things in the game the other night."
Summers (66 snaps, 10 tackles) played more than Bolton (23 snaps, two tackles, one pass break-up) but inside linebackers coach Kirk Olivadotti liked what he saw from both players and is eager to see more of them at the Baltimore Ravens on Thursday night.
You have free articles remaining.
"He and Ty are working through the process. They are distinctly different players, but they do have some intelligence to them," Olivadotti said. "Both did make some impact plays (against Houston). (Bolton's) progression is looking good, and we'll see as preseason continues on down the road where he ends up."
The 6-foot, 228-pound Bolton was only a one-year starter in college at Oklahoma, but as a senior last year he registered 139 tackles, 13 tackles for loss, 4.5 sacks and two fumble recoveries. The Packers used one of their 30 pre-draft on-site visits on him, and when he went undrafted, Bolton was certain it would be a good fit.
"I was undrafted, so I essentially got to pick where I wanted to go. And this place really stood out to me — the culture here. Obviously we're light in the linebacker room, that kind of enticed me," Bolton said. "I just knew. It felt like I belonged here.
"I'm the type of person, I'm just going to work. I'm not going to worry about where my fate lands. I can't control what the coaches feel, I can't control what the media says. I'm going to show up to work. That's what I've been doing every day, and it's working for me so far. I'm going to keep doing that."
Asked if his approach changes with Burks possibly sidelined for the rest of the season, Bolton replied: "I don't think anything changes from my standpoint. There's a few things the coaches have to figure out, but at the end of the day, I go through my preparation, I go where my coach tells me to go and I perform my way within the scheme with whoever's in front of me.
"It feels good. I'm not going to lie and act like it doesn't feel good to be noticed and what-not, but at the end of the day my preparation, how I go about my days, none of that changes."
Extra points
With starting cornerback Kevin King (hamstring) still sidelined, the Packers claimed cornerback Derrick Jones on waivers from the New York Jets. Jones, a 2017 sixth-round pick from Mississippi, has played in four career NFL regular-season games. … In the final period of practice, a 2-minute drill, the No. 1 offense lost out to the No. 1 defense, but the DeShone Kizer-led second-string offense scored on a terrific leaping, one-handed 10-yard TD catch by running back Darrin Hall after a 43-yard Kizer-to-Jake Kumerow completion got them in scoring position. … Kumerow also had a terrific 8-yard TD catch from Aaron Rodgers during a red-zone period. … Defensive end Kingsley Keke (thigh bruise) returned after missing one practice. … Rookie wide receiver Darrius Shepherd fielded punts during special-teams periods with Trevor Davis (stinger) sidelined and the team having cut receiver/returner Jawill Davis. … Right tackle Bryan Bulaga (rest) was back at practice and Billy Turner returned to his right guard spot after filling in for Bulaga at tackle. … No. 1 running back Aaron Jones (hamstring) dressed for his second straight practice, but the team continued to hold him out of team drills.