There is a lot of racing scheduled to happen at the La Crosse Fairgrounds Speedway over the next few days, but the fast-paced action doesn't stop there.
Chuck Deery, the general manager at the Fairgrounds Speedway since 1987, and his staff have been preparing for the 48th version of the Oktoberfest Race Weekend for a year, and pulling off the Midwest's biggest short-track racing event is a monumental challenge.
Weather, as in rain, can disrupt and drastically change even the best of plans. And that is exactly what happened Thursday night as qualifying for six divisions, including the Super Late Model, Late Model and Sportsmen, took place. Then the rain came. Heavy rain followed by lighter but persistent showers. After waiting nearly four hours, the Thursday night program was canceled around 9 p.m.
"The biggest challenge is the weather. The best way I can describe it is if I was a retailer and somebody decides to cancel Christmas because of the weather," Deery said. "It changes everything.
"The four weeks prior to the event involve intense planning and making sure everything that is scheduled to be here, is here.
"Once it's here, there are too many moving parts to look at in more than 6-hour segments. Whatever project or challenge needs to be accomplished in that six hours, you take care of. That you move on to the next six hours."
Those six-hour segments turned into six-minute segments of watching the weather radar from various internet sources, media sources and every other source possible Thursday afternoon and night. It all showed the same thing — steady, then lighter, then heavier, rain. That forced track officials, including Deery and Motorsports Management Services president Gregg McKarns, into some difficult decisions. Wait and hope? Cancel Thursday night's action? Attempt to move some of the races to an already jam-packed schedule?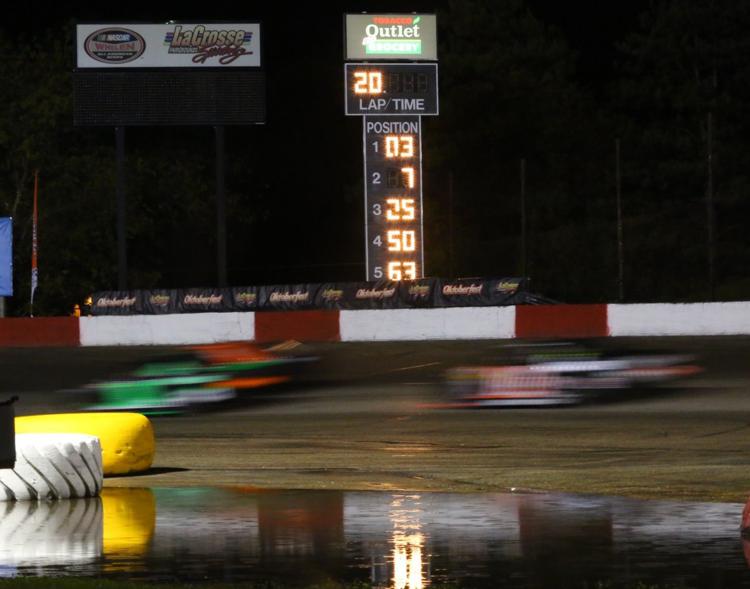 After drying the track and rolling the Sportsmen Division drivers onto the track around 9 p.m., it rained again. This time, Deery and McKarns waived the white flag, canceling the first night's action.
"There is nothing easy about rain delays and this type of weather for outdoor events that requires drying time," Deery said about 8:30 p.m. Thursday. "It is a disappointment for the fans and the competitors because they had such high expectations on what could have happened, or could still happen. It is not what we planned, but we are going to try and make the best of it."
Track officials had dried the track and were attempting to run several preliminary feature races before Thursday night's the big event, which was the 40-lap, track championship deciding 40-late Late Model feature race. That race, or any feature race, never happened.
With more than 500 cars expected to hit the track in 18 different divisions — weather permitting — there are considerable challenges associated with getting the right cars ready to race (staging), then making certain those cars fall within the rules for that particular class.
That's only a part of it, Deery said.
"There is the racing side of things, the camping side of things, the after-race parties, the camping activities, the memorabilia show, the racers' reunion. It is a weekend of 10,000 details. It tell people it is like putting on 15 weddings in one weekend."
It takes a combined 200 workers and volunteers to pull off the event, compared to about 50 on a regular Saturday night of racing. Despite the tremendous workload, Deery still gets great satisfaction of seeing thousands of race fans turn out each year. Many of them have been coming year after year.
"There are a lot of people rooting for this event. People just like the event, and as I have said many times, it's a racing reunion for drivers, fans and those who follow racing," Deery said.
"It is nice to host this event as we have the facility to race a number of different divisions, we have room for camping and it's a beautiful part of the country."
MAJESKI STAYS HOT: Ty Majeski, a developmental driver for Roush Fenway Racing, had an Oktoberfest to remember in 2016, winning the Oktoberfest 200 and the JMcK 63 and nearly pulling off a trifecta with the Dick Trickle 99 within grasp before he was disqualified in the first of the three segments. He has carried that momentum into the 2017 Oktoberfest Race Weekend, as he turned in the fastest qualifying time in the Super Late Model Division (18.694 seconds, 120.359 mph) Thursday night before the rain hit.
Majeski's time edged out Bangor native Skylar Holzhausen, whose time of 18.807 seconds (119.636 mph) was the second fastest in the 35-car field.
LATE MODEL QUALIFYING: Majeski jumped from race car to another Thursday afternoon, and proved once again he is the driver to beat. The Seymour, Wis., driver, who runs a limited regular season schedule at the La Crosse Fairgrounds Speedway, topped the 27-driver Late Model field with a qualifying lap of 19.800 seconds, or an average speed of 113.636 mph around the five-eighth's mile track.
Points leader Nick Panitzke of Lonsdale, Minn., was second with a time of 19.900 seconds (113.065 mph), while former track champion Brad Powell was third (19.904 seconds, 113.043 mph). Steve Carlson, the West Salem driver who entered the night 11 points behind Panitzke in the chase for a track championship, qualified seventh (20.031 seconds, 112.326 mph). That meant Panitzke gained four points over Carlson in qualifying, pushing his lead to 15 points entering the feature race.
A decision on what will happen with the 40-lap Late Model feature was not available as of Tribune press time.
RESCHEDULING: With more rain forecast today, Deery and his team were already thinking of what, and how, to make the best of the situation.
"We will try and do the best we can with rescheduling some of the divisions," Deery said. "But typically when you reschedule a division, it creates problems for that division because competitors are not expecting to compete on a (different) day and may have other commitments.
"It is not just 'go ahead and move it,' as there are a lot of other factors that go into making it happen."