HOLMEN — Rarely does one know when an important day in his or her life is coming.
Weddings, when children are born and the like become landmark dates, of course, but they are the exception. More often, time is needed to look back at a particular day and the turning point or revelation you experienced can then reveal itself.
Sports are one of the few venues in life where that changes. We know when the Super Bowl is; playoff dates are mapped out; regular seasons become postseasons, and the weight of the moments change.
Arcadia native and amateur mixed martial artist Felipe Martinez knows this, and he knows that when the cage door closes at 3 River Throwdown XV on Saturday at the OmniCenter, the opportunity to change his life is waiting.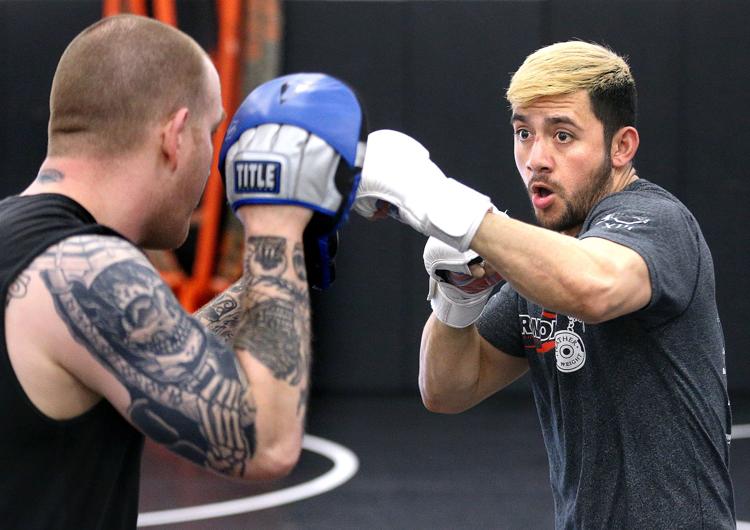 Martinez is one of the top-ranked amateur featherweights (145 pounds) in the Midwest, and if things go his way on Saturday, all roads lead to him taking a jump to the professional ranks. He owns a 6-0 record and has shown a blend of skills on the ground and on his feet that make him an exciting fighter, one who could climb the ranks of the sport soon.
"Usually throughout a fight week, I don't get nervous. This one is a little bit different for me. We've been talking with my coaches, and hopefully after this one, we're looking into going pro," Martinez said Tuesday at his home gym — Ironworks Training Center in Holmen. "This one is a little bit special for me, because it's really going to test me, especially with the kind of opponent that I have."
His opponent in his 3 River Throwdown title defense is Rodney Alexander (3-0, 1 no contest), and Martinez knows he can't take the Madison-based fighter lightly. They both come in with a wrestling base, and understand how to use pressure to wear down opponents.
Martinez said breaking down Alexander will require him to be on point with his wrestling defense to stay off his back and smart in selecting his spots in the stand-up game.
But one can see the fire in Martinez's eyes when he talks about the fight. The words are respectful, and he's paying his opponent proper respect, but there's confidence behind it. Confidence in his ability to do what he wants to do in the cage, and confidence in the people he has supporting him.
"Every fight, I have a different motivator. For this one, I think it's not forgetting my coaches, my teammates, because they're the ones who are motivating me the most, and keep pushing me to get better every day," Martinez said.
You have free articles remaining.
"Obviously, my wife, my daughter, my friends, Arcadia — all of those people that come and support me. But I feel like this one is on me. I want to take this fight and enjoy the ride that I've been going through. I feel like I'm doing this one for me."
Martinez always draws a crowd to 3 River Throwdown events, and the cheers those fans produce during his walk to the cage are often among the loudest of the night. He said that support emboldens him in the cage.
Knowing that, win or lose, that backing is there.
"I'm grateful for that. I can't put it into words. I love it," he said.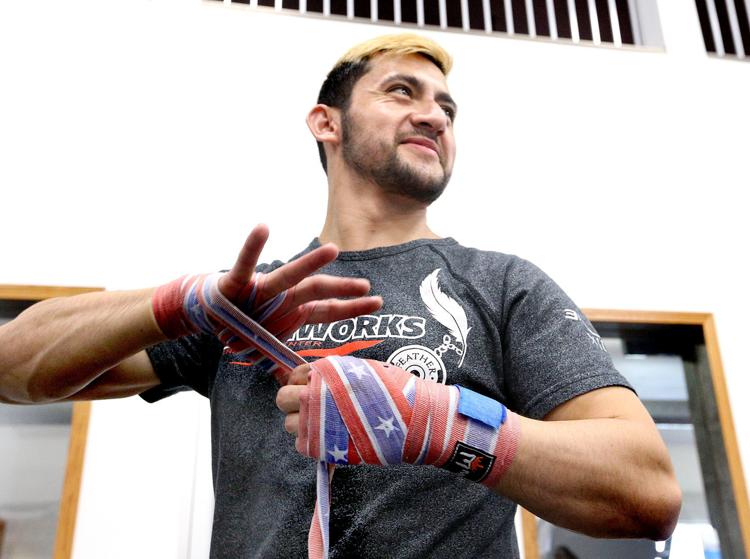 Alexander will present challenges in the cage, but Martinez has shown passion and determination to make his MMA dreams a reality. He trains on top of working a full-time job while he and his wife raise their young daughter.
That's one aspect to moving up in the MMA world that entices Martinez. It won't be immediate, but if he's able to have success as a pro, there will be more opportunities for money, and potentially training full-time. That's the dream, Martinez says, and he's yearning to get there.
"I feel like the difference is measured on how bad you really want to make it happen. I feel like every fighter has a motivation, and mine is there. Mine is to keep moving forward and make it onto the big stage," he said. "Working the eight-hour job and how I've been training hard nonstop, it just wears on your body.
"And not being able to spend the time I want to with my family, that plays a key part in it, as well. But I'm in this to make it happen; sacrifices have to be made in order to get to your goals."
Martinez, who was a WIAA state qualifier for Arcadia High School's wrestling program, knows Saturday can be the next big step toward his goals. It could be a landmark day for him going forward.
"To me right now, it's all coming down to this fight. It's the biggest fight of my career … I know I have a tough opponent, he's a game opponent, he's going to give everything he's got, and I don't expect anything less," he said.
"I feel good, I feel ready, and it's going to be a good night."