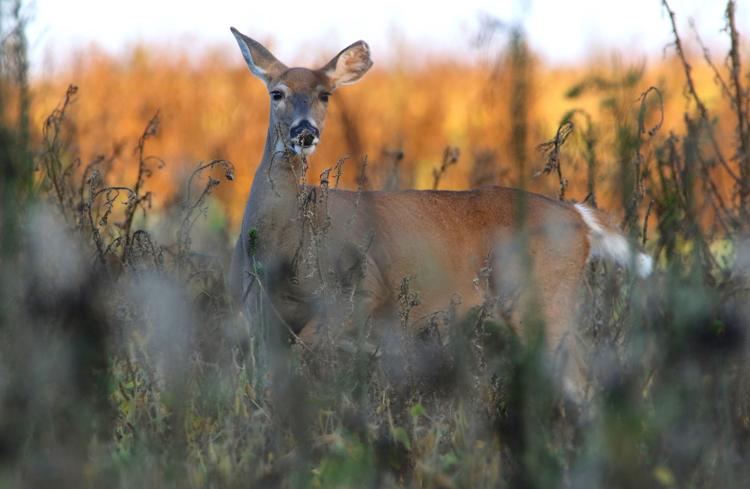 Kevin Wallenfang, Wisconsin Department of Natural Resources big game ecologist, believes he's seeing one of his best tools to manage deer populations slip away.
He blames some of that loss on chronic wasting disease.
Managing deer generally requires shooting some antlerless deer, at least in the farmland.
"The doe take in southern Wisconsin is declining in a lot of units where CWD is prevalent," Wallenfang said. "Hunters still want to hunt deer; they love to go deer hunting, but …"
Here's the rub: hunters may be going deer hunting and not shooting as many antlerless deer because it's not worth the trouble, some say. Taking a doe, which may test positive for CWD, might not be determined until after it's been home butchered — if at all. Or, a processing fee is billed back to the hunter for the finished meat only to have to toss it in a landfill.
It just isn't worth the effort, Wallenfang surmises, as part of the reason behind the problem.
You have free articles remaining.
"But they will go through the hassle of shooting a big buck because there is something to get out of it even if the deer carcass tests positive for CWD," Wallenfang said.
That something might be the antlers, or bragging rights, or personal satisfaction of a successful hunt. The hide is worth something and could become a belt or billfold.
The antlerless authorizations are still out there for herd management and that's important. For hunters who want these authorizations and eventually the venison, it's still the greatest meat on earth, Wallenfang believes.
"There are ways to get the carcass tested. We don't want people to look at it from the standpoint of it not being worth it," he said. "If you want to eat venison, you should ensure yourself the meat is safe to eat. We're not recommending hunters eat deer that test positive."
The DNR has made more ways available to get the carcasses tested and get the results back quickly. Right now it usually takes 10-14 days to get results back.
Another reason to get the carcass tested is the DNR wants the results, wants to track and monitor the disease. If there are flare ups in new areas, this is one of the ways to find those quickly.
"We still want to slow the spread of CWD," Wallenfang said. "The hope is that science catches up and we can do something about CWD. We need hunters' cooperation to do that."
Deer can be donated at no cost to the hunter. Those deer testing positive are taken out of the system, again at no cost to the hunter.
There is an effort to test 300 to 400 deer this fall in each of the West Central District's 19 counties.