Nick Holcomb didn't leave big shoes to fill. He left massive craters.
No receiver in NCAA Division III accounted for more yards (1,401) or touchdowns (20) than Holcomb did for UW-La Crosse last season. He was responsible for more than a third of the completions and nearly half of the passing yards the Eagles accrued last season, which led the WIAC.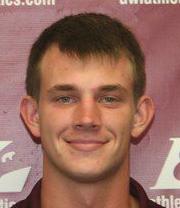 Suffice to say the next crop of receivers that line up for UW-L have a lot to replace in on-field production. Despite returning just a couple of receivers who played significant time a year ago, the Eagles receivers are excited to show what they can do under new offensive coordinator Luke Bengtson.
"The offense looks very versatile right now. We have a lot of guys who are versatile, lots of different talents," freshman wide out Devonte Amos said. "So we're just going to try to make plays, that's what it comes down to."
Amos, freshman Dominic Labellarte, and sophomore Cal Mazur are the only returners who caught more than 10 passes last season. UW-L's top three receivers — Holcomb, Ryan Kruser (28 catches, 228 yards) and Tripp Soma (23-196-2 TDs) — are out of eligibility.
It's unrealistic to expect just one of those players to replace all that Holcomb brought to the Eagles. A season like that one had never happened in the WIAC. But the new wideouts might be able to make up for the lost production in the aggregate.
"We feel pretty good about being about to replace some of the productivity there, but being able to replace what Nick did is what we're still searching for out of this group," UW-L coach Mike Schmidt said. "And, you know, maybe it's somebody from outside the program at this point, if this group can't get it done."
Schmidt isn't speaking so much of the current receivers playing well as he is about filling a particular role. Amos and Labellarte both stand under 6-feet tall, and there's only a few players participating with the receivers in spring practices this month that fit the physical build of an outside receiver like Holcomb.
There's a few players that are getting looks at that spot, but Schmidt also said the program would continue to seek transfer student-athletes to add competition and depth, as they are at many positions.
Schmidt said Bengtson is able to move players like Amos and Labellarte into a variety of spots — in the slot, outside, in trips, etc. That flexibility is a weapon in a coach's hands.
"And now it's going to be about how versatile can we use them," Schmidt said. "Last year, we were using them in really one, strict role. Now are they able to expand their repertoire a little bit and play multiple positions for us?"
What Schmidt likes about the position is their ability to learn quickly, which has been necessary as Bengtson puts the pieces of his offense in place during spring workouts.
"I think Coach (Bengtson) was thinking we'd have to go a little slower in our first couple practices, but I'm like, 'No, you can go with this group. They'll pick it up. They're used it,'" Schmidt said. "And we've seen the last couple of practices, getting more reps because this group just gets it."
Labellarte, who hails from Brookfield, Wis., said he's confident in the receiver group around him.
A laid-back player who can often be identified across the field by his bright white headband, Labellarte said he's keeping the young players' minds at ease in practice.
"As long as they have fun, that's what I tell them, as they have fun, they're going to ball out. That's my motto," he said. "If you have fun, you're going to ball out. Don't worry if you make one mistake, just get back out there and continue to ball out.
"A lot of us are coming back (from last year), but we're really young. I'm excited and everybody is excited. Learning a new offense, especially this offense, we're going to kill it."