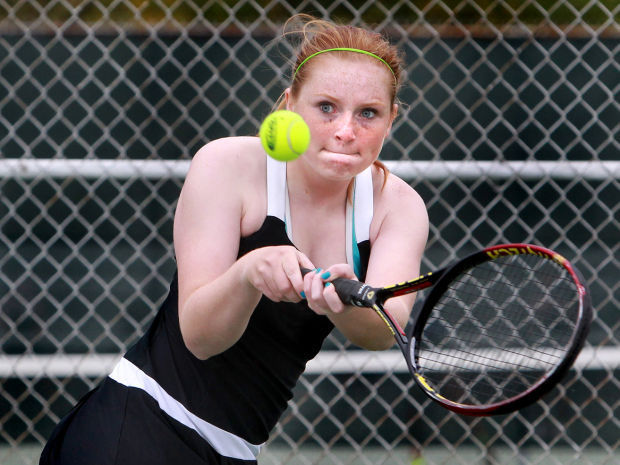 Shannyn Waltz went 3-0 at No. 1 singles to lead the Onalaska High School girls tennis team to the MVC conference tournament title, which secured the overall MVC title for the Hilltoppers.
The Hilltoppers finished with 36 points in the tournament held at UW-La Crosse, and 72 points for the season. Tayler Garves and Casey Kriewald also won No. 2 and No. 3 singles, respectively, for Onalaska.
The Hilltoppers doubles team of Claire Lommen and Chloe Zielke were champions at No. 2, and the No. 3 doubles title was won by Onalaska's Madison Peyer and Tayle Stuttley.
Tomah's Lindsey Conway won at No. 4 singles, defeating Holmen's Ya Thao 3-6, 6-0, 11-9 in the championship match. Central, which finished second as a team, won at No. 1 doubles as Shira Busch and Kate Heise defeated Onalaska's Lucee Laursen and Veronica Johnson 3-6, 6-2, 10-4 in the championship match.
La Crescent 2, Coulee Christian 0
LA CRESCENT — Tanner Corcoran put the Lancers (2-9-3) on the board in the 29th minute and Gage Undahl extended the lead to 2-0 in the 70th minute. Noah Salow and Sam Schmitz each picked up assists.
Sam Lewison made 14 saves for Coulee Christian (14-4-2), while Carter Schmitz recorded the shutout.
Melrose-Mindoro Invitational
MELROSE — Jared Johnson ran a 17-minute, 11-second race to win the boys portion and lead Brookwood to the team title. The Falcons finished with 57 points, eight ahead of host Melrose-Mindoro.
The Mustangs were led by Jacob Bryhn, who finished second in a school-record time of 17:16. Teammate Brent Knudson finished fourth with a time of 17:48.
Blair-Taylor's Sean Reismann took third in 17:32, while Onalaska Luther's Beau Clemmenson's 10th-place individual effort (18:17) led the Knights to a third-place team finish.
On the girls side, the Mustangs took home the team title, led by Sydney Becker who won with in a time of 20:26, while teammate Macy Craig (21:02) finished fifth. Luther's duo of Alivia Fuhrmann (20:49) and Angie Zenke (21:01) placed second and fourth, respectively, as the Knights finished third as a team.
Be the first to know
Get local news delivered to your inbox!