BLACK RIVER FALLS — Jack Taylor admits he'll play the "What If?" game from time to time.
Like, what if he landed that NCAA Division I basketball scholarship he coveted so much out of Black River Falls High School? Or, what if he never got hurt at prep school in Pennsylvania? Or if UW-La Crosse was a better fit? Or if his shooting slump lasted just a little bit longer into his third game at Grinnell College?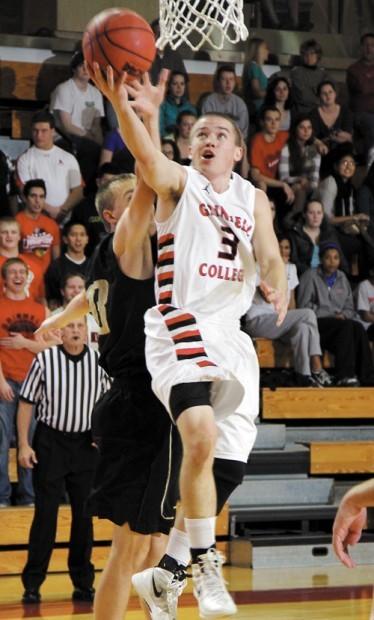 Or, what if he didn't say no to the Pioneers the first two times they recruited him, and he showed up to the Division III school in Iowa with just as much talent but a fraction of the maturity, the perspective and the faith of the man he'd become?
What if that Jack Taylor was the one to catch fire on a November night, making shot after shot and finishing with a total so ridiculous that he was the toast of the sports world? A feat so unheard of that ESPN and Jimmy Kimmel and Good Morning America came calling and Kobe Bryant and Kevin Durant and LeBron James shook their head in amazement just like the rest of us.
What if that Jack Taylor broke his wrist as the national scoring title and a conference championship were both within reach? What if that Jack Taylor had to sit on the bench as the spotlight diminished but never really faded away, as opposing crowds still chanted his name and everyone who came across the YouTube video of his big night looked him up on Twitter and sent him a message, some full of praise, others full of hate.
How would that Jack Taylor handle it all?
"I don't think it would have been pretty," he said. "It would have been pretty scary."
That's why Jack Taylor doesn't play the "What If" game too often. He believes everything's happened for a reason.
"It's all seemed to play out really well," Taylor said.
Taylor, who made headlines when he scored a collegiate-record 138 points in November of 2012, came back from a radius fracture in his shooting wrist and started his junior season on the Grinnell men's basketball team with outings of 71 and 109 points that put another 15 minutes of national fame on the clock.
Taylor, who's the most popular — and polarizing — Division III basketball player in recent memory, is the 2013 Tribune Sportsperson of the Year not only for his production on the court, but for how he handled the spotlight, the praise and the criticism off of it.
"It hasn't changed him at all," said Grinnell associate coach David N. Arseneault, son of head coach David Arseneault, whose innovative style of play has shattered records and turned the small liberal arts school 50 miles east of Des Moines into a perennial winner. "If anything, it's made him more humble."
Taylor's faith has played a big role. He said he became a Christian while attending Mercersburg (Pa.) Academy, an elite boarding school Taylor attended after graduating from Black River Falls to help land a Division I scholarship, a dream that died when he suffered tears of the anterior cruciate ligament and lateral meniscus in his left knee.
"It was my plan (to go D-I) and I was devastated when that didn't happen," Taylor said. "But now I can look back on it and (realize) 'OK, it was God's plan.' He didn't want me doing that. He wanted me here."
The journey included a one-year stop at UW-La Crosse, where Taylor averaged 7.0 ppg in a reserve role but never felt the situation was a right fit.
That brought him to Grinnell, a school he turned down twice and almost didn't get a third chance.
"Dad recruited him really hard the first two times, and he broke his heart twice," said the younger Arseneault, a 2009 Grinnell graduate who holds the school's all-time assists record and handles most of the day-to-day aspects of the program. "We felt he was capable of leading the country in scoring. I know my dad has told a handful of kids that, and every single time that person has ended up leading the country in scoring."
Taylor always wondered how he'd fit in The System, the run-and-gun style of play developed by the elder Arseneault that had Grinnell as the nation's top scoring team 18 of the past 20 years.
It didn't take him long to prove he belonged.
The story is well known by now. After a couple of rough shooting games to open his Grinnell career, Taylor went off for 138 points in a 179-104 victory over Faith Baptist Bible College on Nov. 20, 2012, shattering the NCAA record for points in a game and becoming, at least for that night anyway, a celebrity in the sports world.
LeBron James called him "Sir Jack." Kobe Bryant, Taylor's favorite player, was astonished. Kevin Durant tweeted him congratulations.
It wasn't all positive, however. Some attacked Taylor for being selfish. They wondered how someone could take 108 shots without an assist. They said it wasn't real basketball.
Still, the national media came calling, and Taylor was happy to answer. He stayed in Iowa that weekend — Thanksgiving weekend — to handle as many as he could.
"All my teammates went home, and I stayed with my coach," Taylor said. "That was a little hard, but at the same time I thought it was the only time in my life I'd be able to do something like that."
Almost a year later — Nov. 17, to be exact — Taylor had that "once-in-a-lifetime" moment again. This time, he scored 109 points in a 173-123 victory over Crossroads College. The outing, which included a whopping 53 points in the first nine minutes of the second half, came two days after Taylor scored 71 in a 144-99 victory over Finlandia in the season opener.
The spotlight came back, and so did the criticism. National columnists attacked the program for taking advantage of small schools to set records. Taylor received comments on Twitter that he should "attend a real school you (expletive) joke."
"The negative criticism shocked me," said Taylor, who's never received any formal training in dealing with the media but has wowed his coaches with his poise and thoughtfulness in the hundreds of interviews he's given.
"They don't understand my role in the system. They don't know that my role on the team is to score. It's not to pass, it's not to do much else. They don't realize if I'm single covered and don't shoot the basketball, my coach is going to yell at me."
The cries got louder after Taylor was held without a field goal his next game by a team determined not to let him score. With ESPN's Rick Reilly in the crowd, Wartburg played a box-and-one on Taylor and sent another defender, sometimes two, every time he touched the ball.
"At the end of the game, they weren't talking about how they were going to win," said Taylor, who was 0-for-5 from the floor and finished with three points — and three assists — in an 88-79 Grinnell victory. "All they were talking about was 'no field goals, no field goals.' Their mindset was to not give me a field goal."
That sort of pressure would crush some. Others would let the celebrity status go to their head.
But Taylor had two things working in his favor. He turned 23 years old before the season started — the year in prep school didn't take away any college eligibility — and ever since Taylor became a Christian, he viewed basketball in a different light.
"I was seeking approval from other people," Taylor said before he found God. "Trying to get them to worship you. And now that I'm a Christian, I don't worship myself anymore. I worship God. I don't play for other people's approval."
Basketball used to be the focal point of Taylor's life. Almost every inch of his bedroom is covered with basketball photos of Kobe Bryant and Allen Iverson — except for a gun rack he made himself in high school.
He obsessed over basketball. He'd beg for basketball videos, study the moves over and over, then perfect them in the driveway or the barn, where his father — also named Jack — hung a hoop in the loft. He'd shoot for hours — provided there wasn't any work that needed to be done on the 220-acre family farm.
"He's very dedicated," said Jack Sr., who along with wife Lulu often make the 5-hour trip from Black River Falls to watch their son play. "He's worked hard for it."
Basketball is still a big part of Taylor's life. But it's not the only part.
"I see it as a gift I can use to enjoy myself and enjoy the game," Taylor said. "I'm still working really hard, but it doesn't define me anymore."
Maybe that's why when Taylor broke his wrist last season, his world didn't crumble around him. Sure, he was disappointed. Had he finished the season — or even played a few more weeks — he would have finished with the best scoring average in the nation, and the Pioneers had a good shot at winning a Midwest Conference title.
"This time, my identity was not in basketball," Taylor said. "I find my identity in what Jesus did for me on the cross. I found all my hope in basketball before. When you're injured, then all that hope is taken away from you."
Taylor is finding new ways to share his love of basketball and God. He's often asked to speak to youth groups and churches, something he's really enjoyed. He's also started a bible study every Monday night. There are 30 people in the group — called Legacy — six from the basketball team.
It's helped him deal with the criticism, and has encouraged him to stay in the public eye — and active on Twitter — despite the hateful comments.
"I try to just ignore it the best I can, or try to combat it with saying something nice," said Taylor, who'll often respond to the nastiest Twitter messages with #GodBless. "I try to use that as a way to reach out to the youth that maybe I'm a guy they can look up to not only on the court but off the court as well."
Grinnell's next game is Jan. 4 at Ripon (Wis.) College, the closest game distance-wise to Black River Falls — about two hours.
The Pioneers used to hate playing in Wisconsin. The style is a bit more physical, and the referees let it be that way.
But Taylor loves playing in his home state. He got to do it twice last season before he got hurt, scoring 36 points at St. Norbert and 48 points at Carroll University.
The gyms were packed. Even after Taylor got hurt, people still came out, chanting "We want Jack! We want Jack!"
"It used to be that anytime we'd cross the state line, I'd always get this queasy feeling," Arseneault said. "But now, with Jack, I know that we're going to get a big crowd, and I know that he's going to rise to the occasion."
They'll make two more trips to the state, the last of which looms large in the Midwest Conference title chase — a Feb. 15 game at St. Norbert, the only team to beat Grinnell (7-1, 4-1). The Green Knights, ranked No. 18 in the country at the time, won 121-115 in overtime.
"We were just so close," said Taylor, who finished with 40 points, one of five times this season he's reached 40. "I was happy after the sting of the loss went away, because they're one of the best D-III teams in the country, and for us to be one possession away, it felt good."
Individually, Taylor will have a good chance at the national scoring title, just as the Grinnell coaches promised. He's averaging 44.6 points per game, more than 14 points ahead of second-best Mark Ghafari of Division III Kalamazoo (Mich.) College.
"It's one of my individual goals," Taylor said. "It would be nice to prove to people that I'm not just a one- or two-time fluke, that I can score the basketball."
But if it doesn't happen, it doesn't happen. Taylor may play the "What If?" game, but he doesn't stress over what could have been when it comes to basketball.
Taylor doesn't obsess over the game like he used to. Instead, he enjoys it more.
"I do, yes," he said. "You don't get too high on the wins or too low on the losses. I enjoy it a little more.
"And it helps playing in 'The System.'"