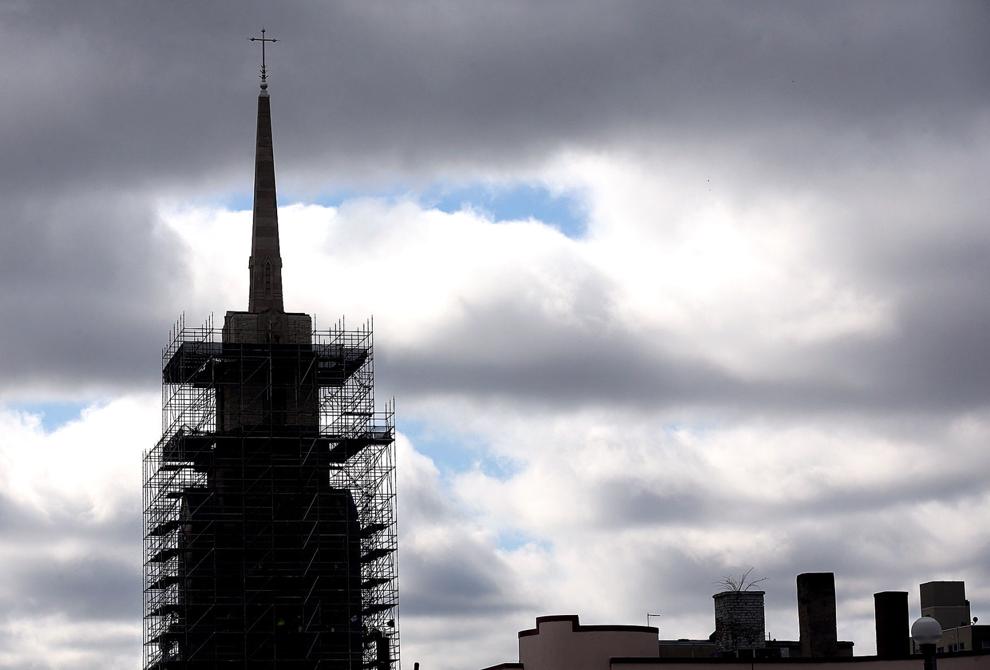 The historic St. Joseph the Workman Cathedral will be undergoing restoration this year, a project that officials hope will not only save the towering downtown building, but also restore its Catholic community.
The $6.1 million project officially kicked-off Friday with a blessing from church leaders at the cathedral, a "living parish" which is the landmark church of the Diocese of La Crosse, and home church to Bishop William Patrick Callahan. The entire restoration is expected to be completed by the end of this year.
The restoration will not change much on the building, but instead will replace and repair damaged infrastructure, including repairing delicate limestone throughout the exterior and interior of the building, the marble flooring, intricate gold leaf gilding, stained glass and more.
The bill for the restoration has been largely footed by donors in the community after the Diocese of La Crosse launched a fundraiser last year, with $4.7 million pledged and received already, which will be matched two-for-one by the diocese. The group has about $300,000 left to fundraise.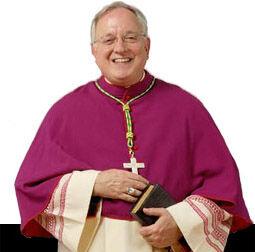 The cathedral was built at the corner of Sixth and Main streets in downtown La Crosse in May 1962, erected on a site used for nearly a century by the parish. It was designed by architect Edward J. Schulte as a "contemporary interpretation of the gothic architecture of the original cathedral church."
Officials said at the time Schulte thought La Crosse was a "dumpy town," and that the cathedral, towering and dramatic, was out of place at the time of its erection, but the city has since come to grow around it.
In recent years though, the building has deteriorated.
Scaffolding has been up for several months now, although construction only recently began, largely to protect the public and parish from falling stones that have been decaying at an excelled rate just in recent years, tumbling from places along the 200-foot steeple and bell tower.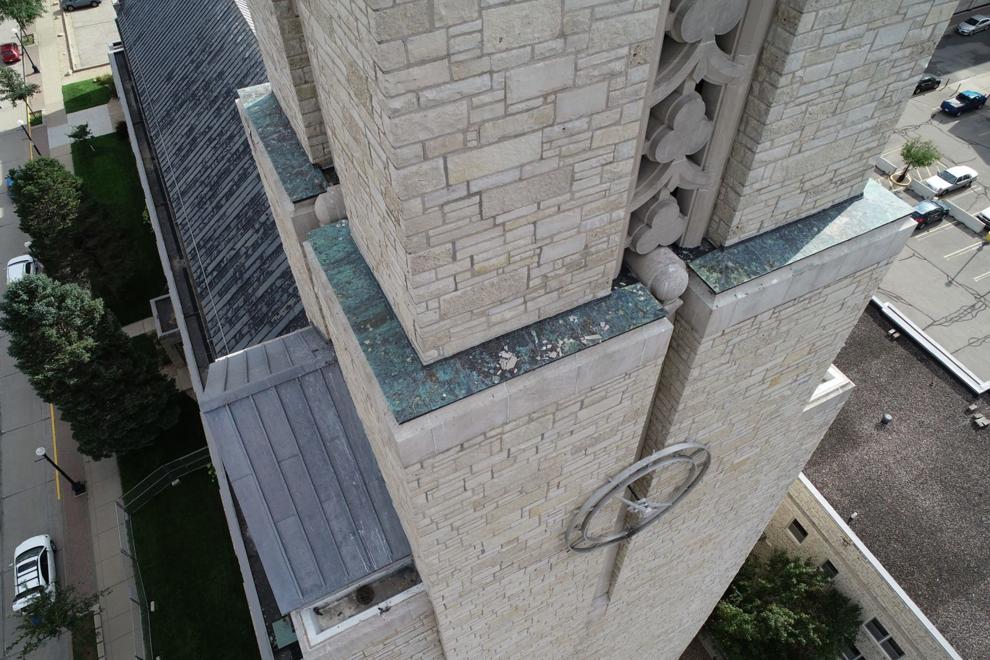 "It became pretty evident very quickly that we were going to need to provide protection. Protection from the public, people in the right-of-way," said Steve Mar-Pohl, the lead architect on the restoration.
"A 16 pound piece of stone, it fell from 130 feet, it hit the roof, and from there went 100 more feet down to the ground. It hit the ground with tremendous force, in the middle of winter, it was driven into the ground about six inches into frozen ground," Mar-Pohl said, giving an example of the danger the crumbling infrastructure poses.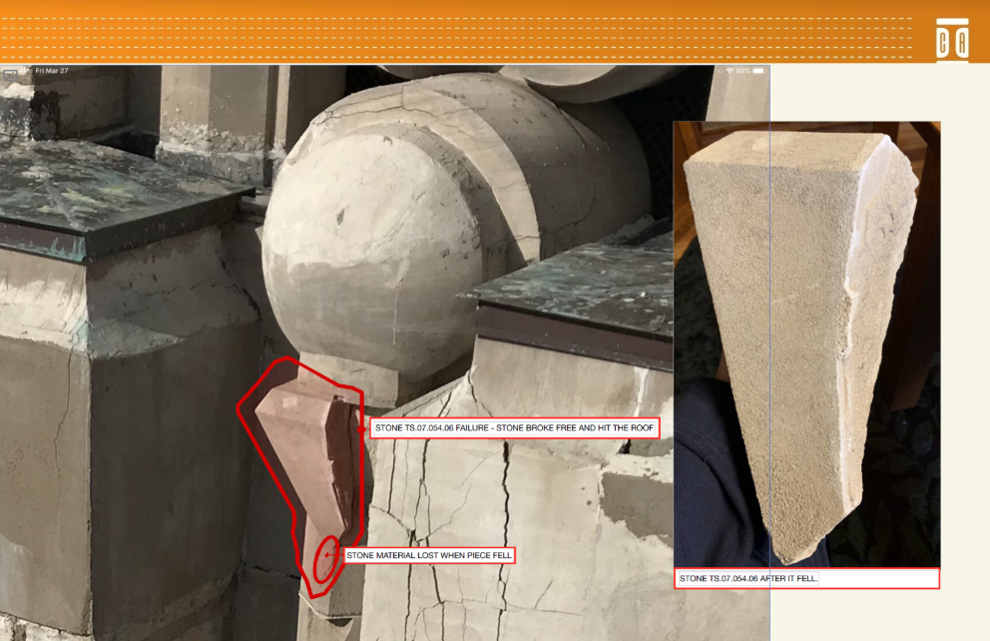 "That stone kept things moving relatively quickly at that point," he said.
On top of it all, though, the parish at St. Joseph's has also been shrinking over the years, giving the restoration more purpose than just replacing crumbling stones and peeling gilding.
"At a minimum, we need a place to worship in, and so this is what we have, and it's a beautiful gift," said Monsignor Richard Gilles, rector of the cathedral. "And like I've said a thousand times, it does no good to make a significant investment like this at $6.1 million if I don't have an active, thriving, vibrant, worshipping community within these walls.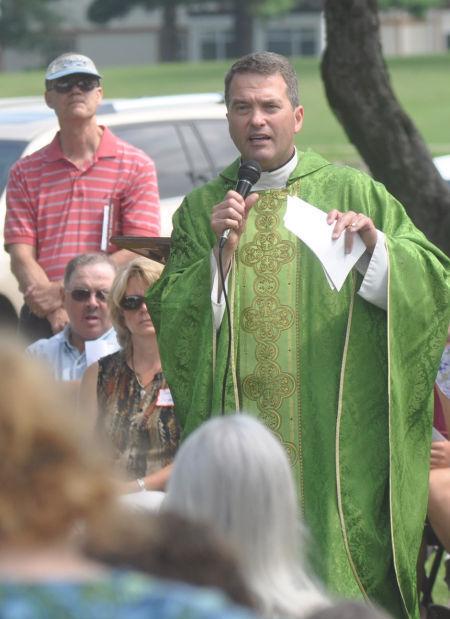 "The overall picture is really to not only restore the physical stones of the cathedral, but really to restore the body of Christ that worships inside those walls," he said.
"We don't need a museum," Gilles said. "We need a thriving, active community."
The cathedral's unique place in the city, "land-locked," as Gilles described it, has proved a barrier for the parish, since most Catholic churches are served by territory — worshippers attend the one closest to where they live. But this restoration will aim to draw parishioners in from outside the neighborhood in an effort to rebuild.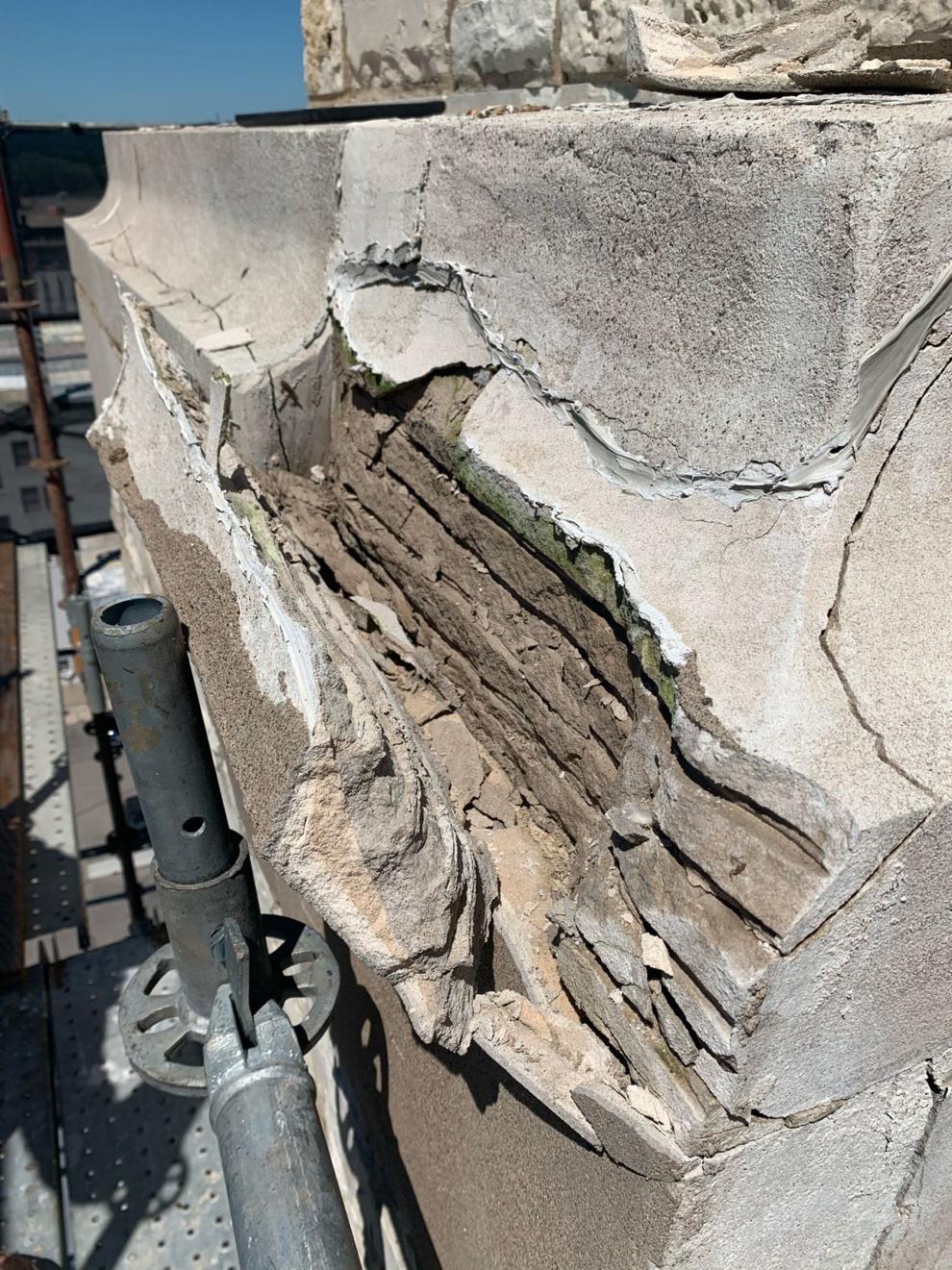 "(The) cathedral needs to be a place where people are willing to honestly, maybe drive by a couple of other churches to get here," Gilles said. "We have to make something so beautiful inside and out that's attractive to people and they want to say, 'I want to be a part of that.'"
Construction crews have already begun work on the restoration, and the community may see what looks like "ants" working at the top of the steeple, carefully removing stone to either inspect, repair or replace — which will be no small feat.
"The contractor will have essentially a 20-story scaffold, it's 200 feet above grade," Mar-Pohl said. "The effort to get a piece of, let's say ... a big stone, its 1,200 pounds, you've got to that off the building, onto the scaffold, down to the ground, inspect it, do whatever you have to do, replace it if you have to, and then get it back up there."
Mar-Pohl's team has identified and registered each stone so that the construction crews have a map, knowing which ones will need replaced, repaired or inspected before even climbing the scaffolding.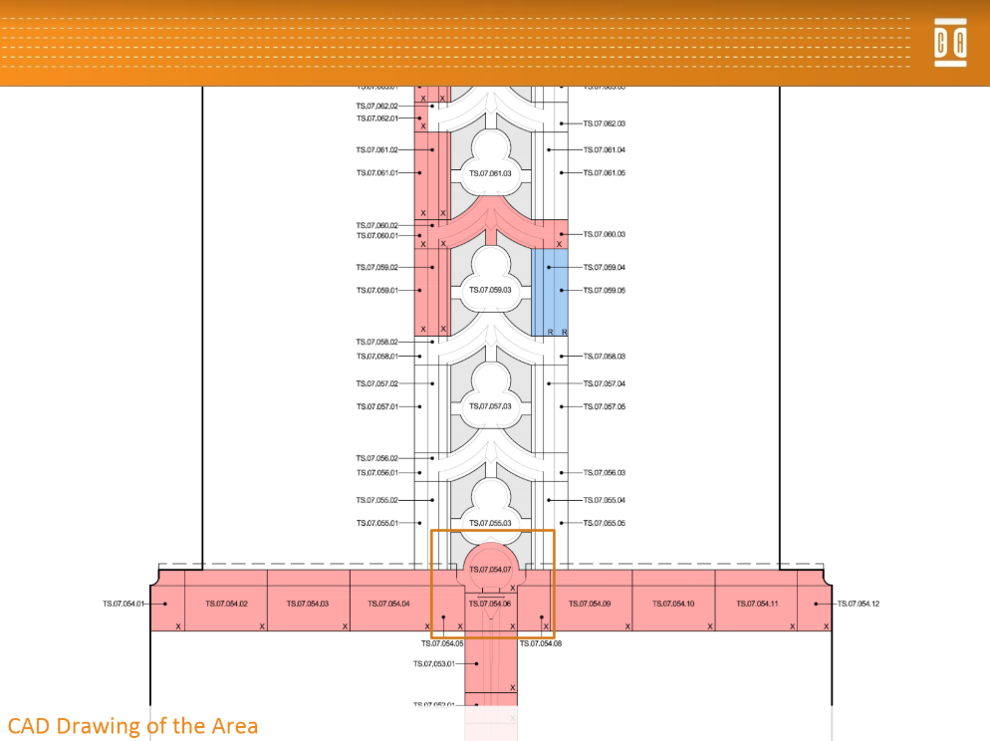 The structure of the church and tower itself is made of steel and concrete, but it is covered in native Wisconsin Lannon limestone and trimmed in Indiana Bedford oolitic limestone, which have been particularly damaged by the high elevation and often harsh Driftless Region weather.
Mar-Pohl noted that at the time when the cathedral was originally built, construction techniques were transitioning from "old world" to "new world," and that this restoration will help the building become more sustainable with the addition of modern techniques and systems.
This will include adding a "membrane" behind the stone that will help water drain, stainless steel straps and anchors, and special mortars designed to alleviate stress from wind.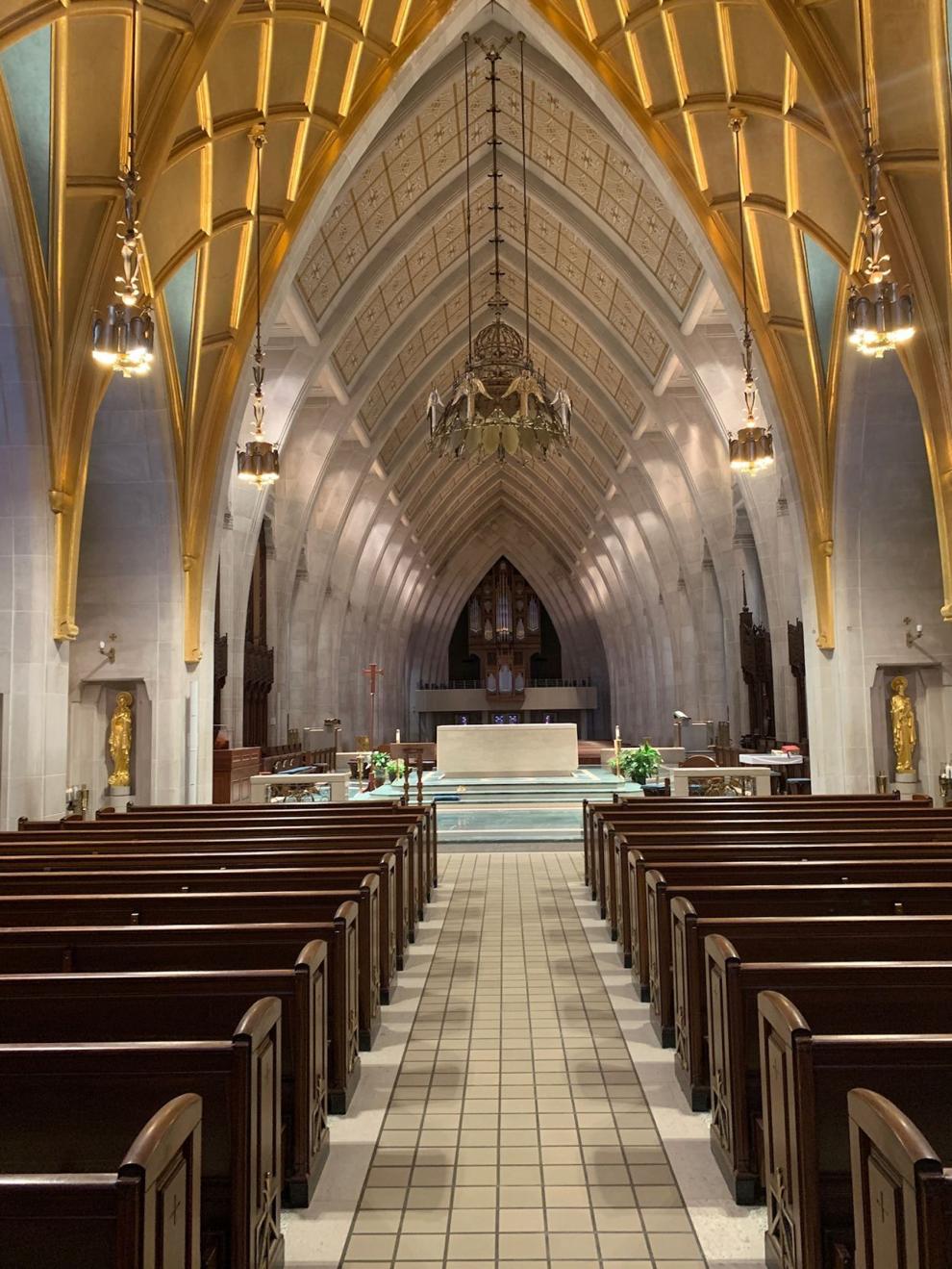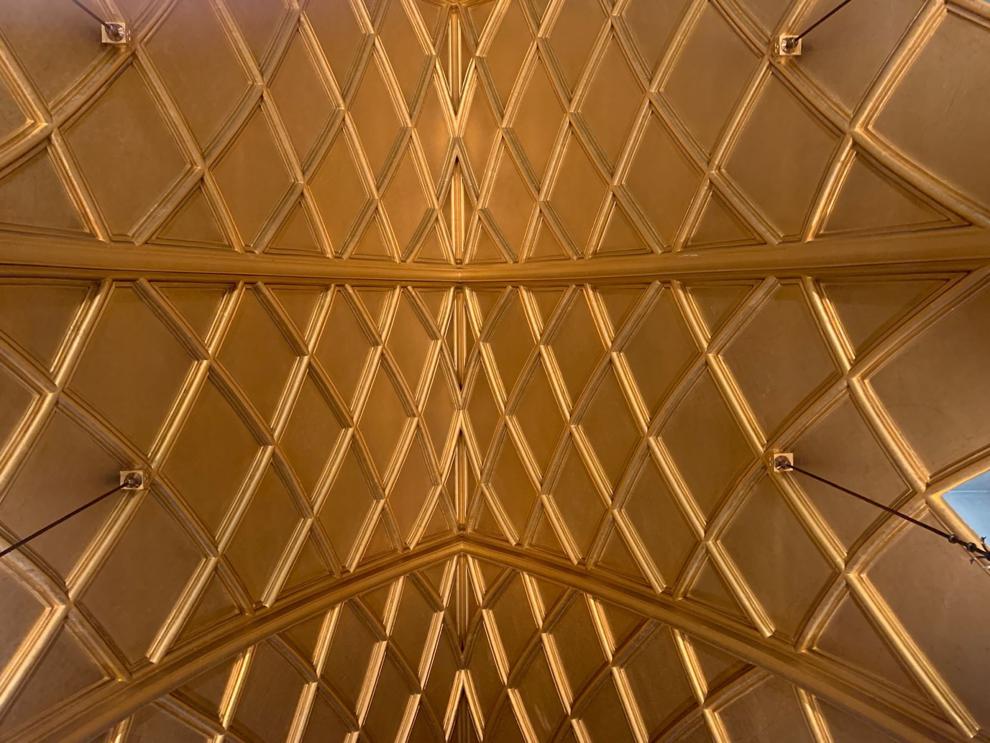 The interior of the church will also be getting a makeover, including updates to marble flooring in certain areas, new tile flooring throughout the Blessed Sacrament Chapel, LED-retrofit lighting, cleaning of interior masonry, updates to the rectory, some stained glass repair and more.
In the Marion Chapel, where Mar-Pohl said he was amazed by the details, crews will replace the gold leaf that currently decorates the vaulted ceilings.
The gold leaf, which is like a microscopic foil, has been "minimally" damaged from a leaky roof, but is unsalvageable because of its intricacy. The leaks and plaster will be repaired, and new gold leaf will be applied.
Mar-Pohl, who specializes in technical and historic restorations and said he has been to different cathedrals around the world, said all of his past work has led him to this project.
"It's no one thing, it's the everythingness of this place," he said.
"Every nook and cranny, every bit and part, and then you expand that out to the whole," Mar-Pohl said. "It was all designed with one vision, and so discovering that vision as we have researched its restoration has lead to the discovery of just minute details that are like, 'my goodness, they thought of this.' And they executed it and they did so in a world class way."
"It's everywhere you go, it's back corners and restrooms — it all belongs," he said.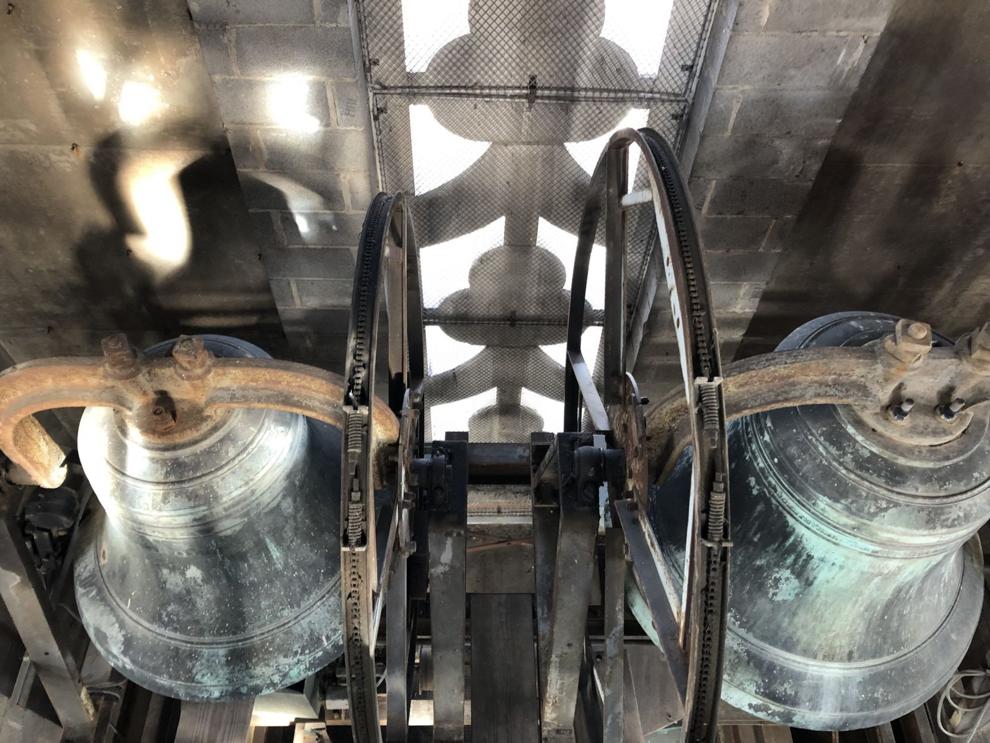 And while the restoration of this landmark will help rebuild a religious community and their home stone-by-stone, those with the church are hopeful it will also help relight a sort-of beacon for the greater La Crosse community, Catholic or not, and sustain it for generations to come.
"I'm thrilled to death. It was the first landmark that I kind-of placed as I came to La Crosse 11 years ago," said Bishop Callahan.
"I had never been here before, and as we drove up from Milwaukee, and I saw that, and I thought, 'Boy that's got to be the cathedral,'" he said. "And I was amazed, again, just amazed at how beautiful it is and what a statement it makes as soon as you walk in and come into the city of La Crosse."
"It's galvanized this community and built it up in strength," Gilles said of the restoration project. "Because everybody's got a place at the table."
"This is a forever building," Mar-Pohl said.