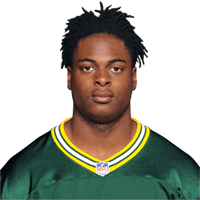 GREEN BAY — In the immediate aftermath of last Sunday's win over Jacksonville — and once the love-fest about franchise left tackle David Bakhtiari's blockbuster contract extension had subsided — Aaron Rodgers spoke in reverent tones about another of his favorite Green Bay Packers teammates: wide receiver Davante Adams.
Although Adams' final state line hadn't contained the eye-popping numbers he'd put up in other games this season (eight receptions for 66 yards on 12 targets, plus a costly lost fumble), Rodgers went on and on about the toughness Adams had shown in coming back from a painful right ankle injury — a comeback Adams completed with a leaping 6-yard touchdown pass that provided the winning margin in the Packers' 24-20 victory.
Adams, who appeared to injure the ankle early in the third quarter and spent time with the team's medical staff inside the blue sideline tent, missed the ensuing offensive possession, and there was question as to whether he'd return at all. In Week 2, Adams had suffered a hamstring injury and wound up not only being held out of the rest of that game but also missing the two games that followed. And Rodgers, for one, wasn't sure if he'd have his favorite target back on the field in the unexpectedly close battle with a 13.5-point underdog.
"He's out, out and then I'm on the sidelines and I hear, 'Hey, 17 said he wants to go back in,'" the quarterback had recounted after the game. "Look, you might think that's a normal thing in this game, and maybe it was 10 years ago. But you just see less and less of that happening. I think there's more of a, 'Oh, you know, Doc doesn't think I can go here. Maybe I should sit out the rest of the game.' But 17's built different. He always has been.
"For him to get back out there, I asked him a couple of times, I said, 'Are you OK? You good?' And he just nodded that he was. That play that he scored on … I wasn't trying to put it like 10-feet up in the air for him to come down on his shoulder like that. But the dude's a special player. He's one-of-a-kind and he never ceases to grow my respect. And it's just another chapter for him today dealing with what he was dealing with to come back out there and catch a touchdown. That's what you want from your leaders."
For all of Rodgers' postgame high praise, Adams didn't quite see his performance through the same lens. Speaking Wednesday with reporters in advance of this Sunday's game against the Indianapolis Colts at Lucas Oil Stadium in Indianapolis, Adams called the Jacksonville game "obviously my worst game of the year." And while he was able to return against the Jaguars— he said his "adrenaline" allowed him to overcome what was an "extremely uncomfortable" injury — he stopped short of guaranteeing that his ankle will allow him to play against the Colts.
"Any time where I feel like I can come back into a game like that, typically speaking my mindset going into the next week is that I'll be able to roll," Adams said Wednesday. "We're doing all the things right, right now, to make sure I'm as pain-free and not limited come Sunday. That's where we are.
"You guys know the way that I play, (with) very aggressive feet. So anytime my ankles are limited, it's going to be tough for me. I knew I couldn't stay out of that game after dealing what I dealt with against Detroit earlier in the year. I kind of owed it to my teammates and just wanted to get back out there and contribute the best that I could … just channeling my inner Kobe (Bryant) and letting that mental toughness take over. It was good we obviously ended on a good note."
The Packers surely will need Adams, who was listed as a limited participant in Wednesday's practice, against a Colts defense that ranks No. 1 in the 32-team NFL in total defense (290.4 yards per game), fourth in scoring defense (19.7 points per game), second in pass defense (198.7 yards per game), third in rush defense (91.8 yards per game) and tied for second in interceptions (11).
The hope is that Adams, Allen Lazard and a resurgent Marquez Valdes-Scantling can give the passing game a 1-2-3 punch it hasn't had since Adams' hamstring injury against the Lions. The following week at New Orleans, Lazard had a career night (six catches, 146 yards, one touchdown) with Adams on the sideline — only to sustain a core muscle injury that required surgery and landed him on injured reserve.
Activated off IR on Tuesday, Lazard was limited in practice Wednesday and coach Matt LaFleur wouldn't guarantee that Lazard will return to the lineup against the Colts.
"We're certainly going to have to ease him back in and whether or not he's available, we'll see," LaFleur said. "The last thing you want to do is put somebody out there in a situation where you could lose him for a longer period of time or it just slows down their progress."
Without Lazard, Valdes-Scantling has had some up-and-down performances but comes into Sunday having had back-to-back impactful games and having set a single-game career high for receiving yards against the Jaguars (four catches for 149 yards, including a 78-yard touchdown). He's also not the run-blocker that Lazard is, which Rodgers pointed to on Wednesday as well.
"I think so. Marquez has had a couple good games in a row. Davante's obviously been incredible. To be able to have Allen in there as well would give us a big jolt," Rodgers said. "But I think Allen is an X-factor for us because as much as he's done really good in the first three weeks catching the ball, he's such a great run blocker. That's some stuff that we've been missing, with a lot of the stuff we like to do in the run game. So if we can get him back, obviously I think that would help not just in the passing game but running the football, too."