Presentations at this year's Vernon County Land and Water Conservation Awards Banquet held on Tuesday, Feb. 13, honored the Conservation Farmer of the Year, Teacher of the Year, and Landowner of the Year, along with showcasing area youth who participated in their conservation poster and photo contests.
Nathan and Danika Wehling Westby
Nathan and Danika Wehling of rural Westby were honored to win the Conservation Farmer of the Year award for Vernon County.
In 2014 the Wehlings expanded their organic farming operation from 38 cows to 70 cows, after they purchased Danika's parents dairy herd, adding it to the Ayrshire herd they purchased in 2005 from LeRoy Anderson.
To accommodate the larger dairy herd the Wehlings constructed a new free stall barn, manure pit and walkways. The barn has outdoor access year round for the cows, with the large walkway to the barn and gravel paths to the pastures.
Today the Wehlings milk 70 dairy cows and farm nearly 400 acres of land. They are active in managed grazing, nutrient management, use cover crops, contour strips and the Conservation Stewardship Program.
The nutrient management program implemented by the Wehlings is used on all the properties they rent or own. The program offers the land owners information and a Land Preservation Tax Credit that insures that the manure and crop rotation the Wehling's use is not hurting the soil, but helping the soil to grow their organic crops.
"Our nutrient management program soil testing keeps us informed if any amenities like lime or potash are missing, which is very common our area," Nathan Wehling said.
We need to show people, not just tell people farmers are good at taking care of animals and the soil," Danika added.
The Wehlings are also strong supporters of agriculture education and open up their farm for tours year around. Danika said she is continually amazed how clueless people are about the dairy industry and the important economic role it plays. She said visitors are amazed by the number of steps it takes just to get our daily chores done and the amount of protection we need to keep our animals safe. The Wehlings have had eagles prey their ducks and coyotes attack their calves.
The Wehlings' farm tours show people how many challenges beyond the weather they face on a daily basis as farmers and the commitment it takes to survive in the ever changing agriculture industry.
"More education on farming is definitely needed. I was born with dirty hands from the garden to the barn and I think it's time for more folks to get dirty hands again. Farming really is everyone's bread and butter," Danika said.
Beyond the daily tasks of dairy farming the Wehlings operate two additional businesses from their farm. Nathan operates a tractor repair business and Danika opened a country store on the farm that sells meat, eggs, cheese and crafts. The store is located at S764 Jore Road outside of Westby or contact them on Facebook or at www.wehlingfarms.com.
Conservation Teacher of the Year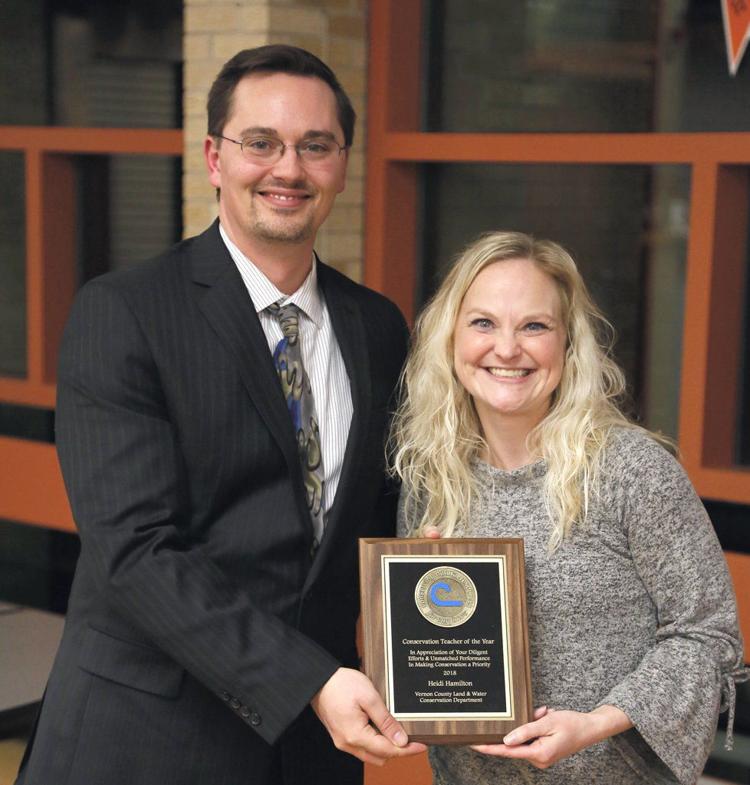 Heidi Hamilton, teaches science at Westby Area High School. She was humbled beyond words to have been awarded the Conservation Teacher of the Year Award and said the honor bestowed upon her belongs to far more people then herself.
"I could not accomplish this without the individuals, organizations, and students whose efforts made it possible, so this award is a team effort and belongs to all of us," Hamilton said.
Hamilton heads up the Westby Area School District Conservation Club The organization works year round on environmentally friendly projects including tree plantings, recycling programs and gardening projects. Last spring Hamilton's students planted 300 trees in the school forest; built raised beds in which they planted and harvested a variety of items to learn about sustainability; created pallet gardens; completed environmental stewardship projects that involved composting, making newspaper pots, recycling, reducing waste and growing plants for teacher's classrooms; as well as partnering with Westby Elementary for Earth Day activities where Hamilton's students taught younger students how to plant seeds and transplant flowers. The flowers are then delivered by students as random acts of kindness to residents around Westby.
Hamilton's classes also are strong supporters of recycling and maintain bins throughout the facilities. They also hold a successful recycled ink jet cartridges event annually.
"One of my goals as an educator is to expand student views of the environment and create lifelong habits that have a positive impact on it, so if we teach students environmentally sound habits early on in life they will hopefully continue to expand on them as they enter adulthood," Hamilton said.
Conservation Landowner of the Year
Tom Lukens and Pam Saunders
Tom Lukens and Pam Saunders received the Conservation Landowner of the Year award. Lukens and Saunders have been doing restoration work on their land for 15 years. Their 87-acre property is located on the West Fork of the Kickapoo River. They have done some amazing projects including trout restoration, bank stabilization, prairie restoration, seeding water marsh, non-game habitat and invasive species control.
Conservation Student Honors of the Year
The following individuals were recognized for their outstanding conservation photos: Emma Lee, Breta Lee, James Nadolski, Eva Lee, Ambrosia Wojahn, Clover Wojahn and Briar Wojahn. Eva Lee of Coon Valley won at the national level for one of her photos entitled, "Blanding's Turtle".
The following students were recognized for their outstanding Conservation Speeches: Austin Anderson-Wood, Zirelia Leinberger, Ambrosia Wojahn, Raegan Davey, Caleb Bergum and Ansel Brenneman. Both Caleb Bergum and Zirelia Leinberger will be moving onto the state competition in Lake Geneva.
The following students were recognized for their outstanding posters, in a conservation poster contest with the theme, "Watersheds, Our Water, Our Home": Naia Sandberg, Ardyn Pierce, Hannah Hammond, Ella Simonson, Chloe Walter, Maya Hanson, Elaina Nemes, Louis Ludvig, Evelyn Hajzl, Liam Sullivan, Karissa Alexander, and Tahmara Hendrickson. Naia Sandberg, Ella Simonson and Elaina Nemes's posters are moving onto the state competition in Lake Geneva on March 14.
The Vernon County Land and Water Conservation Awards Banquet could not have taken place without its many sponsors. A heartfelt thank-you to everyone who contributed to the event.
If you would like to nominate someone for next year's awards, attend the event, or help to sponsor the event for next year, contact Vernon County Land and Water Conservation at 608-637-5480.