Winona's Heritage Preservation Commission decided to table Minnesota Masterpiece Hall's request for a Certificate of Appropriateness for building on Winona's former high school and junior high historic site Wednesday.
The commission decided to reconvene June 7 and requested further documentation and study that includes drawings of the building's primary facade on Fifth Street in relation to the existing historic structures, colored architectural printings of all four facades, and consideration of the south facade's articulation.
The $35 million music hall and art gallery, backed by Fastenal founder Bob Kierlin and Mary Burrichter, is designed to seat 730 people with a maximum height of 54 feet and slated to host world-renowned classical musicians.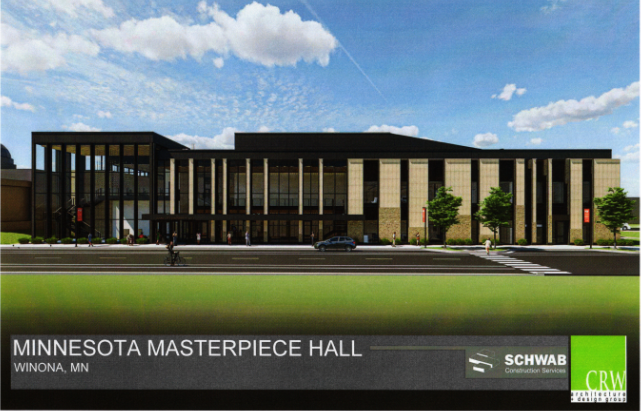 The proposed building is at 165 W. Fifth St. in Winona, and commission chair Emily Kurash Casey said this commission is tasked with interpreting codes and design standards because of its historical location.
A Certificate of Appropriateness is granted if the commission believes the designs are compatible in scale, texture, materials, and visually with the surrounding historic locations.
"I do think we're in an interesting and unique situation, and I don't think there are a lot of HPCs in communities our size that are seeing developments like this happen," Kurash Casey said.
Additionally Kurash Casey said she doesn't want to see the Heritage Preservation Commission get into the pattern of denying a request and having it sent to the City Council for them to approve.
"We're in this quandary of saying no and having this become a more conflicted process," commission member Peter Shortridge said. "Everyone wants this to happen. It's an incredibly large thing for our community and a great gift."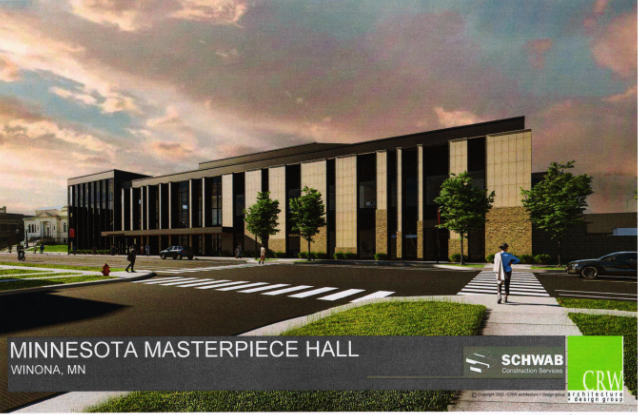 Representatives from the project's architects and construction were a part of the meeting's public comment, CRW Architecture + Design Group out of Rochester and Schwab Construction respectively, and answered questions on the design.
Shortridge asked the representatives on the building's decision for a limestone exterior which contradicts the surrounding historical buildings' brick designs. Peter Schwab, of Schwab Construction, said the building's backers, Kierlin and Burrichter, wanted a building that wasn't like a college brick building.
"As we started designing, we started looking back at the surrounding buildings— what they have for materials, what's around downtown Winona," Jason Woodhouse of CRW Architecture + Design Group said. "Part of the historic structure is not to compete with what's around it but to complement it— not match it, but be in harmony with it."
Apart from the building's design incorporating large amounts of limestone exteriors, the plans include floor-to-ceiling windows and vertical reliefs chopping up the Fifth Street facade's between stone and windows.
Anna Sibenaller, of Main Street Programs, spoke during the public comment in support of the project's designs.
"When we talk about downtown development. . . historic preservation does not inhibit contemporary development," Sibenaller said. "I'm frankly excited to see what Masterpiece Hall would bring to Winona."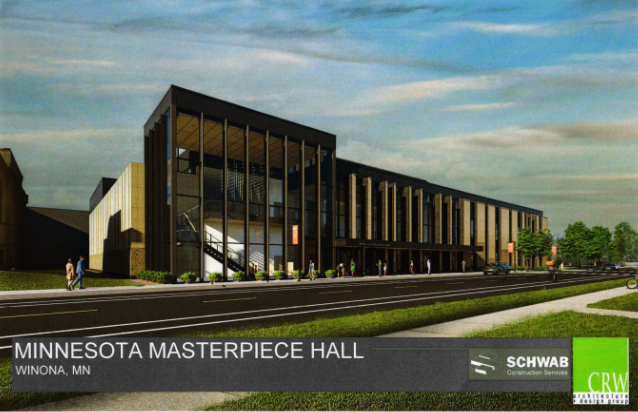 After about an hour and 45 minutes of public comment, questions, and discussion, the commission decided they wanted to see more renderings of the building.
Equally, they were concerned with the backside of the building, the south side, and its large wall of stone being the backdrop of the historic schools it sits behind which the commission asked for color rendings to get a better sense of.
Woodhouse said the design team most likely would not go back to the drawing table and change out the stone for brick.
Kurash Casey said the Heritage Preservation Commission intent is certainly not to be in opposition to progress and receiving the requested pieces for the June 7 meeting will lead to better discussion around the project's options.