As big chain clothing stores shut their doors in Winona over recent years, longtime local businessman Dave Stoltman saw a need in the community for well-priced, good clothes and he decided to take the challenge head on.
With an opportunity to purchase high-quality clothes from Lands' End, Stoltman decided to open DJ's Clothing Warehouse in June 2021 — named after himself with his full name being David James.
When he recognized the opportunity to open the business, he remembers thinking, "It's a good idea. It's a good business. It's also good for the city of Winona."
He said it's important for families to have a place to stop in to get clothes at a good price in the spur of the moment, as needs arise.
And there's certainly a mix of clothes to meet whatever need comes up, no matter the age of the shopper, including a variety of clothing items in a wide range of sizes for local students who have to follow dress code policies.
Both Stoltman and the store's manager, Jeanne Hines, shared that they enjoy helping customers find the items that match what they are looking for.
"It's like Christmas every day because we get in new merchandise and we get to see all the new things, and it's fun to get to know the customers and help them with the things that they're looking for," Hines said.
Stoltman, who said he doesn't work directly in the store often, shared that he does like helping local children by connecting them with clothing items that will last them for multiple years and by participating in local youth-focused programs such as the Ready, Set, School and Goodfellows programs.
Stoltman said it's Hines and the small team that works at DJ's who make the business possible, as he said they were able to come into the store and transform it into what it is now.
"I've done a lot of businesses in my lifetime, so the business end of it is not a problem. That was the easy part. The hard part is what Jeanne does as far as getting everything organized, getting everything sold, and getting the staff set up and stuff like that," Stoltman said. "I had no knowledge at all of setting up a clothing store. I thought it was gonna be a warehouse actually. That's why I called it DJ's Warehouse. I was going to put it metal shelving and pile the stuff on the shelves. That didn't quite work out. Jeanne and the rest of the staff came along to really make the place a beautiful, nice clothing store."
Hines shared there have been some challenges over the past almost two years of being open, as she said finding employees has been difficult.
She did note, though, that over time they have found some people with experience that helped DJ's grow, but there always seems to be a need for at least one more person at the store.
Hines said she had a positive outlook.
"I think (the future is) very bright," she said. "One of the things that's been very encouraging to us is that our customer base has been growing over the past year and a half. And it's always fun to have new people come into the store and say, 'I always wanted to come here and see what you had.' Or we have current customers who bring in friends. There's a following now out of Rochester of a bunch of ladies that enjoy coming here. So it's fun to see the business grow. And we're looking forward to that continuing."
Biggest exports from Wisconsin
Biggest exports from Wisconsin
#30. Cereals
#29. Tanning and dyeing extracts, dyes, pigments, paints, putty, and inks
#28. Oil seeds; miscellaneous grain, seed, fruit, plants, etc.
#27. Meat and edible meat offal
#26. Food industry residues and waste; prepared animal feed
#25. Other products of animal origin
#24. Edible preparations of meat, fish, crustaceans, etc.
#23. Prepared cereal, flour, starch or milk; bakers wares
#22. Salt; sulfur; earth and stone; lime and cement plaster
#21. Miscellaneous articles of base metal
#20. Essential oils and resinoids; perfumery, cosmetic or toilet preparations
#19. Printed books, newspapers, pictures and other products of the printing industry; manuscripts, typescripts, and plans
#18. Wood and articles of wood; wood charcoal
#17. Prepared vegetables, fruit, nuts or other plant parts
#16. Furniture; bedding, mattresses, and stuffed furnishings; lamps and lighting fittings, not elsewhere specified or included; illuminated signs, name-plates and the like; prefabricated buildings
#15. Albuminoidal substances; modified starches; glues; enzymes
#14. Beverages, spirits and vinegar
#13. Dairy prods; birds eggs; honey; other edible animal products
#12. Miscellaneous edible preparations
#11. Organic chemicals
#10. Miscellaneous chemical products
#9. Articles of iron or steel
#8. Paper and paperboard; articles of paper pulp, paper or paperboard
#7. Aircraft, spacecraft, and parts thereof
#6. Pharmaceutical products
#5. Plastics and articles thereof
#4. Vehicles other than railway or tramway rolling stock, and parts and accessories
#3. Optical, photographic, cinematographic, measuring, checking, precision, medical or surgical instruments and apparatus; parts and accessories thereof
#2. Electrical machinery and equipment and parts; sound and TV recorders and reproducers, parts and accessories
#1. Nuclear reactors, boilers, machinery etc.; parts
A look at the US economy's vital signs
INFLATION
Consumer inflation, not much of a problem, on average, since the early 1980s, started picking up in the spring of 2021 as the economy roared out of recession and Americans spent freely again. At first, Fed Chair Jerome Powell and some economists dismissed the resurgent price spikes as likely a temporary problem that would resolve itself once clogged supply chains had returned to normal.
But the supply bottlenecks lasted longer than expected, and so did high inflation. Worse, Russia's invasion of Ukraine a year ago sent energy and food prices rocketing. By June 2022, consumer prices were 9.1% higher than they'd been a year earlier — the hottest year-over-year inflation in more than four decades.
By then, the Fed had begun, belatedly, to respond. It has raised its benchmark rate eight times since March 2022 in its most aggressive credit tightening since the early 1980s.
In response, consumer inflation edged down from its mid-2022 peak. It posted milder year-over-year increases for seven straight months as supply chains unclogged and higher borrowing costs worked their way through the economy, putting a brake on overspending.
Financial markets appeared ready to declare the inflation dragon all but slain.
Then came January's unexpectedly hot consumer inflation data. Two days later, the government reported that wholesale prices had jumped 0.7% from December to January, nearly twice what forecasters had expected.
Next came bad news from the inflation gauge the Fed watches most closely: The government's personal consumption expenditures price index. It accelerated 0.6% from December to January, far above the 0.2% November-to-December uptick. On a year-over-year basis, prices rose 5.4%, up slightly from the annual increase in December and well above the Fed's 2% inflation target.
The PCE report "adds to the difficult if not impossible task facing the Fed in terms of getting inflation back to its 2% target without driving the economy into a ditch,'' said Joshua Shapiro, chief U.S. economist at the Maria Fiorini Ramirez Inc. consultancy.
One concern is that this time, inflation may prove harder to slow than it was initially. Households have increasingly shifted their spending away from physical goods like patio furniture and appliances to experiences like traveling, restaurant meals and entertainment events. Inflationary pressures, too, have shifted from goods toward services, where price acceleration can be harder to tame.
In part, that's because chronic labor shortages at stores, restaurants, hotels and other service-sector industries have led many employers in those industries to keep raising pay to attract or retain workers. Those employers, in turn, have generally raised their prices to make up for their higher labor costs, thereby fueling inflation.
Some economists expect the Fed to raise its benchmark rate by a substantial half-percentage point when it next meets March 21-22, after having announced only a quarter-point hike when it met Jan. 31-Feb. 1.
THE OVERALL ECONOMY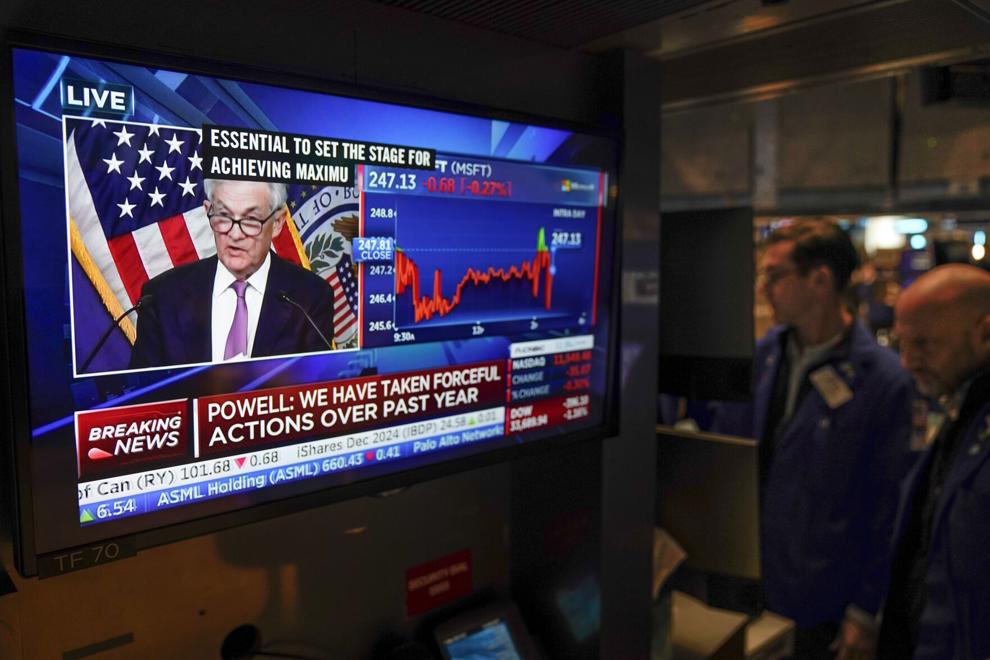 The flipside of the disquieting inflation news is good news on the state of the economy — or what would be considered good news in normal times. Even burdened by rising borrowing rates, the economy has proved stronger and sturdier than most forecasters had imagined.
"This economy today looks very different from where we thought it was in mid-January,'' said Peter Hooper, an economist at Deutsche Bank. "Before, we thought that things were slowing down, the labor market was softening, wage and price inflation was coming down."
With inflation pressures still persistent, Hooper said, "there's this growing expectation that the Fed has clearly more work to do.''
The economy regained its footing last summer after enduring an anemic first half of 2022. The nation's gross domestic product — its total output of goods and services — contracted from January through March last year and again from April through June.
Though one informal definition of a recession is two straight quarters of negative growth, most economists set aside such concerns this time. They noted that the economy had shrunk in early 2022 because of factors unrelated to its underlying health: Leaner business inventories and a surge in imports, which widened the U.S. trade deficit.
GDP quickly regained momentum: It grew at a solid 3.2% annual rate from July through September and a 2.7% rate from October through December. Steady consumer spending contributed heavily to the growth.
Economists still foresee a recession sometime this year — they were always skeptical of a soft landing — but now see it coming later than they'd expected. A survey of 48 forecasters issued Monday by the National Association for Business Economics found that only a quarter of the respondents think a recession will have started by the end of March, down from half who had predicted so in December.
JOBS
The remarkable strength of the American job market has defied expectations throughout the economic tumult of the COVID years. 2021 and 2022 were the two best years for hiring in U.S. government records dating to 1940.
Job creation was expected to slow this year. Not so far. In January, employers added a blistering 517,000 jobs, far surpassing December's 260,000 gain. And the unemployment rate reached 3.4%, its lowest level since 1969.
What's more, American workers as a whole are enjoying nearly unheard-of job security despite some high-profile layoffs in technology and a few other sectors. The government's count of monthly dismissals and layoffs sank below 1.5 million for the first time in 2021 and has stayed there since. There are now about two job openings, on average, for each unemployed American.
But a robust job market also puts upward pressure on wages — and therefore on prices. Which means further inflation.
"The kind of wage gains we're seeing and the kind of tightness in the labor market is consistent with 3.5% to 4% inflation, not 2% or 3%,'' KPMG's Swonk said. "That's the hard reality of where we are.''
CONSUMERS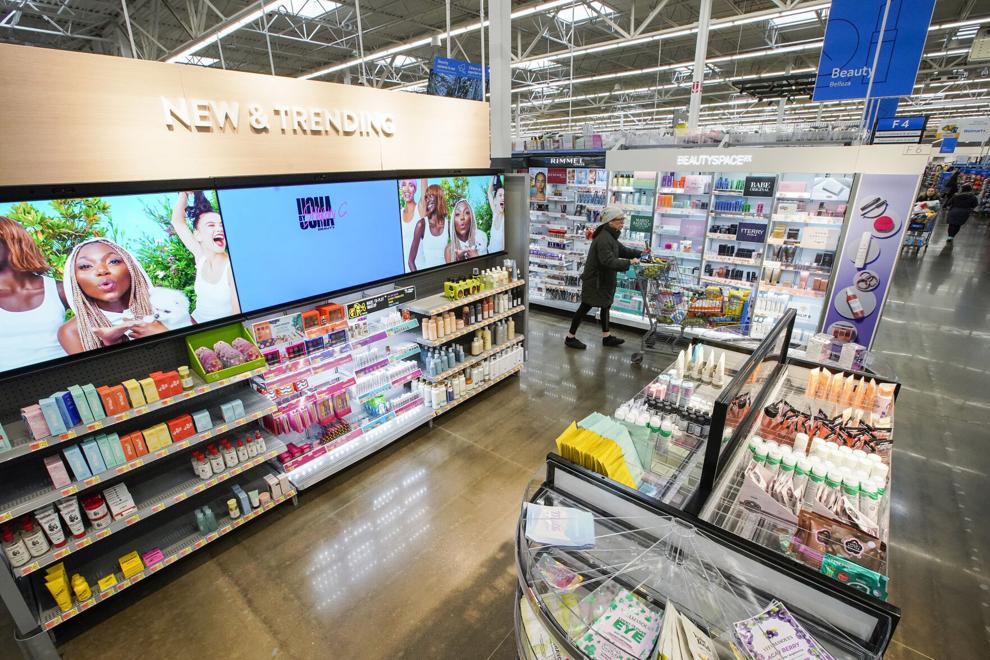 Their jobs secure, their bank accounts still bolstered by pandemic-era savings, Americans have continued to spend, shrugging off higher interest rates and prices.
In January, retail sales rose at their fastest pace in nearly two years, rebounding from a tepid holiday shopping season. Even after accounting for inflation, consumers spent their after-tax dollars at the fastest pace since March 2021. Consumer spending on services, ranging from health care to dinners out to airline tickets, last year accounted for 95% of the economy's growth.
Mark Zandi, chief economist at Moody's Analytics, estimates that consumers still have $1.5 trillion in "excess savings'' — above what they'd have socked away if the pandemic hadn't hit — from government aid and from cutting back while stuck at home at the peak of the pandemic.
Still, inflation continues to cause hardships for millions of households. Adjusted for inflation, average hourly earnings have fallen for 22 straight months, government data shows. Many low- and middle-income families are turning to credit cards to sustain their spending.
HOUSING
The Fed's rate hikes, which so far have had only a limited effect on the overall economy, have walloped one industry: Housing.
Residential real estate depends on the willingness of people to borrow for what's typically the costliest purchase of their lives. As the Fed continually jacked up interest rates last year, the average rate on a 30-year fixed mortgage topped 7% last fall — more than double where it began 2022 — before dropping back slightly.
The damage has been severe. Sales of existing homes have dropped for a record 12 straight months, according to the National Association of Realtors. And the government's GDP report showed that investment in housing plunged at an annual rate of nearly 26% from October through December after having tumbled 18% from April through June and 27% from July through September.