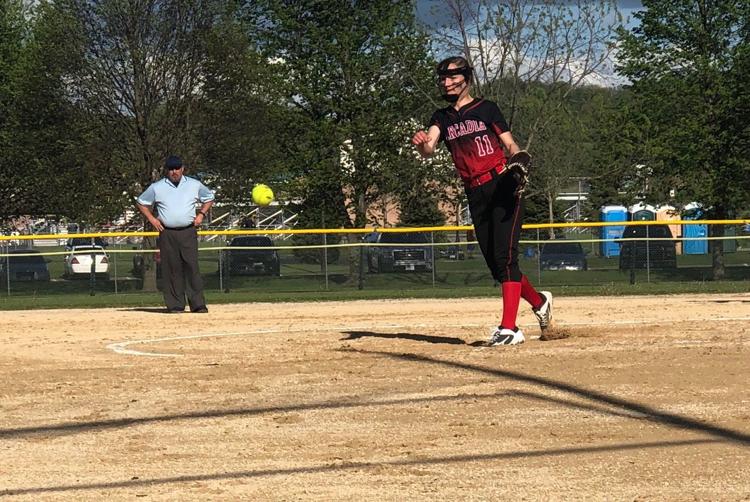 ARCADIA — The last time the Arcadia High School softball team faced G-E-T starter Amy Gappa, the right-hander no-hit it.
With a chip on their shoulder, the Raiders got the last laugh on Wednesday using a six-run second inning to end the Red Hawks season 8-3 in a WIAA Division 3 regional semifinal game in front of a packed house at Memorial Field.
After being shut down by Gappa in a 1-0 G-E-T victory on April 23, Arcadia coach Dave Bjorge believed his team was out to prove something this time around.
"Our kids really had a fire down in our belly today," Bjorge said. "The last time we played them she no-hit us. Our kids just really had a fire in their belly. They came out and hit the crap out of the ball today."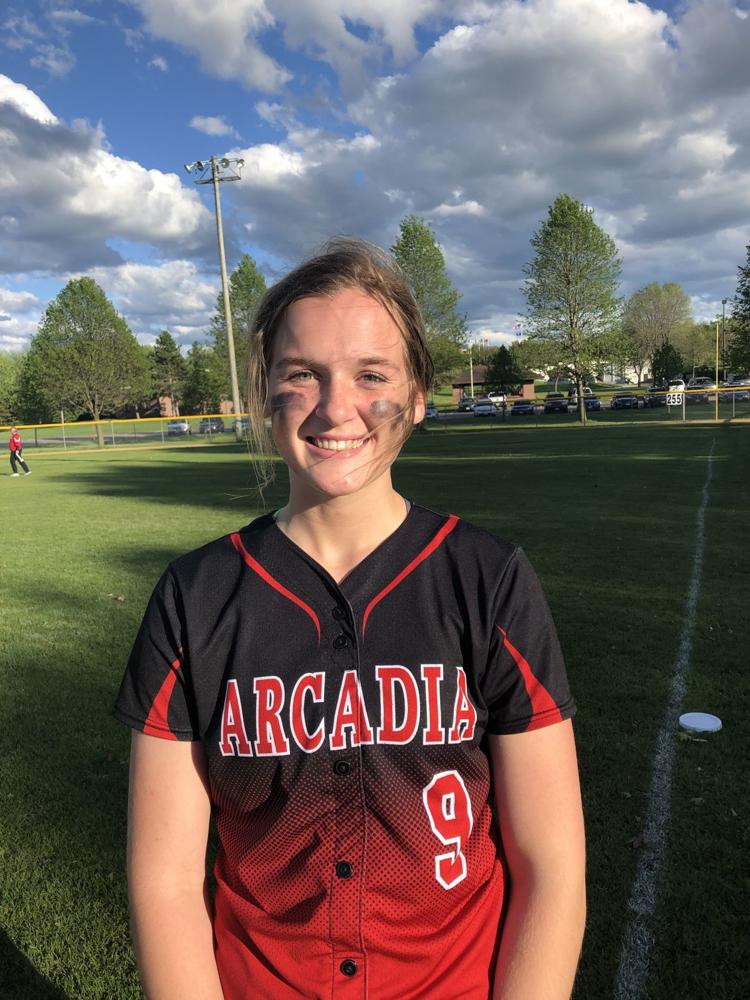 The Raiders (11-4) wasted no time scoring in the first inning thanks to an RBI double from Linzy Sendelbach that hit the bottom of the fence in left-center field. It turned out it was only the beginning.
The Raiders were able to jump all over Gappa in the second inning sending nine hitters to the plate.
Abby Suchla helped her own cause with a two-run single with the bases loaded to make it 3-0. Two more runs came across thanks to some aggressive base-running from Arcadia on a wild pitch and a throwing error before Hannah Suchla launched a two-run homer that ricocheted off of the glove of G-E-T centerfielder Cassy Schmitz to make it 7-0.
When it was all said and done, the Raiders scored six runs on five hits with two walks in the second inning.
You have free articles remaining.
Register for more free articles.
Stay logged in to skip the surveys.
"Today was just all about getting a base hit and hit like we know we can," said Sendelbach, who finished 2-for-4 with an RBI double and a solo home run in the sixth. "We kind of went into a little bit of a slump towards the end (of the season), but coming into tonight, we came with everything we had and put it all out there. We knew we just had to get it on the grass to score."
G-E-T (9-15) did have its opportunities. The Red Hawks outhit the Raiders 10-9, but left 12 on base, as Abby Suchla never let big innings happen.
The junior right-hander was calm, cool, and collected, pitching her best it seemed when runners were on base.
"That's the way she has been all year," Bjorge said. "She has been our rock. If we don't make a play behind her, she doesn't let that stuff bother her. She just bears down and goes and gets the next hitter. She doesn't get rattled, she doesn't get down. She is so even-keel. She has a perfect mentality."
Suchla admitted her mentality doesn't change at all when runners are on base, but said today the key to her success was her changeup. She had the Red Hawks out in front a number of times, forcing easy pop outs or flyouts on a pitch that has not always been there for her this season. But she had it on Wednesday night.
"My changeup definitely was there today," Abby Suchla said. "It's just iffy some days and I guess today it was just on today. Felt really good."
Suchla finished with three runs allowed on 10 hits to go along with four strikeouts and three walks while working around three errors.
"She pitches to contact," Bjorge said. "She's not going to wow you with 13 or 14 strikeouts, but she hits her spots and that's all that matters."
The Raiders move on to play No. 1 seed Dodgeville, who defeated Westby 11-4 on Tuesday. Bjorge and company know they are in for a battle, but are confident they can get the job done.
"We are going down there with nothing to lose," BJorge said. "They are the one-seed, we are the four-seed and they are expected to win, but there is no doubt in my mind we are going to go down there and handle it."